No Garmin data today. When I left the hotel this morning and reached down to reset the Garmin, it wasn't there! I had only ridden a short ways, so turned around and went back to make sure I hadn't left it in our room. Nope. There was nothing left behind. I either dropped it somewhere or packed it away in my luggage. The latter was the most likely because Nan and I were rather rushed this morning. Our morning routine seems to take us about 45 minutes — and Nan's alarm didnot go off.  Luckily, I woke up on my own at 6:09 (approximately)! Breakfast and luggage loading was at 6:30 so we really had to hustle. 
All of our cue sheets have mileage marks on them indicating when to make turns and where SAG stops are. As many of you know,I run with two computers – one "analog" and the Garmin. I was very glad to have the analog one as backup today! Wish I had the Garmin data, butthat is just for fun. Being able to navigate to the next town is critical! It's not like I'm ever riding alone either. All the other folks in my group had their computers so it would have worked out fine no matter what. 
About a half mile into the ride we crossed the state line into Idaho! One state down, nine states and one province to go! Today was advertised as a short, relatively easy ride. The only asterisk being the heat. The forecast called for 100 degrees! Remember most of my training up until the start was in 60-80 degrees. And the first several days were also in that range. The last few days have definitely been warmer. The Bad Penny gang's plan was to get in before the heat became an issue.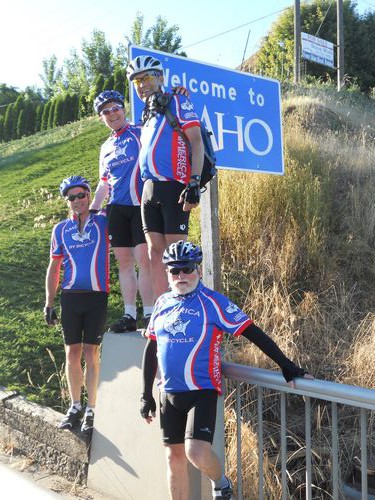 Andrew, Me, Leo and Rod at the state line. The Bad Pennies strike again!
Today we got a taste of some "Rollies." Not my favorite terrain, but it was pleasant just the same. We went through more farm country. They grow sweet oninons in this part of the country and you could ride along with your eyes closed (not really recommended) and tell when you were passing the fields! We also saw a few golf courses and a driving range. Leo and I stopped and hit a bucket of balls with the locals…. Mike Munch had set up his own driving range the other day which gave me the idea of trying to work on my game. This is a vacation after all!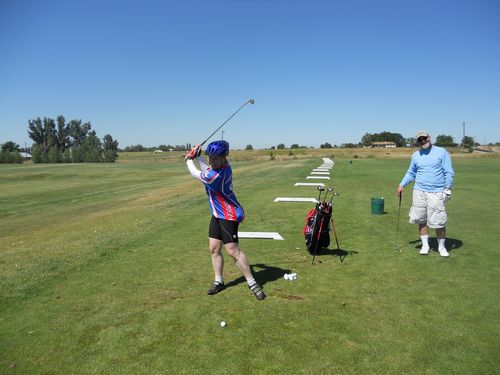 Leo came along to make sure I used the correct club!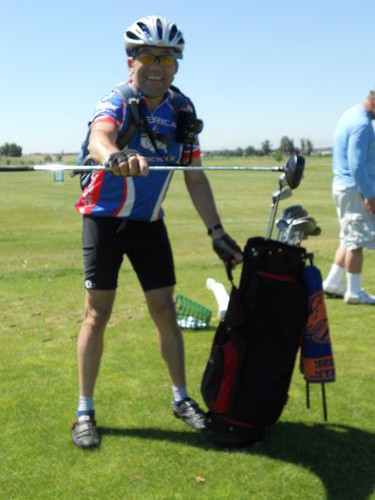 If that house wasn't in the background, I might have been able to convince you that these were "Home on the Range" bison. This is open range country and we've had to be on our gaurd and watching for livestock in the road. Today all I saw were squirrels and chipmunks.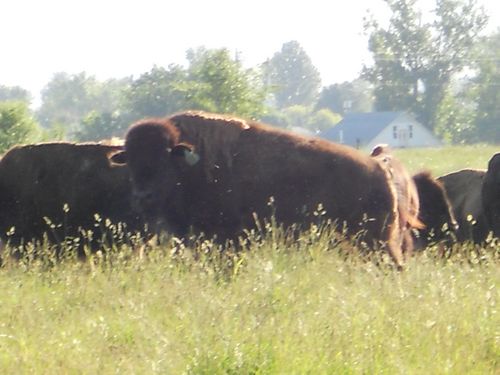 The road surface wasn't the best today — but I still have all my filings. The rolling hills did make the miles fly by and the little farms along the way were fun to see. There are a lot of horses out here – no Fjords yet, but I keep looking!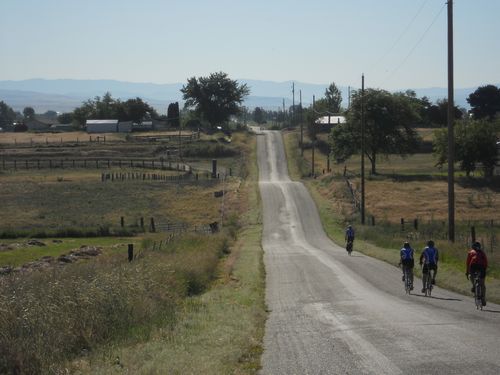 Carl, leading the pace line in the photo above, rode his last ride with us today. Carl and Gale are doing the cross country in pieces. This was their first leg and they'll be back for more next year. I know they enjoyed their time with us and we'll miss having them as part of the group.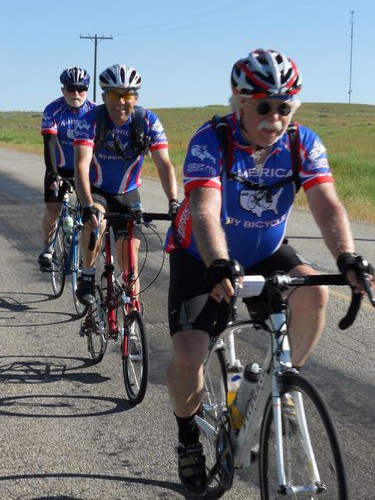 It was clear that we continue to be in a very arid region. The only green is where farmers have added water and we rode along irrigation ditches and gates almost all day. I came upon some beautiful cactus plants — what colors!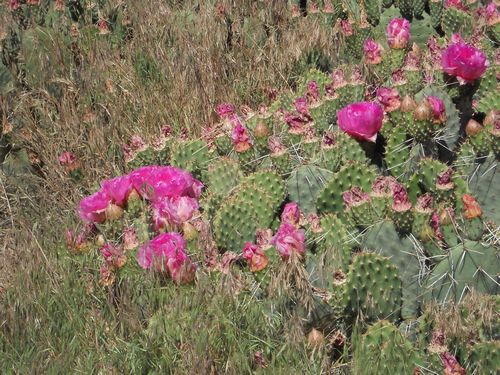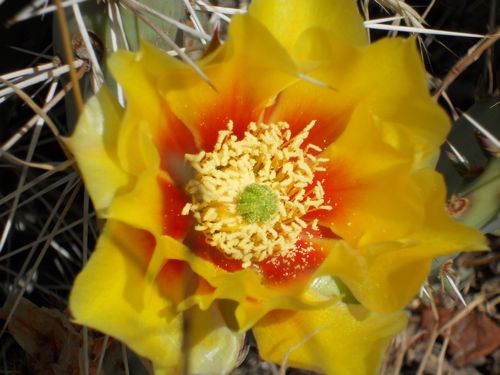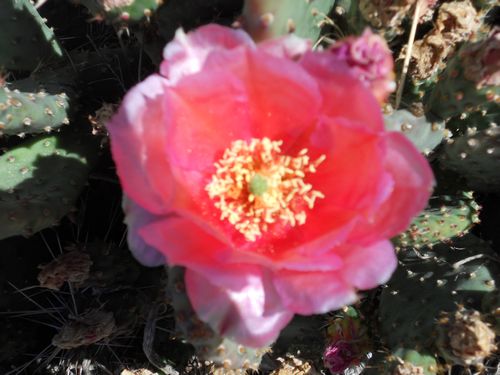 My onion shots didn't come out so well, but I did like this one of the potato field. Nothing grows out here unless it is irrigated or sits right next to the river.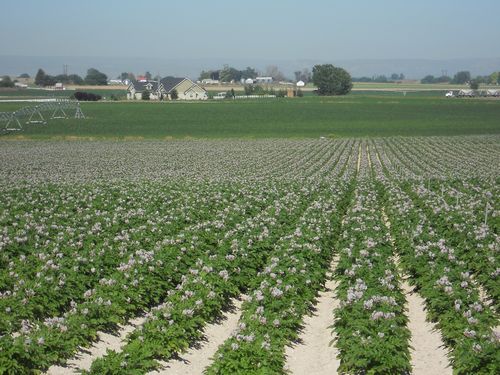 Everyone in the group is just great and there is a very positive "team" feeling in the air. I came into the one and only SAG for the day as saw Sarah working on Beth's shoulder muscles. Beth is in a triple room and she kinda pinched her neck/shoulder muscle the night she was on the roll-away bed. And, when you are riding for 6-8 hours a day, even a small ache can become a major pain!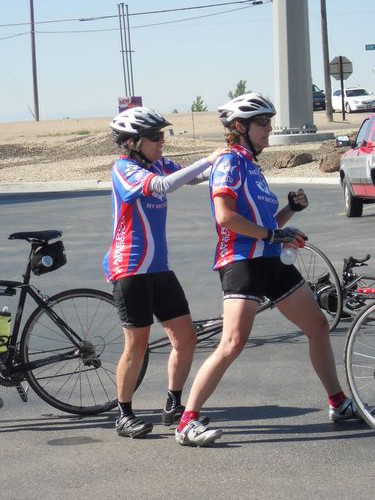 Also got a chance to get a shot of  (l-r) Jay, Alison (Kay's neice) and Kay . Jay (he's not as short as that shot makes him look!) and Kay are riding with us to Jackson Hole and Alison is going the whole distance. They are all very strong riders and great fun to be around. Kay and I rode for a bit early on and Jay has visited a bit, but he's a rocket and he's either riding with you visiting or you hear a sonic boom as he zooms away!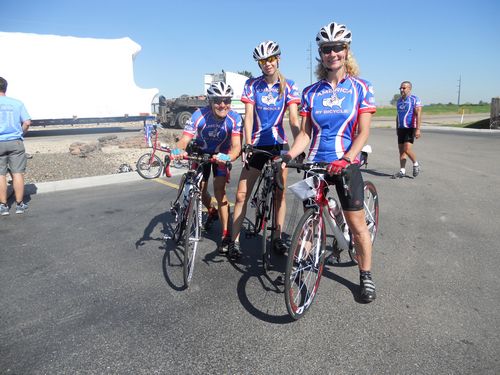 I think everyone stopped at Hyde Park for lunch. There were ABB jerseys everywhere! Today was "jersey day" – when everyone wears the official team jersey. The staff asks us to do this on days that we ride into our rest day and on a couple other special days (like July4th). We really are quite a sight when we're all dressed alike.
Below is Jeff sampling a little brew after a long ride!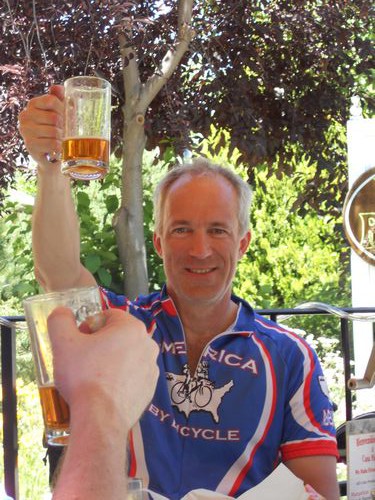 Our route took us right past the Idaho state capital building. The landscaping was gorgeous. The group I was riding with decided to go have a few words with the powers that be and lobby for more bike lanes! Actually, Boise is very bike friendly and we saw numerous riders out for noon-hour rides as we came into town. Boise is not your typical capital city. The city is small by most measures and the traffic is relatively light.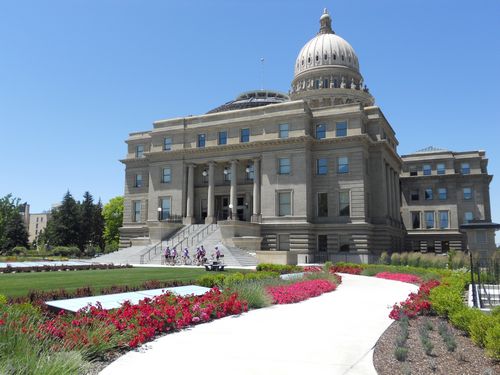 The group (l-r) Steve, Katie, Beth, Andrew (behind) Leo and Rod at the far right.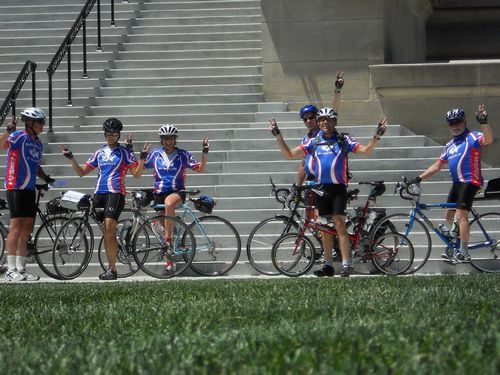 And, I thought I'd share a shot of our room lest you think I'm suffering at all — clearly I am not! When I checked in today, I was wishing that my co-worker Casey was here to collect my Marriot points! Jeff (drinking beer above) is a wiz-bang computer guy and he did collect his. He shared some stories about points and getting free miles that would put Casey to shame.  I'll try to get some pointers and bring them back home.