Garmin Data: http://connect.garmin.com/activity/42341471
I was pleasantly surprised when I stepped outside this morning into a rather cool, crisp morning. I was less thrilled by the fact that it wasn't quite light yet! By the time we walked over to the Exit Restaurant (6am) and had breakfast the sun had come up. It was still cool and the humidity was much…MUCH lower than 24 hours earlier!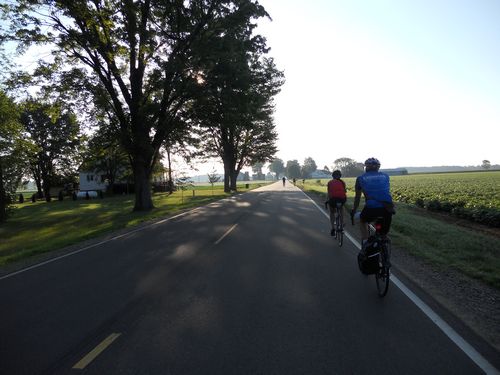 Today was very similar to yesterday as far as terrain and points of interest — with a few exceptions.  At one point, I looked up to see Todd riding back at me and telling me to stop. Then just a couple hundred feet further along I saw what had caught his attention… We stopped and showed our "Pride."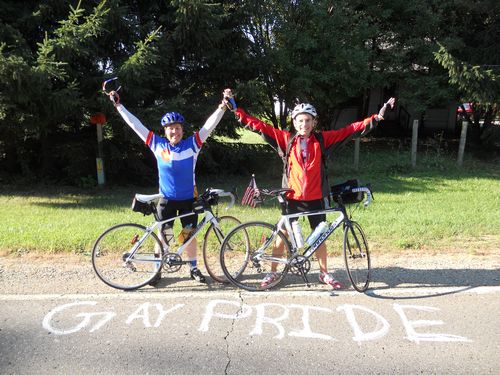 Michigan has lots of small "family farms." Corn and soy beans continue to line the roads and we've passed lots of dairy operations (saw lots in Wisconsin too!) and more than a few hog operations.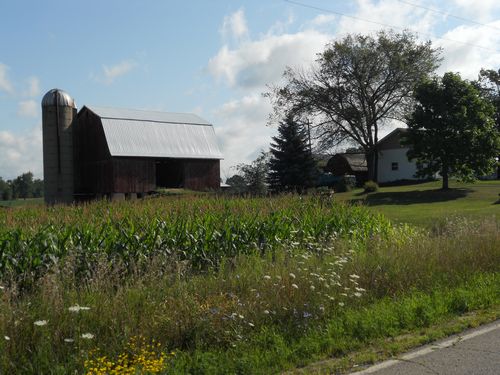 In one small touwn, I noticed that grass was growing between the rails – don't know whether this is a statement as to how infrequently there are trains coming through this area or how quickly the grass grows!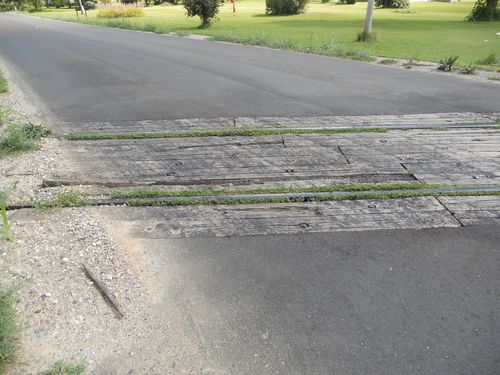 I wasn't sure where the SAGs were today — but I think Karen said one of them might have been in a store's parking lot. This establishment was around the right mileage — but looked like it had seen better days. The part of Michigan we've been riding through does not outwardly seem affected by the economic downturn. There are a few places like this — but, to be honest, the western states looked far more destressed. Of course, it is hard to see the struggles since we ride through and don't get to hear too many people's stories.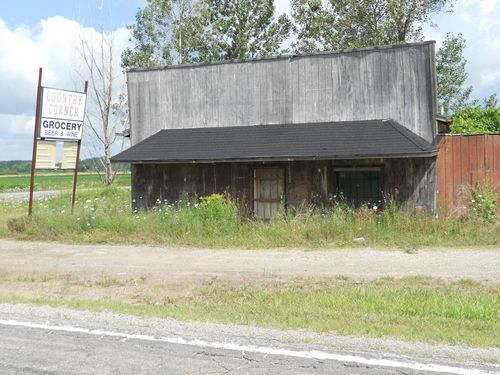 We were watching the sky today and there were a few dark clouds that we had to keep our eyes on. For the most part — when I looked up, this is what I saw. "Cotton Candy Clouds"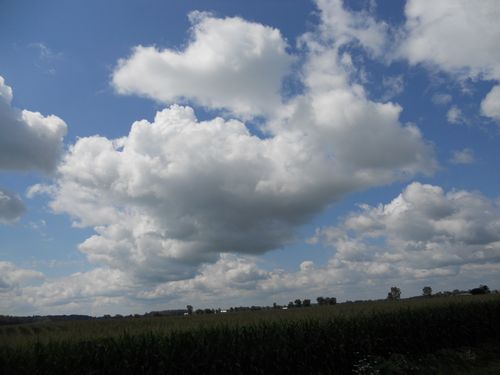 At the SAG stop, I caught Mark ("New" – since he joined mid-ride — he's actually from California) playing on the park swing set. He was putting a lot of energy into swinging. Hope he kept a little in reserve for the second half of the day….  that's Katie getting a close-up of the action.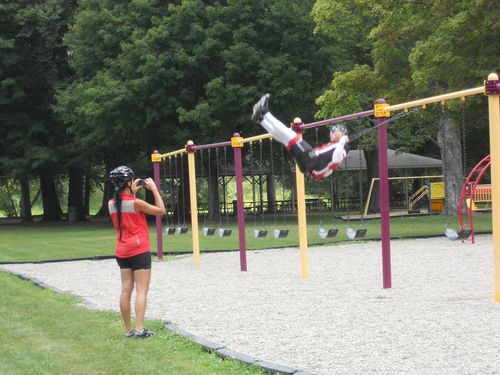 The last 8-10 miles of the ride were along the shoreline of Lake Huron — into Port Huron. We passed some VERY impressive beach-front properties. Apparently these are summer homes for some of the more affluent Michigan residents.  Unfortunately the traffic was real heavy and we didn't stop to take any photos.  But, as we got real close to town we did stop at a public beach for a few minutes.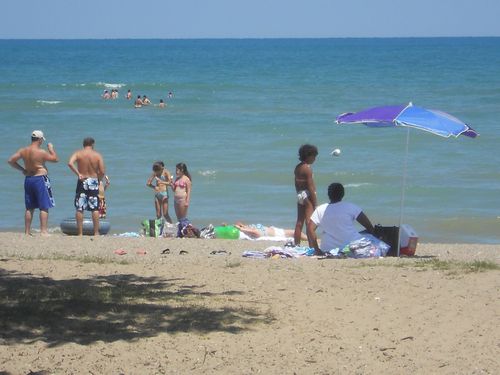 And, we rode down under the bridge that we will ride over tomorrow! Quite a sight.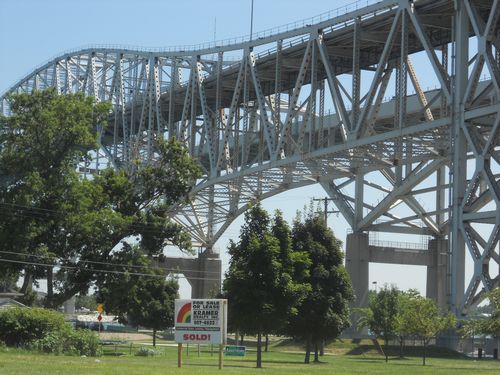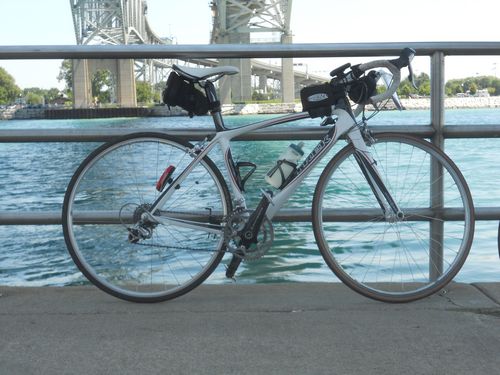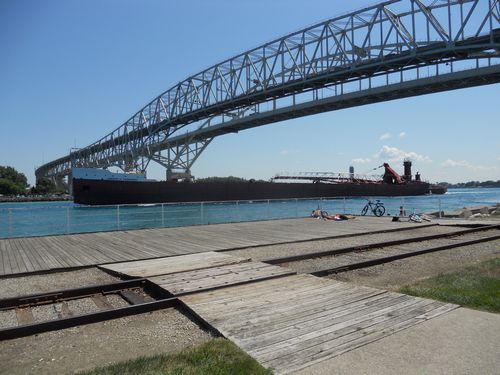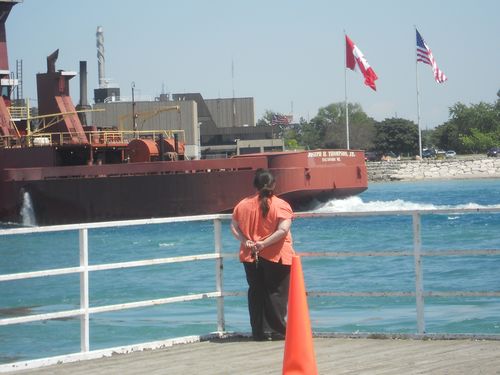 There was another thing that stuck out about today — twice I got yelled at from cars going by to "Get the XXXX off the road." Neither time was it warranted. There have been a few times where we've been riding side-by-side on the quiet farm roads and not heard or seen a car approach — but in those cases, the cars have all been very understanding. I guess cars in this area have not had good experiences with bikes. I'll be leaving here and not had very good experiences with Michigan CARS!
At the end of each day, I tend to Scooter's needs. I often towel him off or clean his chain. And, every couple of days, Leo and I check both our front and rear tires for slices and embedded pieces of glass and other debris. We almost always find something that would have eventually worked its way in and eventually caused a flat!
Most of the hotels/motels have a hose and rags set out for us. This time they put a bucket of water out side the main entrance for us!