Garmin Data: http://connect.garmin.com/activity/60526156
You'd never guess it was December in Colorado — no snow, relatively mild temperatures and roads filled with cyclists! My friend, Eddie, and I were among those  who "braved" the elements to ride this morning.
Although we had planned to leave Starfire Farm at 10:00 am, when Eddie…ok, Dave… showed up I was in the early stages of changing a flat front tire. Scooter managed to pick up a goat head thorn on our last ride and this morning I found him with a "hotel flat." For those of you who don't know what a "hotel flat" is, it is a term I learned on the cross-country ride this summer. It is when everything looks fine and dandy when you turn in at night, but then, when you wake up and are all set to go, your bike "mysteriously" has a flat. Usually the cause is a piece of glass, wire or other road debris that was actually picked up long before you turned in the night before — but was not detected (or removed) and eventually worked its way through the tire tread and into the tube. Scooter must've picked up this goat head right at the end of our ride because it was clearly through the tire and if I hadn't removed it before putting in a new tube, I bet I wouldn't have gotten a mile before I flatted again. Applying the tire-changing techniques Mike Munk shared with us no the trip, Scooter and I were ready in no time flat ….pun intended. 😉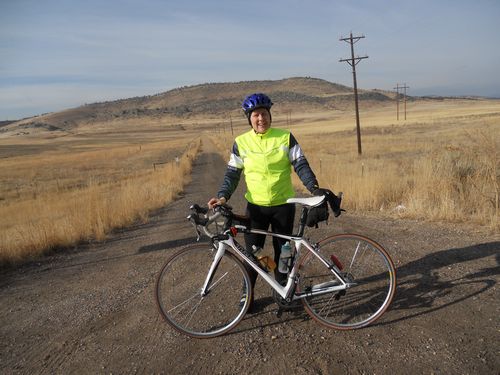 You can see that I wore a sleevless vest and a long sleeve cycling shirt underneath. What you don't see is that I also have a longsleeve  lightweight polypro shirt under that. I wore medium weight tights over my "double shorts" and medium weight gloves.  Just in case, I was also carrying my wind jacket but didn't need it. Looks pretty BROWN behind me, eh? Dry, dry dry here and no moisture in our forecast. Good for riding, but not so good for everything else.
I left the route selection up to Dave and once he detected a slight southerly wind, that's the way we went. A cyclist after my own heart. Riding today was delicious. It was definitely cool, but not uncomfortably so. The air was crisp and felt great on my face. I read an article last night about winter riding/commuting and it mentioned how often the issue is not staying warm enough on a cold ride, but staying cool enough. Since a chill sets in after your body sweats, the idea is to find the sweet spot where you are exerting but not so much that you sweat a whole lot. I decided to try dressing a little lighter today. I admit, I was cool when we started out and I thought I might've made a BIG mistake. But, after about 15 minutes and one good climb up from the Little Thompson river bed I was just fine. Dave was too. He said he dressed lighter today too — but to be honest, his outfit looked remarkably similar to the one he wore when we rode on Sunday.  He was wearing a couple pairs of shorts (…a new convert to the Doubles Club),  long tights and on top he had a couple of shirts on under an LLBean fleece vest. Of course, he had his winter ski gloves. Today he wore high-top hiking shoes whereas I think on Sunday he had on a low-cut hiking shoe. Very dapper. Here you be the judge…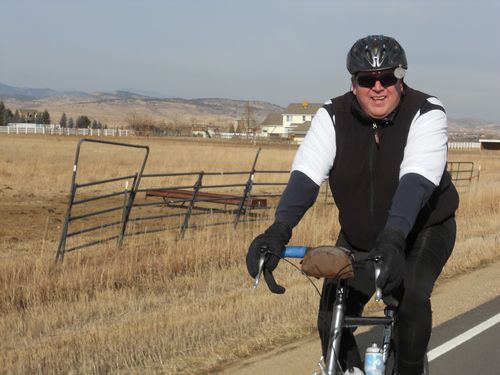 Here's Dave sporting the latest in cycling high fashion. Check out those ski gloves!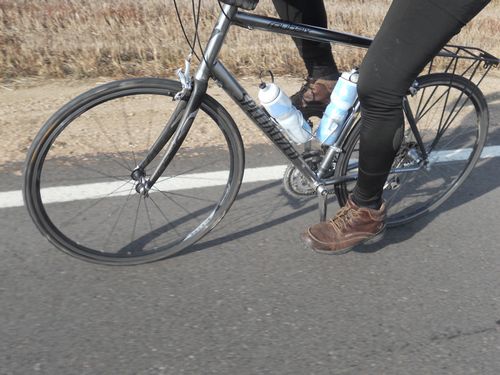 Check out these cycling shoes! And, as you might have guessed — Dave does not use clipless pedals, or platform pedals with toe cages/straps. He just has a bare platform pedal. Pretty incredible!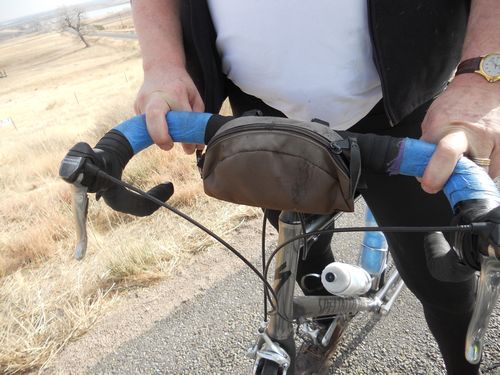 I don't know how I missed this on our last ride — but Dave also has 'accessorized' his handlebars with some snazzy blue tape too. Bet that tape will get him an extra season or two out of the underlying handlebar tape.
I couldn't help but snap a few photos of holiday yard art. No light displays since we rode while the sun was at its highest.  You can see how we do it out here in the west…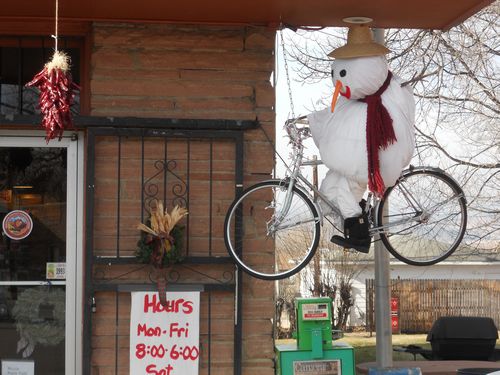 The small independently owned grocery store in Hygiene (yes, Hygiene) Colorado hung a bicycle outside as a show of support. They also have bike tools and a pump just inside the door that anyone can use (free of charge). Needless to say, cyclists appreciate this gesture and tend to stop in and drop a few bucks in return. At Halloween, there was a witch riding the bike! I like the snowman better. The witch was kinda scary!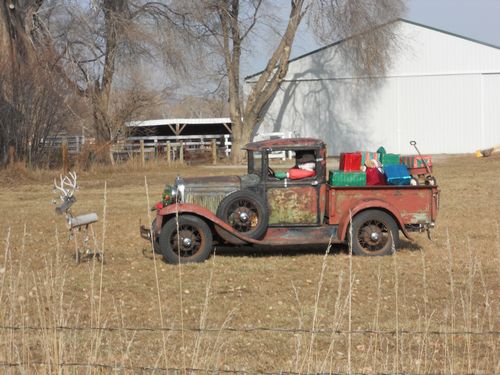 Good think Santa doesn't REALLY have to rely on this truck to deliver presents. The rear wheel is flat and I don't think the truck has run since I was born!  We passed this about half way through our ride — right before we climbed from Hygiene up to CO 36 on our way towards Lyons.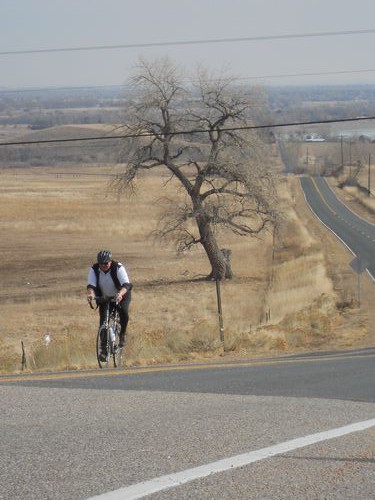 Unfortunately, this photo doesn't do the hill justice. It may have been short — but that sucker was STEEP. When Dave got to the top he was huffin' and puffin' and DRIPPING  all over the place. I honestly thought he'd sprung a leak in his forehead. He recovered quickly though, turned right onto CO 36 and headed DOWNHILL — BRRRRRRRR. What was I saying before about staying warm on winter rides by limiting the amount you sweat? Dave must've been FREEZING as he flew down that hill at 25-30 mph. I know I got a little chilled and I wasn't dripping like he was!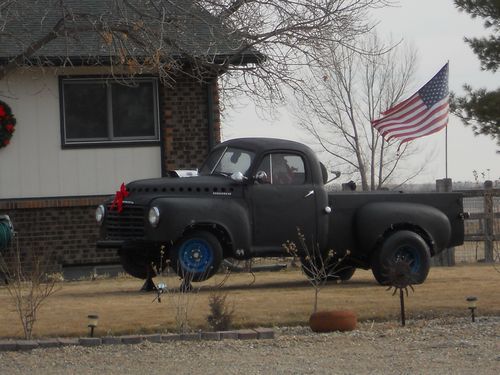 This truck is a couple properties up the road from us. I've driven by it every day this week — and told myself that I'd have to get a photo of it. The truck looks a little newer than the one we saw near the climb and I know the guy that lives here works on older vechicles so I'll bet this one even runs! I'll have to watch tonight to see if it brings Santa through the neighborhood. I did notice that the front end is up on jacks right now — so, I could be wrong, maybe it hasn't run in quite a while either. Fun to look at, that's for sure!
We saw quite a few other riders today — at least 15-20. As is the case this time of the year, they all looked pretty serious about their sport and all seemed to have a little extra "jump in their skates" as the hockey fans might say.  Riders were looking up, smiling and most waved or hollered out a greeting as we passed. If they're like me, thye're  just thankful to be able to get out and ride!!!! The weather looks favorable for the next several days. With any luck, I'll be able to get in a few more rides before 2010 becomes 2011.  My co-worker in Illinois probably isn't going to be as fortunate. Apparently they have been getting all our winter weather — sorry, Kurt. I'll put a few miles in for you too!
Happy Holidays — and keep the rubber side down and those wheels turning!