Garmin Data: http://connect.garmin.com/activity/77673796
(Note – I added this data long after the ride, and it is kinda wierd because I forgot to reset the computer for my next ride — so this data shows today's ride and the one that I did on March 27th…. duh!)
I took this to heart. Actually, I was just a tad nervous when I went to bed last night after I rode home. Once again, I was committed to riding back in to work although Beth said she could drive me in if I felt I needed to abort.  I took a long look at the wind charts before I turned in. I also looked at the local bus schedule and determined that there were several bus stops that I would pass as I rode in the morning which gave me another option for aborting if the winds became unbearable.
As I drifted off to sleep, I decided that my best option was to get up real early and try to ride before the winds "woke up." I had set my alarm for 4:45am but was pretty sure I would be up before it got a chance to go off. I was right. I woke up several times during the night — each time the wind was roaring outside. Finally, at 4:15am, I thought the wind had died down and that if I was going to ride — it was time to head out!
Do you know how dark it is at 4:15am? It is damn dark! I debated with myself while I got ready and drank a glass of Cytomax pre-formance (didn't think I could stomach oatmeal at 4:30 in the morning!). To ride or not to ride.  Yes. No. Yes. No. YES!  If the wind was not such a looming danger, it would have been a no-brainer (and I would have slept in a few more hours!). Scooter and I rode out the driveway at 5:00 sharp. This was by far my earliest start yet. There was a light wind out of the west/southwest but more like a whisper than an roar. It was relatively warm. I wore long tights, a light go-lite wicking layer under a short sleeve cycling jersey and a wind jacket as the outer layer. Normally I wear a long sleeve thermal cycling jersey, but today I guess I just forgot. I had medium weight winter gloves and my turtle-fur on under my helmet. All in all, I was very comfortable. Nervous about the wind, but comfortable.
I changed out the batteries of my rear red-blinky light since I knew I would be riding in the dark the majority of the time. I was also very thankful that I paid the extra $$$ and got a top-notch front headlight for Scooter. Riding along in a narrow beam of light on a bicycle is rather eerie. Somehow, it feels different than when I drive a car at night. I was acutely aware of everything around me. There were not many cars for the first hour of my ride but I watched the traffic even more carefully than usual. Clearly the cars could see me and they all gave me plenty of room.
By riding before sunrise, I caught a glimpse of two raccoons crossing the street 20-30 feet in front of me. The looked up at me, and I swear they did a double take. They probably expected me to be a car. Good thing for them that I wasn't!  I watched as they hustled (as fast as raccoon hustle…) off into the pasture by the side of the road.
I did stop at a bus stop at the south end of Longmont and contemplated jumping on a bus. The wind had started to pick up and I was just so unsure of how strong it was going to get, and how much longer it would take before the gale force winds returned. After about 30 seconds I jumped back on Scooter and started off again — knowing that there was at least one more bus stop that I would pass on my route to work. I was on pace to be at that bus stop a good 15-20 minutes before the next bus was scheduled to arrive there.  Once I got to that bus stop, I debated with myself again on whether to continue on Scooter or jump on the bus. It was not a clear call. The wind was a bit stronger and still coming at me from the southwest (I was travelling south to southeast). The bus would not arrive for another 15 mnutes. Hell, I can cover a lot of ground in 15 minutes… so I took off again. Now I was committed to riding the rest of the way into work (another 1.5 hours of riding normally).
Still in the dark, still riding into a light wind. Scooter and I just settled into a nice pace and counted off the miles. We turned off of CO-287 onto CO-52. We took that east to County Line Rd where we once again headed south. I have avoided this road because it has a very narrow shoulder but today I decided to give it a whirl. Turned out to be fine. As early as we were, the traffic was light and there was very little sand/debris to worry about. But, as we went through the small town of Erie the wind started to pick up. I was still a good 8-10 miles from work. I figured I had probably run out of luck. I started to ride with a little more energy and sense of urgency. As we rode south, the wind was much more of a factor. And, so was the temperature. It must've dropped about 15 degrees and now I was wishing I had dressed more warmly. As soon as we turned west I got some relief and even a gentle push from the westerly component of the wind. The sun was also starting to paint the esatern sky orange and pink. Just beautiful.
I stopped and took a few photos of the foothills before making the final push into work. I got there none too soon. In the 20 minutes it took me to shower and change into my work clothes, the winds really kicked up. The wind howled all day too. By evening, wind gusts in the 50-60 mph range were playing havic in Boulder — where we went to watch the University of Colorado men's basketball team beat Kent State in the NIT quarter finals.
This shot of the foothills is taken from the highest point on my commute — right before I drop into Broomfield.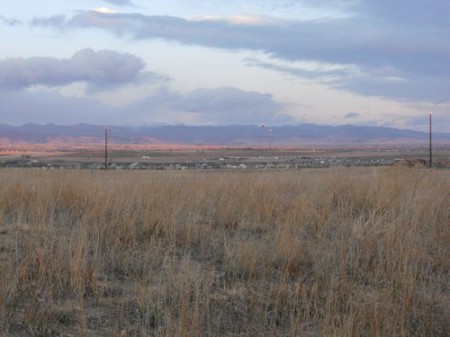 The stop sign photo was taken about 20 minutes from work — after riding in the dark for about 2 hours!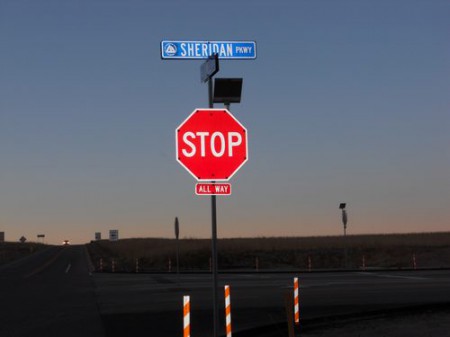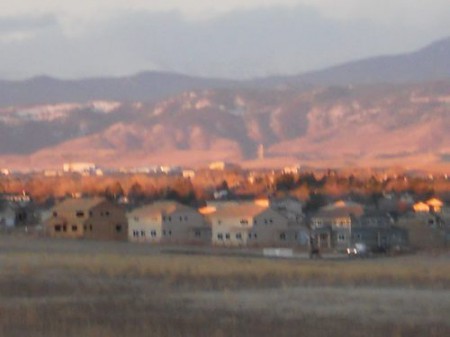 The moon was a great companion on this ride. Without it things would have been even darker. UGH!