Garmin Data: http://connect.garmin.com/activity/39243088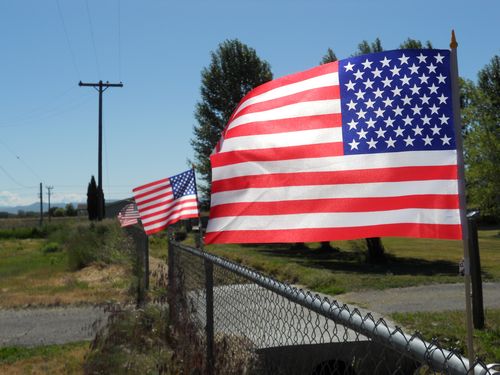 We left Pocatello this morning all dressed in our America By Bicycle jerseys. Howard even broke out his new patriotic socks — they have the Republican Part's Elephant logo on them.  He was red, white and blue from head to foot. Howard's jersey was different from the rest of ours — looks like he's done previous ABB rides.  Howard has the distinction of being the oldest rider on this year's tour. I've heard that he is 79 — but the way he rides, he can't be a day over 60! He's very strong and about as witty as they come! He's riding with Bob, a long time friend. The two of them have done rides together for about the last 15 years —  all over the world.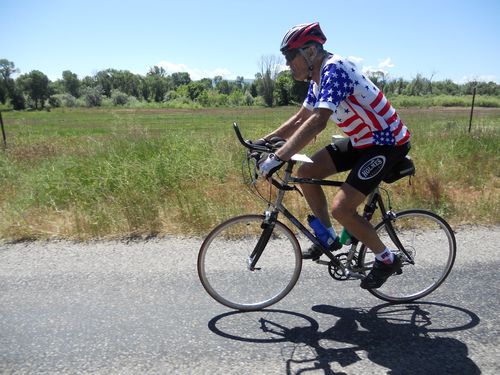 I almost don't want to write this for fear of jinxing our group — but…. we had another glorious day! After a short stretch of head wind we were once again pushed along by a tail wind or cooled by a cross wind (steady and not gusty, so easy to ride in). The terrain was pretty flat and most of us took our time because the staff warned us that the hotel rooms were not likely to be ready until mid afternoon. As a result, today's Garmin data probably makes it look like we had a tougher day than we did. If you look at my average and max heart rates though (96 and 136 respectively) it should be pretty obvious that we weren't pushing all that hard! 
We even got chased by a few dogs today — none of them very serious and after getting startled by the first one or two,  I settled in to just riding past them.  There were lots of cow and horses today — saw our first draft horses! Not Fjords…but they did make me a little homesick for my herd!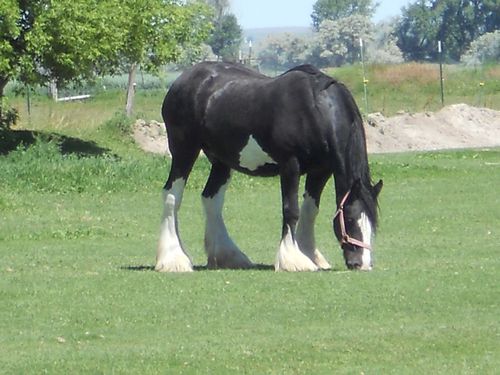 Most of the cows were the normal sort, but we did come upon some "cow fish." This whole area was irrigating and one farm that was basically flooded out, took their horses out of the pasture and roped them in on the front yard and driveway. Another farm (with the cow fish) has water EVERYWHERE! The irrigation ditches are full to overflowing. I didn't see anyone to ask — but I'm real curious to know if this is normal or if they're having a wetter-than-average year.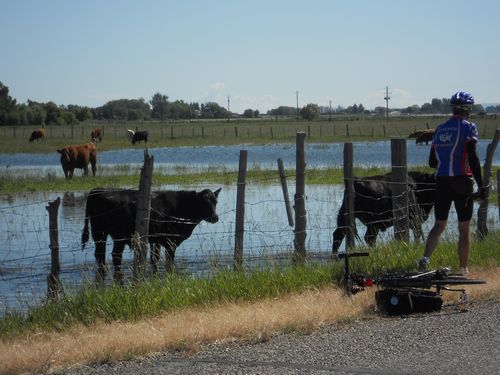 A rare, albino cow fish!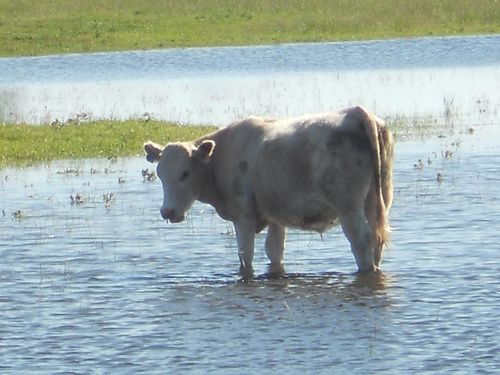 The lake you see below is actually the paddock! In this case, the grass really IS greener on the other side!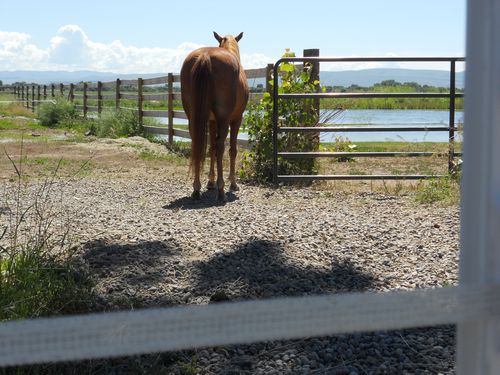 I think the locals are trying to hide something though…. several times we came upon sod covered buildings. I told everyone they are probably BINGO halls. What do you think?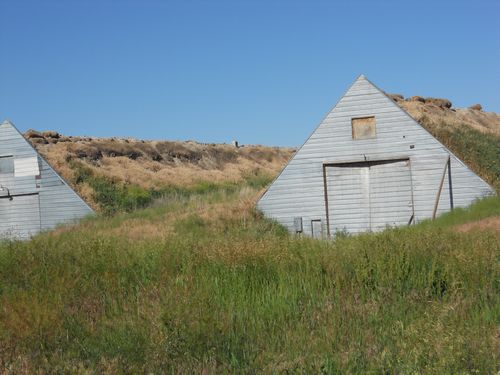 I suppose it could be the stationary part of the Idaho National Labs — from the bus lot we passed, I assume the rest of that operation is mobile!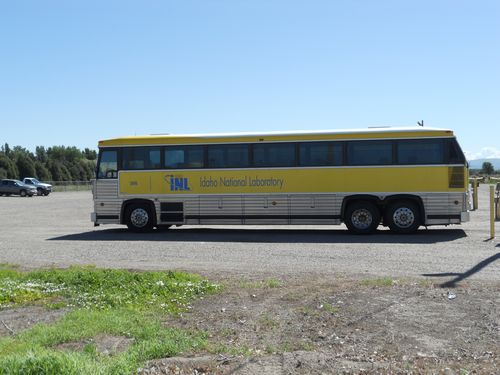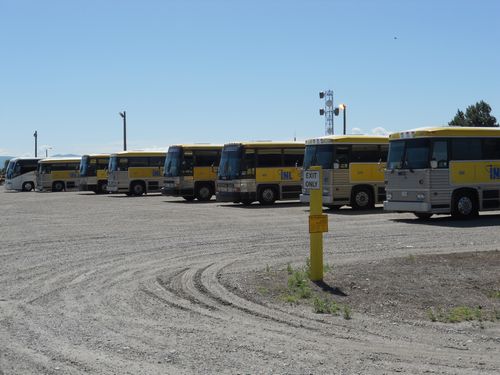 Our hotel tonight is across the street from the falls – the water was flowing freely over the edge. The barrier was created to direct the water to the hydroelectric plant down stream a ways.  Leo took some other shots of us by the water, but for now, I'll close with these.