Gonna keep this short, cuz I want to write about today…. this was yesterday. Everyone got together at 'bout 4pm at Beth's for our pre-ride meeting and FEAST!
Beth, her son, Anthony, and his wife, Heidi prepared a feast of pulled pork tacos and salmon. Add in the grilled veggies and strawberry/rhuarb crisp, dips 'n stuff and to the bubbling conversation of everyone catching up with each other and you have one fabulous evening.
During the meeting portion of the evening, we went around and did introductions…complete with snide remarks related to our 50-day cross country trip last summer… and refreshed ourselved on a number of safety issues, rules of the road and the SAG stops. Then we went over the route, with special care given to pointing out the location of Estes Park's Dairy Queen!!!
Here are a fe w photos of the group….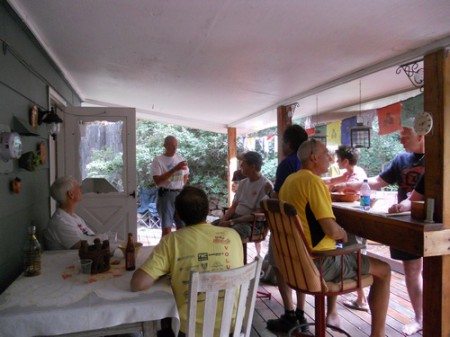 Bill Bibler joined us for dinner — but had NO interest in doing our ride. Here he is catching up with John Soley and his wife  (who IS riding) Barb.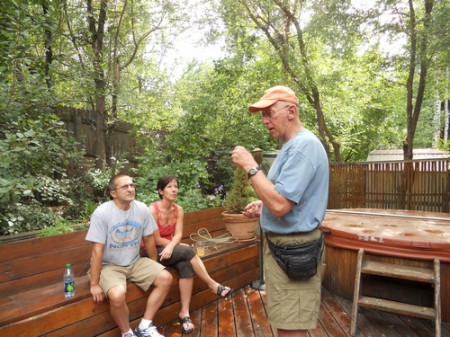 It was smiles all around as we kicked off the CRR-ABB reunion ride. Sara Aerne (l) and Nancy Newport (r) are new to the group. Sara is riding and Nancy is one of our two treasured SAG drivers.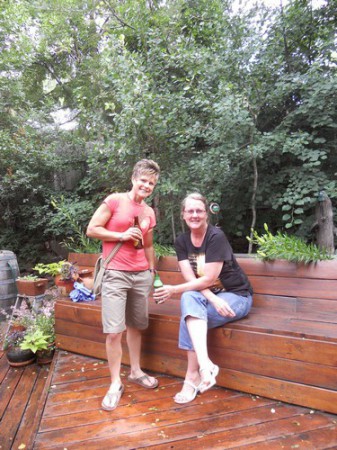 And, Steve Lange.