Garmin Data: http://connect.garmin.com/activity/77673796
I couldn't decide whether or not to ride today.  There are lots of things competing for my time and I'm feeling pressure to get some things done that I am just not very excited about. Preparing my taxes is high on that list, but it is by no means alone. Beth encouraged me to give in to my desires and I finally decided to go for a ride. As I was getting ready, I realized that my only pair of cycling glasses got broken on my way in to work this past week.  For me, no glasses means no ride. Then I remembered the Boulder Bicycle Village big tent sale this weekend — complete with 30% off eyewear.  No problem, just change plans to include a quick trip to Boulder to get some new glasses. Beth had a great idea, she and I (and the whippets, of course) would drive to Boulder and then Scooter and I could ride home — wearing new cycling glasses!
Works for me! We got to town around noon and picked up two pair of glasses (one spare) , some Shot Blocks, a pair of SPD pedals (since I keep stealing them off of Beth's bike to put on mine) and a few pair of Smart Wool cycling socks.  I got ready in the Bicycle Village parking lot and took off while Beth went back in to see if there was anything she needed for a potential Moab trip.
I followed the same route we took with the Saturday Bicycle Village ride group several weeks ago. Crossing 28th Street and then winding my way north along Folsum Street and out towards CO-36. I had to stop and swap out my long sleeved wind jacket for a vest. There was a chilly wind out of the north, but apparently I was working pretty hard because I still managed to start overheating a bit. There were lots of cyclists on the road – several who passed me looked like they probably rode competitively.  But, there were also a handful of riders who looked like they had no intention of ever entering a race, or for that matter an organized ride. I saw both mountain bikes and road bikes riding the shoulder of CO-36 towards Lyons. I went this way so I could check out the route I plan to take from my house the first day of the CRR-ABB reunion ride in July. I reset my computer at the Left Hand Canyon turn-off and started to note the mileage at the various turns in my route. I turned right at Nelson Road (at the Warf) and took that all the way to the light near Seagate and then turned left back into the northerly wind. The folks coming from the north were flying! Talk about having a good time. Sheesh. That was the only downside of going to Boulder. I knew I'd be riding back into a headwind. Knowing it was going to be waiting for me actually made it a little easier to take. Sure, I would rather have been flying along but there was something rewarding about pushing through the wind. After all, who was getting a better workout? Good think I wasn't in a hurry — the wind knocked my pace back a couple miles per hour but Scooter and I just setteled in and enjoyed the day. As is often the case when I find things going slower than usual, I started watching the shoulder and the road-side ditches to see what kind of litter, debris and goodies has accumulated over the winter months. I saw the usual assortment of beer bottles,  fast food trash, a bicycle water bottle….and then, a black waiter's apron and black dress shirt! Not something I expected to see along side the road — perhaps it blew out of a motorcyclist's bag, or was left on a roof top after a quick change. I guess I'll never know. You just never know what you'll see, will you!!?
The rest of the ride home was uneventful. Just Scooter, me and the wind. Glad I got a ride in today. More wind in our forecast so it might be a few days before I get another chance. Spring is definitely in the air!!!! 
Looks like there may have also been some "weather" in the air too! That's Longs Peak behind those clouds. Overcast and chilly today.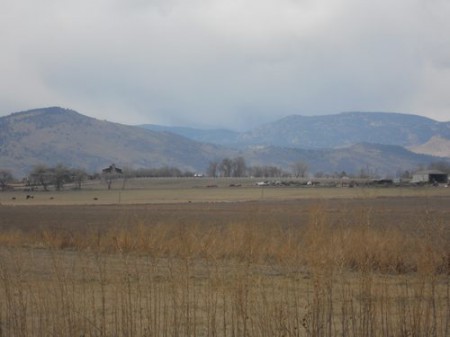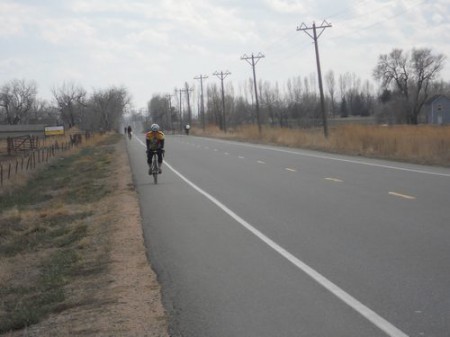 As I stopped to take the picture of Longs Peak, I took a quick look behind me. I was being chased by a whole bunch of riders! Not uncommon to see a constant stream of cyclists on the roads from Boulder north past my house and on up to Carter Lake.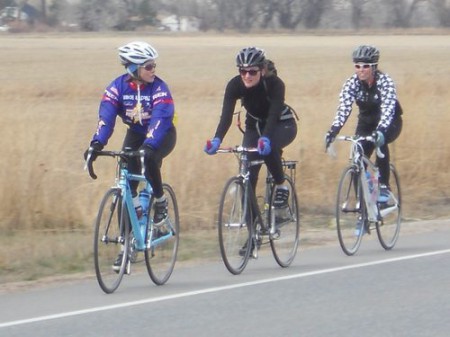 And, at that same short stop, three gals came riding from the other direction, chatting and having an easy time of it. THEY had the tailwind!