Sid and I had both ridden our bicyles in this particular Tuesday. I was on my "return trip" from riding home the previous night. Sid was commuting both ways – his plan was to leave early, as it was his birthday,  and celebrate it with his family. We ran into each other in the hallway just as our days were beginning and shared details of our commutes. I had ridden the first 30 minutes of my commute before sunrise by the light of my powerful  Cygolite MityCross 380 headlight. Our conversation naturally turned to lights. Sid was curious how I mounted my red-blinky light. I explained that I ride with two actually — one is attached to my bike's seat bag while the other is attached to the rear adjustment strap of my bike helmet. Sid shared that he wasn't entirely happy with his setup — his rear bag didn't have a place to clip a light, but he thought that Marsha might be able to attach one and he planned to ask her about it when he got home.
Marsha and Sid never got a chance to have that conversation. Sid Johnson was struck and killed by a 20-year-old driving an SUV as he rode his bike home that afternoon.  In that instant, a family lost a beloved father, our company lost an awesome leader and many of us lost a friend and collegue. 
Sid was only 52 and making the most of his life when it was suddenly cut short. He will be remembered for his extrodinary contributions at work; his value-based leadership and his passion. His family was at the center of his world and I ache thinking of their loss and how they must now face every day from now on without him by their side. It just isn't fair.
I will remember riding bicycles with Sid. He and his younger daughter, Kirstyn, rode with a group of us that was training for the Triple Bypass ride. We rode South St. Vrain Canyon together and up Loveland Pass. I smile thinking of the Loveland Pass ride — Sid was riding a nice, light-weight road bike and Kirstyn (probably a senior in high school or maybe a freshman in college) was on a hefty mountain bike. Sid couldn't keep up with her and asked another friend, Randy, to keep an eye on her and ride with her up the pass. That was Sid — always watching out for his girls!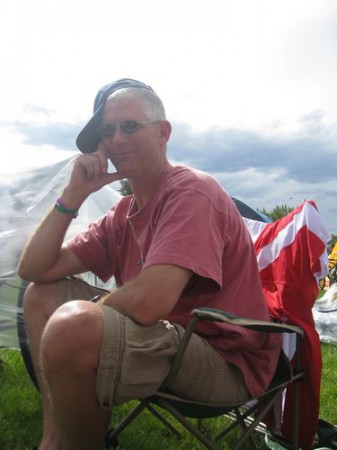 This photo of Sid was taken on Ride the Rockies — which he rode in  2009 with his younger daughter, Kirstyn.
Last year I got Sid to join a group of us at the Boulder Velodrome. I got to see the "I'm not so sure about this…." side of Sid that doesn't show itself very often. Something about steeply sloped tracks that bring that out of a cyclist (myself included!). He swallowed hard though, pushed off and was riding the middle and upper parts of the track in no time. I feel fortunate to have shared cycling with Sid and look forward to riding with Kirstyn more in the future.
I know my Mom reads my posts — and I suspect she's likely to feel more anxious about my riding now that she already was. Please don't worry about me, Mom.  I think another important thing to take away from this day and that is — Sid was doing what he loved. He was living life to the fullest and without regrets.  I am like Sid that way. I love to ride, it is a big part of me. I do everything I can to be safe when I ride — but, there are not guarantees in life.  I know that.