Just in case my co-worker Kurt in Illinois can't get out to ride on Friday, I wanted to set the mark as late in the year as possible.  Tomorrow and Friday don't look very promising  — high of 17 degrees on Friday. Brrrrr. But, if I think Kurt is out there riding, I may just have to bundle up an give it a go. If I go 10 miles or 1 hour (whichever comes first…) I call it a ride! In 17 degrees that could be quite a ride.
It is very grey today –  by Colorado standards. There are thin high clouds as well as some lower fluffier ones. There are even a few patches of blue somewhere behind all those clouds but I only caught glimpses of it as I rode. Sun glare was NOT a problem today.  There were a few other riders out, but not in the numbers that I saw when I was out with either Dave or Sara recently. Everyone was in layers with face masks and long gloves. I was wearing my bonifide winter riding gear. I had on 4 layers up top, my winter Pearlizumi long tights over 2 pair of shorts (felt just a tag bulky), my winter gloves (a thinner inner glove and a wind/waterproof outer one), a medium weight Peralizumi balaclava and, of course, my winter riding shoes complete with Sugoi wind/rain covers.  I thought I might be too warm — but as I rode north into a breeze it was just right. I wasn't cold once I got going and I wasn't sweating. I just spun along enjoying the day. I toyed with the idea of extending my ride — that's how nice it was. But, with lots of other stuff to do today (like clear out a spot in our garage for my car so it doesn't have to sit out in the impending storm!) I decided that the Rez loop would be enough.
Now, another topic that floated around in my head while I spun along was how to prove that I rode today — in case this is a candidate for the latest ride of the year "award." I thought, I could show the date on my photos — but that wasn't any good. Clearly I could pick any date I wanted, in which case I would have set it to Dec 31st, not Dec 29th. Heck, may as well make it as late in the year as possible, right? Then,  I rode up along the answer. A newspaper box! So, here is the Longmont, Colorado Daily Call from today… with me and Scooter in front of it!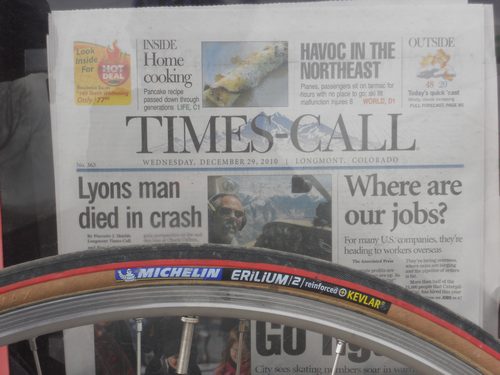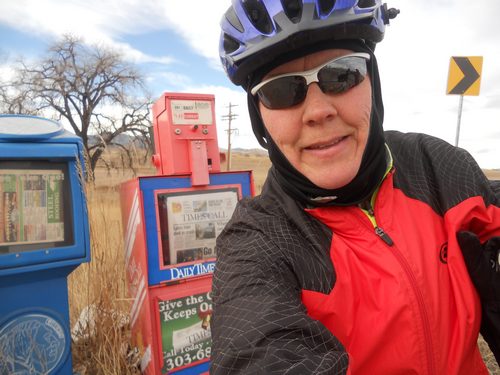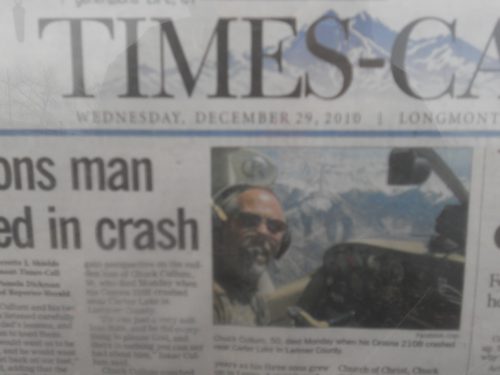 I came upon this festive fence and knew Scooter would look great with this in the background. While I was futsing around with the camera and getting that "perfect" shot — a cyclist whizzzzzed by us. UGH! I hustled back on the bike and took off to see how fast that rabbit really was. I certainly didn't lose any ground and seemed to be catching up pretty quickly (we were going about 25 mph) when I got to my turnoff. The rabbit kept going north and never knew I had taken chase. Just the way I like it.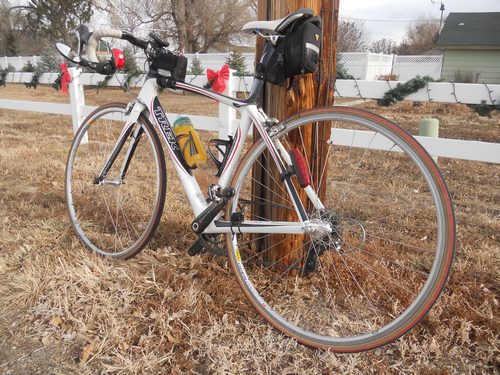 Apparently there is a walking path around the Rez. I snapped a picture of these hikers so you could see that it wasn't balmy out, but neither was it frigid. I was cold enough that I had to deal with a running nose, but at least I could feel it!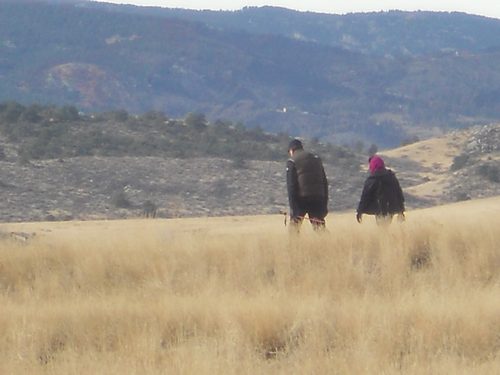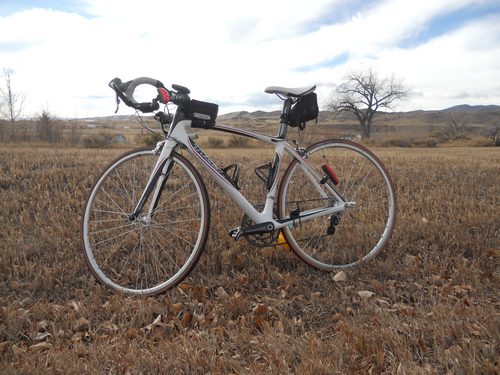 Got a great shot of Scooter with the mountains in the background. Took me a few minutes to figure out how to get him to stand up. Check out the use of the water bottle against his inside pedal! Worked like a charm. It helped that the ground was sloped (otherwise, I don't think it would have worked so well)