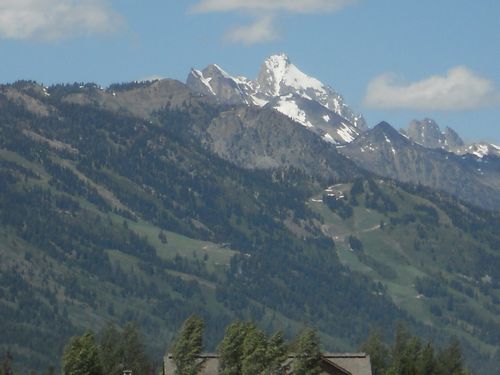 (Grand Teton)
Garmin Data: http://connect.garmin.com/activity/39364341
Today was a red letter day! We crossed over the 1,000 mile mark and we entered a new state, Wyoming. It doesn't get much better than that!
Today was a split start. Folks who felt they might need a little extra time to cover the 90+ miles and the climb up Teton Pass  loaded at 5:15am and headed out directly after breakfast (5:30am). The rest of us loaded at 6:15 and then headed out. The original route was "only" a little over 88 miles. But, due to construction, the staff re-routed us for a bit which added another 3.6 miles. Normally that wouldn't be a big deal —  but today was already a major challenge!
The climb up Teton Pass started after we'd already ridden 75 miles (and gained 2,000′ of elevation!) and the last 3 miles to the top was all 10% grade…or steeper! There were more than a few cyclists fretting about this after RAP last night. I was actually pretty excited to see the climb — and I was NOT disappointed. It was a tough one! My cadence dropped as low as 50 and although I never doubted that I could ride the whole thing, it would have been nice to have a granny gear for that one! Unfortunately, there was a strong, blustery wind once we crested the top so  I took the downhill section cautiously. I was actually braking so much, and so hard (that side was also VERY steep) that I came to a complete stop twice to let my wheel rims cool off. I touched the front rim and it was HOT!!!! Not sure it would have gotten hot enough to blow the tire, but I really didn't want to find out! My max speed down the hill was a tad over 41. If I had been able to let 'er fly I know I would have been able to get into the mid 50's. The two Swiss guys who are riding with us hit 56 and 52 — they said that they do that kind of decent all the time at home.
I didn't get as many pictures as usual today — focused on moving along and we had some head winds and cross winds that made it tough to take photos while riding. If I stopped, it meant losing the group I was riding which I didn't want to do either.
Everyone tries to get a shot of themselves at state welcome signs. Leo and  I were lucky enough to be there the same time as Sarah & Renny. They are from Jackson, Wyoming so we knew we weren't going to get lost if we stuck with them!
(l-r) Renny, me and Leo.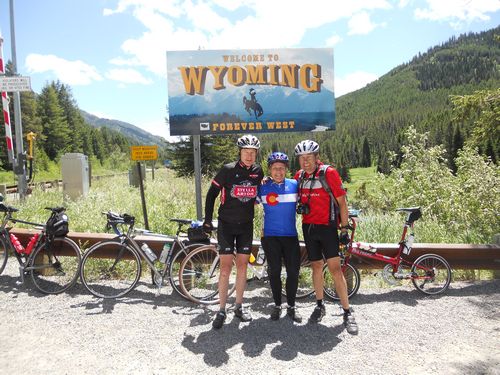 At the summit we found another sign and an excuse for yet another group shot. I was the first "bad penny" to the top. I thought I was chasing Rod, but it turns out he dropped back after the second SAG. Leo and Andrew came up shortly after me — as did (l-r) Todd, Beth and John.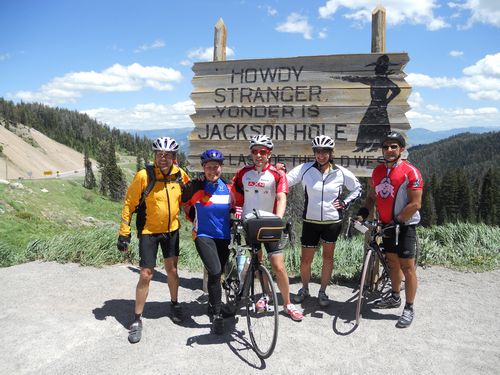 Our wind karma seems to be running out a little — but the temperature is still just about perfect! I work long tights all day but after the first half of the day, I could have taken them off and been comfortable too. Clear skies, green…GREEN grasses  and crops everywhere. I heard from Jeff  that the Geldings (previously referred to as the Stallions) got all wet when they rode past one of the massive sprinkers. The end unit's spray was drenching the entire road…so they got drenched.  By the time we came along, the farmer had turned the last unit off.  Good thing — I really didn't need another shower so soon — those guys must've been COLD since the air temp was cool and the wind was blowing.
It is nice in Jackson — too bad we don't get to stay here for a few days. We have yet another early start tomorrow and it is supposed to be rather chilly (could be in the LOW 30's). We're heading into the park — hope to get some good photos! We cross the continental divide tomorow too…  but that's a story for another day.
Today's parting shot about sums it up…