Executive Summary:
Spent the morning in the splendor of Grand Teton Park, then climbed out towards Dubois. A few miles from the summit, I was in a group of seven riders who got shuttled over the summit and a little ways down the other side because of road construction. Once we got back on the road we encountered a very nasty head wind — strong and steady winds (probaby 15-20 mph)  — for the last 25 miles. Uffda! Leo missed the shuttle van Andrew and I were on so he rode in with Michael and Matt (the dad & son tandem) and Andrew and I teamed up and shared taking leads. I've certainly seen worse — but this was no cake walk! And, what's different for us is that we'd already had 14 riding days of wear and tear on us and now we have to get up again tomorrow face some more easterly winds. I'm OK with it (….I say that now…) but there I did hear a little whining as we were checking in and some rather unhappy puppies.
Our internet is on-again-off-again, so I'll publish this and keep writing… if you don't see anything more at least you know I'm trying!
Jackson, Wyoming is a neat western town. At least that was the impression I got as I rode down the main drag at 7 o'clock this morning. It was nippy again this morning (43 degrees)– everyone was dressed in layers and long legs and gloves.  It was only 54 degrees when we got in to Dubois at 3:30pm.
Sara and I stood by the antler arch to give a little perspective! That thing was HUGE.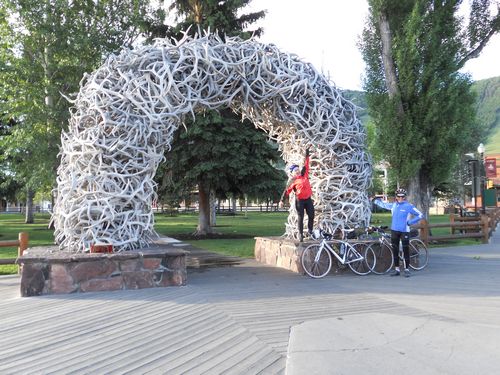 Right out of town is an elk refuge — gorgeous land but didn't see any animals there.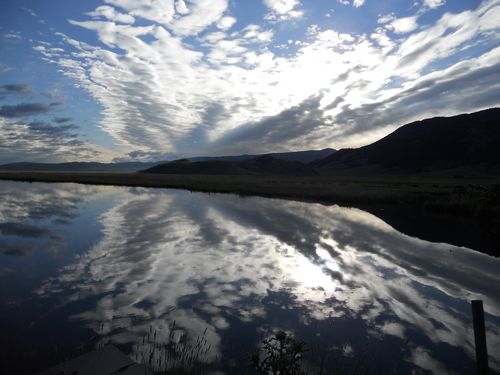 I was trying to get a wild flower shot…but Leo got in the way! 😉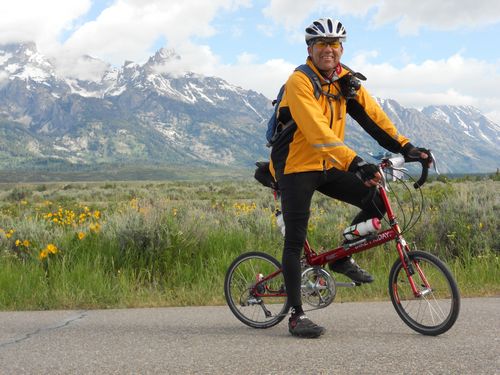 And, even though this wasn't a mountain pass, it felt fitting to give Scooter the traditional "got to the top" lift. What magnificent country!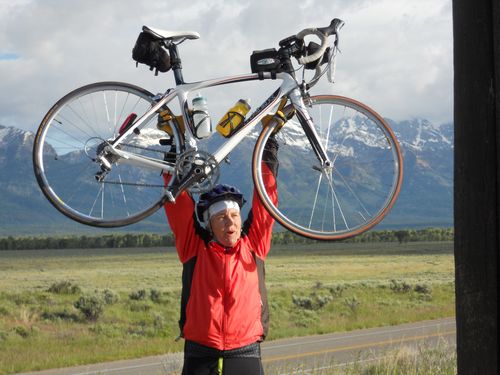 … oh yeah, as we were going UP the pass, this fellow on a unicycle was coming down. I have no idea how he keeps that wheel from being a run away! As he rode by taking our picture he hollered out — go to www.thirtysixer.com if you wanna see any of these photos. So, if his site is still there (and it should be at the time I write this) then you can go there too!