Garmin Data: http://connect.garmin.com/activity/39713474
All I can say is — it could have been a hell of a lot worse! There aren't many pictures today because when you're ridin 120 miles with the threat of more strong head winds, you don't stop to take many pictures or see many sights. Of course, since there is ABSOLUTELY NOTHING between Riverton and Casper we didn't miss much! Knowing that we were going to be moving right along today, I took a few shots at breakfast…at 5:30am, at our rest and "potty" stops and at the one tourist attraction – "Hell's Half Acre".  Beth came up to stay with me for the day off tomorrow and brought our two whippets, Finnegan and Fergus — so this entry is gonna be short and we'll see about tomorrow… Casper is no Boise, that's for sure! There's about as much in town to see and do as there was along our ride today! NOTHING! But, I'm very happy to be here and to have a rest day — so I'm really not complaining. After riding 17 of the last 18 days and covering almost 1,400 miles, my body is ready for a break!
This is what hungry cyclists look like at 5:30am! Most of the group had the hotel's continental breakfast, but about 10 of us ate a hot breakfast at the Trailhead. I think it served us well — even though we got off an hour after everyone else it was worth it!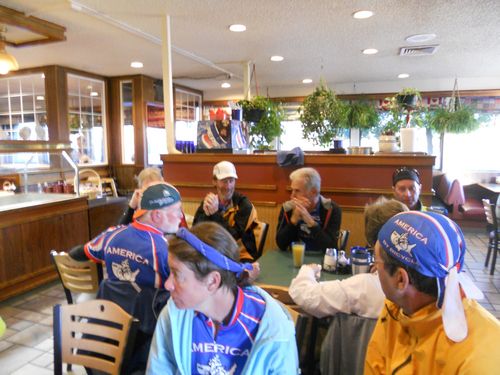 …. too much work right now, I'll add some more later so check back!