Beth here – So I drove up yesterday from Berthoud, CO with "the Boys," Fergus and Finn. They have been keeping me good company while Sandy has been riding and were good company on the approximatley four hour drive to Casper. Car loaded with things on Sandy's wish list of replacement recovery drink mix, new bike shorts and other essential items.
I arrived at the Ramada Inn just before dinner. Sandy's radar must have been tuned in 'cause she had just stepped outside to see if we had arrived. We settled Fergus and Finn into the hotel room and headed for dinner where the introductions began. Lots of tired but happy faces. Fit, tan folks heaping pasta, chicken, fruit and vegetables on their plates. Everyone was very welcoming and I heard a lot of "I've heard a lot about you!" Very lovely, interesting people.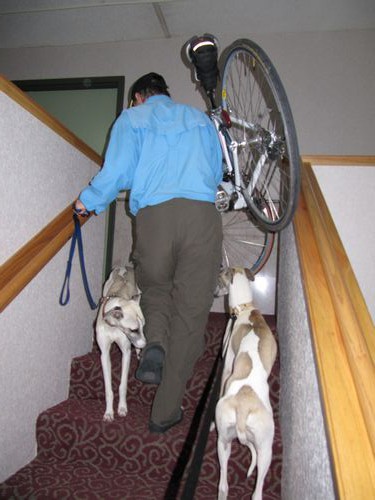 All were relating their experiences of the day. Some were relating stories of other riders' experiences. Some saw lots of scenery. Some had kept their heads down, riding like the wind. Flats. Construction. Wind. Flats. Upcoming routes. Flats. Did you see…? These were the topics at the dinner table. The sense I got was of one, big, happy family that was sharing a tremendous adventure. Every night is a reunion, of sorts and they love to get together over the evening meal to share their day. I told them of folks who have been following their blogs and e-mails, riding vicariously along with them. How they are admired by folks they don't even know. The evening meal was followed by a logistics meeting regarding the schedule and route on Saturday, following the rest day.
After dinner Sandy, folks have an opportunity to shop for America By Bike clothing and work with the mechanics to iron out any sqeaks and tics that have developed in their bikes. It's all very well organized and seems like folks are very well cared for. Hanging with folks that I'd heard ab0ut was fun, putting faces with the names Sandy talked with me about during our phone calls.
Since the following day was a rest day, folks trickeld in to the continental breakfast provided by the hotel. A buffet of scrambled eggs, biscuts and gravy cereal, oatmeal and fruit. A few riders said that they had not had coffee at all during their ride days, because it creates a need for numerous potty stops in the morning. Cups of coffee were happily downed this morning. Some other things that came up during our conversations were that they have all ridden approximatley 1400 miles in 17 days. Because they stay in a different hotel just ab0ut every night, no one can remember their room number!
Fergus and Finn were a hit. Many who met them said that they missed puppy time with the dogs they had left at home and appreciated being able to spend time with ours. Sandy, the dogs  and I happened upon a beautiful recreation area on Casper Mountain, where we had a lovely hike in the pine trees along a small stream. Lovely to hear the sound of the water and take in the scent of the pines. We also happened upon a nature trail for the blind with explanations regarding the flora and terrain in text and braille. Hikers follow a rope on a well-groomed trial and stop every 10 or 20 meters or so to learn about their surroundings. Very cool.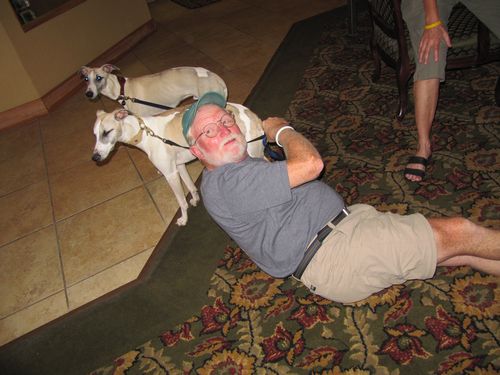 We had dinner with Sue and Leo, then Leo helped Sandy get glass slivers out of her bike tires using the sharp blade of his Leatherman multi-tool. Wierd to see someone using a sharp blade against a bike tire. They did find a piece of glass that would have eventually worked its way deeper into the tire and resulted in a flat. Leo found two pieces of brown glass in his tires — one in the front and one in the rear.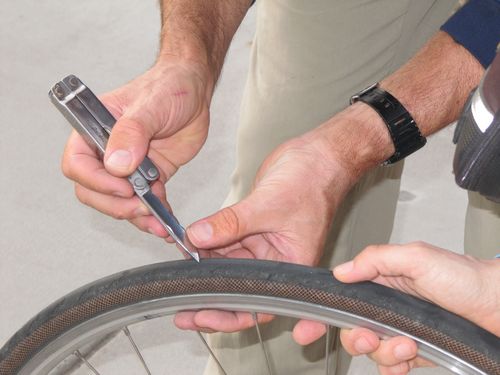 Time is short. Sandy is stretching. She has re-orgainzed her bags and will be heading out at O-dark-thirty to load her stuff into the cargo truck, then have breakfast and head out for their next destination. Fergus, Finn and I will be heading back home with a heavier Subaru wagon. It has been great to be able to see her again, to see her in her element with all of her new friends.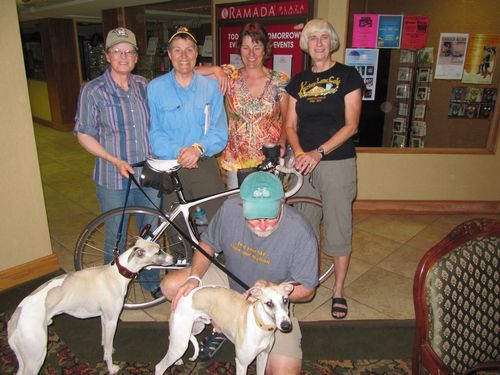 Standing (l-r) Beth, Sandy, Beth (from Boulder, CO!), Sue … kneeling (l-r) Fergus, Rod and Finn.