Sorry I didn't get this written yesteray but apparently our group overwhelmed the internet capacity of our hotel! That's probably not that hard to do — and we've likely done it before — but last night was the first time I got a pop-up message letting me know WHY I couldn't do anything!
The ride from Casper to Lusk was territory I'd been in before — for the most part. One of our SAG stops was at the Sinclair station a little off of I-25 that we gas up whenever we go through the state. Felt like I was at home…kinda.
Right as we were leaving Casper we passed a Sinclair gas refinery — fit right into the landscape…NOT! but did remind me that coal and gas are major Wyoming  industries.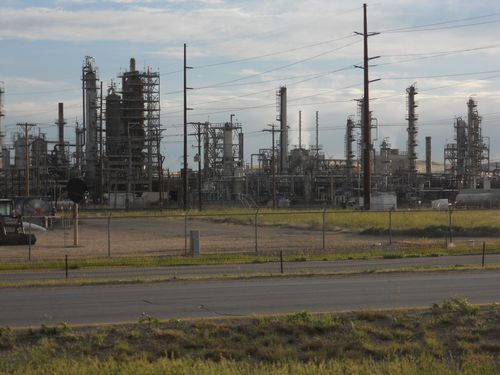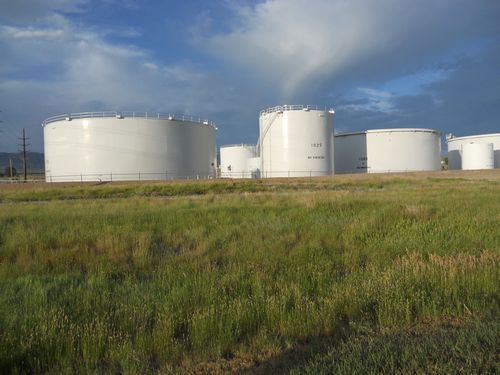 "Toronto Mark"  had on a new shirt today — sporting his Canada pride. Had to take a shot of it so his family could see it…hope they're reading my blog! Mark and I have several things in common — both of us lost several pounds during the year leading  up to the ride (he lost 25!) , both of us get chilled easily. He starts out with long fingered gloves everyday and I start out in my tights. And, both of us take a fair number of pee breaks… I know TMI, but out here it is part of our daily routine. AND, as you view the pictures from Wyoming, notice how much "cover" there is for that sort of thing! As Nan stood up after her "break",  there was Rod and he said, "You look just like a prairie dog with your head popping up like that" — Nan's reply, "Well, you ALMOST caught me with my pants down!" ….  another rider has changed her standards over the last couple of days…. now she says, "If the grass is higher than my knees, I'll consider the spot!" OK, enough of that. Anyway, I really enjoy Mark and his wonderful sense of humor! He's one of the geldings.
In the photo — I'm not sure who is in Blue — I think it might be Dave. That's Jeff off to the right in front of Mark. I took this as they zoomed by me — they are all ver accomplished riders and apparently aren't that interested in seeing the scenery or taking photos.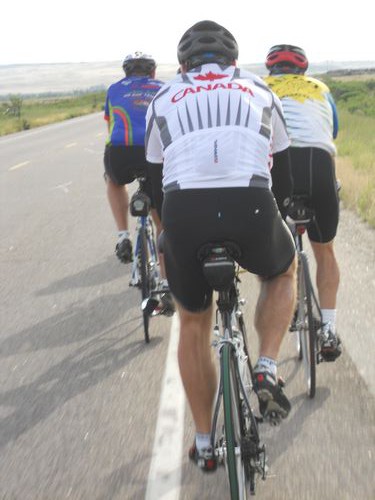 A highlight for me was Douglas, Wyoming. There was a small train museum and we saw numerous Jackalopes. We took photos of the one at the train museum.
The two handsome guys at the front of the train are Swiss — and are fondly refered to by some of us as "The Swiss Train." They always ride together, Daniel is always leading and Bruno is always on his wheel. They are very fast, very friendly and just as cute as can be!  I think that is Daniel in the ABB jersey and Bruno in the B&W.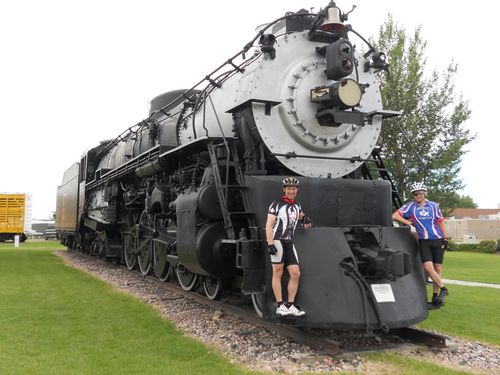 Andrew, being British, insisted that we stop off in the Dining car for tea. That's Renny (sitting) and his wife, Sarah in the background. Willard, who works at the museum, saw us all stopping and went around and opened many of the cars for us to see. They were all vintage and very cool.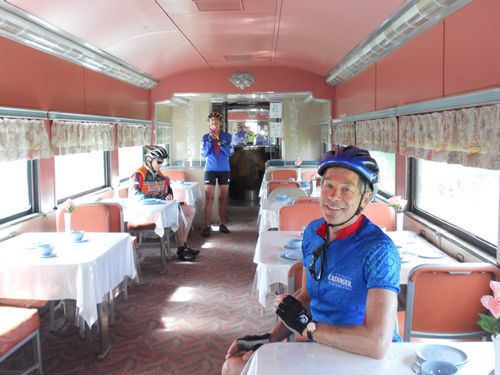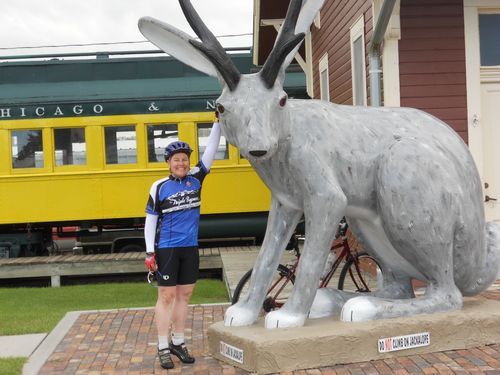 From Douglas to Lusk was pretty much open range land. Most of the time I couldn't see any signs of mankind — for as far off as I could see and in every direction I could turn (slightly limited since we roll along at a pretty good clip). And then, when I least expected it, I came up on this "fixer upper." Location… Location… Location.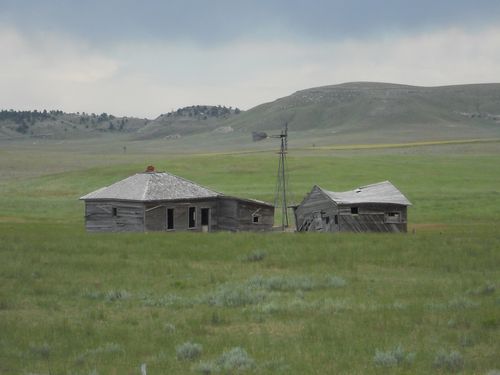 And, before we got too far out in the boonies, we came upon this interesting structure just off the road a ways…. I think they're hiding something… just like those folks in Idaho were. Now, Rob — don't tell me there are more potatoes in there! I'm thinking this must be the Bingo hall, eh?
[NOTE:  this post wasn't up more than a couple hours before I heard from one of my co-workers, Kurt V, with the real scoop on my Bingo hall…
 "I think that strange white structure you saw on your ride yesterday
is a "VORTAC" system. There are a series of these things scattered
across the country that are part of a network of VHF navigation systems
for aircraft. See the Wikipedia info at:
http://en.wikipedia.org/wiki/VHF_omnidirectional_range
If you scroll down about halfway through the wikipedia page you will see
a picture of one that looks very similar to the one you saw."
  Thanks Kurt! I think I'm going to continue to look for weird stuff for you and others back at work to help identify!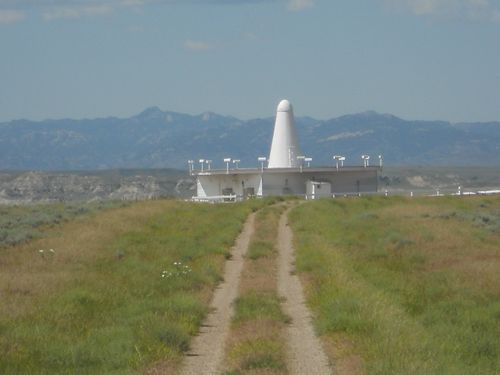 I had heard about some of the creative snacks at the SAG stops — and today I was able to witness one for myself. Alex (she and her mom, Helen are both on the ride) demonstrates how to eat her banana-peanut butter- M&M concoction!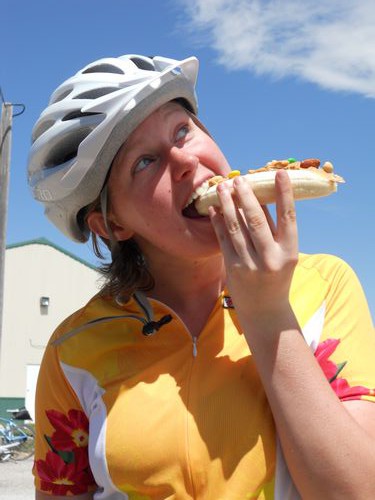 YUMMY!
The latter part of the day was spent trying to out run a storm front. We made it to the hotel dry — and I think most everyone else did too. The sky was dark and threatening though and Jeff (of ABB staff) said he saw some lightning in the area  kinda close to where we were riding. Some of the later riders got held up for a bit until the worst of it had moved on. That kind of weather can be a strong motivator!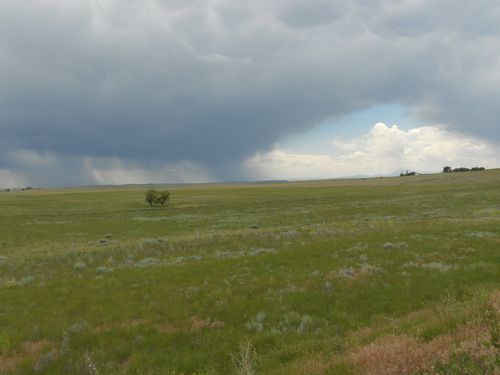 We arrived in Lusk in time to shower before the annual parade came down the main drag in front of our hotel! I have many photos — there were "Indians" riding bareback racing up and down the street at breakneck speed, there were  other groups of riders, a couple of driven wagons and carriages. Then came all the folks running for local office, then the vintage cars, tractors and finally the towns emergency vehicles — sirens a blaring! And, as they went by, everyone threw candy towards the sidewalks (Jeanne — doesn't that just drive you NUTS as a someone who drives your Fjord horse in these parades!). In addition to all the little kids running out (under the horses hooves) to get the candy were a bunch of sunburned, tired cyclists looking for a few more sugar calories! Too funny!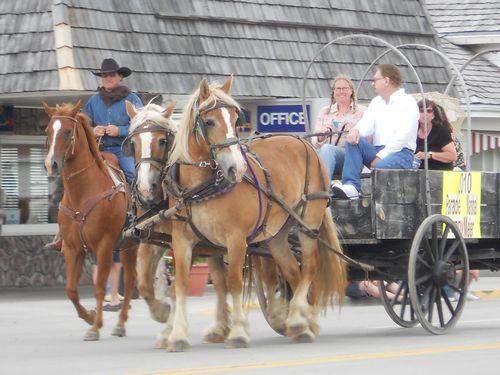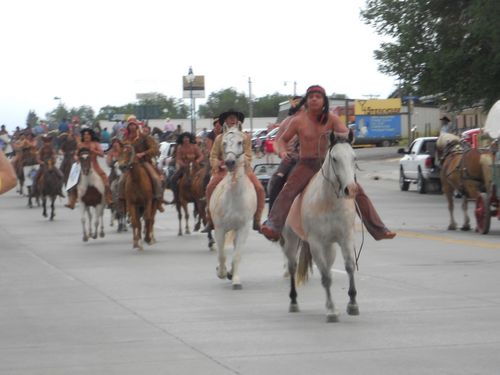 And, my parting shot for today — this young rancher and his tractor! Nothing more needs to be said — just precious.