Our swarm of bloggers has once again overloaded the hotel internet resources and I appear to be "odd-woman-out." Today was an awesome day — saw buffalo, four presidents on a mountain side, one chief in progress and gorgeous country side. There was quite a bit of climbing today (over 5,000′) and I was concerned about how my right calf muscle would do. I took my time warming up (of course, we started right out with a loooong climb! UGH) and everything went well. Tomorrow is a shorter day and we're supposed to have YATW (kinda like YACC – Yet Another Tail Wind in this case) so I should be able to add photos I took and fill in a few more details….
Here's one of my first images of the day… cute fellow, eh?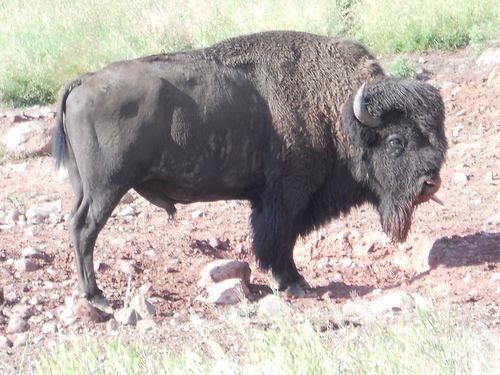 Here's Mark (N.J.) and that cute fella. Good thing the buffalo didn't decide to chase us — we were pretty vulnerable! I know I can't out run a buffalo running at 30 mph.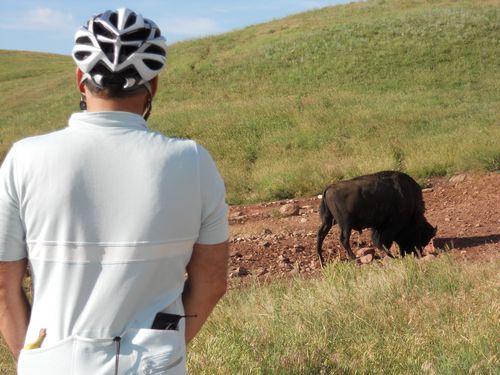 We rode alongside the Mikelson Trail for much of the morning — it reminded me sooo much of the trip Beth and my sister and I took a couple years ago through this area. Apparently bikes here have a tough existence — I came upon this bike bone pile in Pringle. Poor things!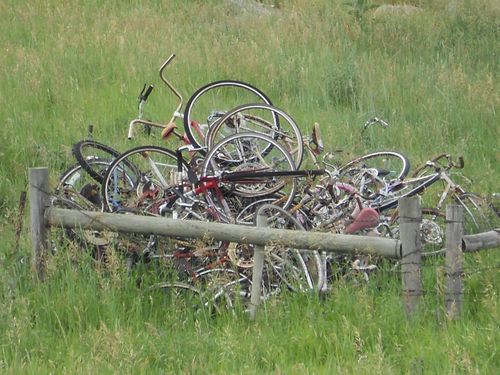 Port-a-lets seem to fair a bit better than the bikes. I had two of these beauties appear just as I needed them. It was a nice change from having to find a wooded area, a tail sage brush or a deserted road! I'm probably the only person in our group who looks forward to construction zones — because they often offer "facilities." Leo even took advantage of this nice "mobile" model! Maybe ABB would consider hauling one of these behind each of the vans… sure would make MY life a little easier!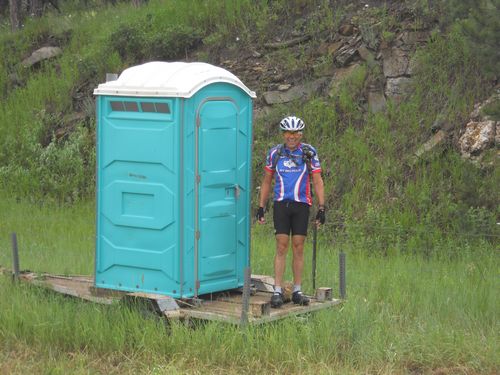 Once past all the "services" — we went thru the town of Custer and started climbing up to the Crazy Horse and Mt Rushmore sculptures. Both of them, in their own way, are amazing! I certainly don't need to say much about either of them.
Leo, Michael (left below) and Matt (right below) and I hung around while we were at Mt Rushmore. They made a nice additon to the monument. Michael is a Physical Therapist and after today's ride, he really helped me out by taking care of a knot in my calf muscle — WOW — Poof — just like that — Gone! He's my hero today!