Garmin Data: http://connect.garmin.com/activity/40337941
Everyone left this morning in a great mood knowing that we only had 57 miles to go. I might not have been smiling quite as much if I had realized that 2/3 of those miles would be giant ROLLERS! Now, my co-worker Casey and my cycling buddy, Margaret would both have loved today's terrain. I,  on the other hand, was not as thrilled.  We rode through some beautiful farmland on a country road that paralelled I-90. We did get on the highway for the last 20 miles which was fine with me because there were no rollies there.
Today was also warmer than most. I think it was in the mid-80s when I got to the motel around 1:30pm. I'm not used to riding in the heat.  No hail today, no rain — just a few clouds and bright blue skies.
Tomorrow is 117 miles — and it is supposed to be hot again tomorrow with strong winds out of the north/northwest. Unfortunately, there is a 20 mile stretch where we apparently ride due north…. UGH!
Back to today….
Leaving town, Rapid City had bronzes on several corners. I was able to snap one shot as we zoomed by.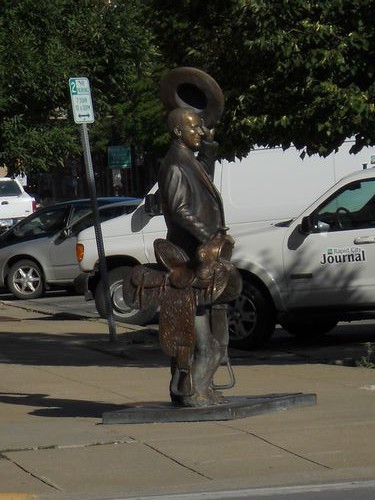 Shortly after we got out of town — we came upon a train. I'm really enjoying seeing the trains. They tend to dominate the landscape. I got one of the engineers to "Toot" to me the other day. No such luck today. We crossed right in front of the train — this is Beth from Boulder about to make her move. I've told Beth that she's got to join me at the velodrome next winter. She's not convinced yet…. I'll keep working on her. She's another strong rider and I usually only see her briefly before she turns on her after-burners.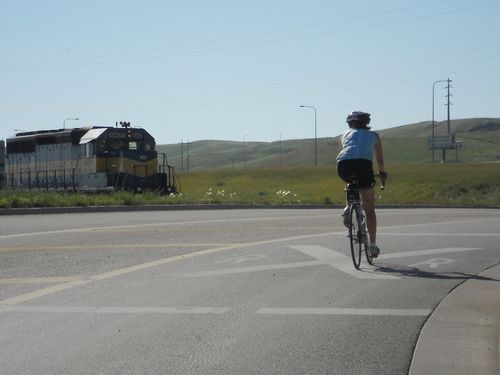 Photos of rollers never come out well — but here's my attempt at sharing them with you. These things went on…and on…and on. There was one down-up combination that looked more like a 'V' than a 'U'. So much for gathering steam on the downhill to cruise up the other side. Scooter and I are "rythm" riders and we just can't get into a rythm on those things.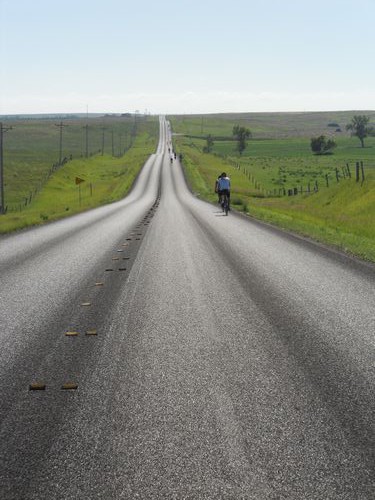 I stopped a bit more than usual — to break up the rollies and appreciated all the distractions. I came upon these great horses watching us pedal past.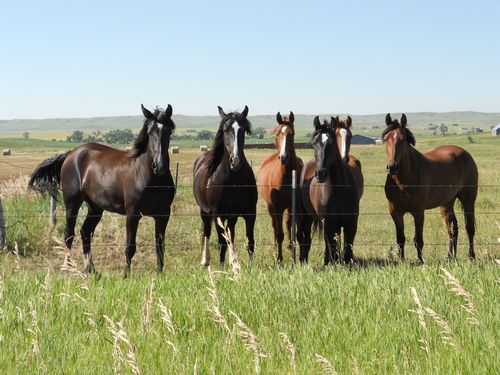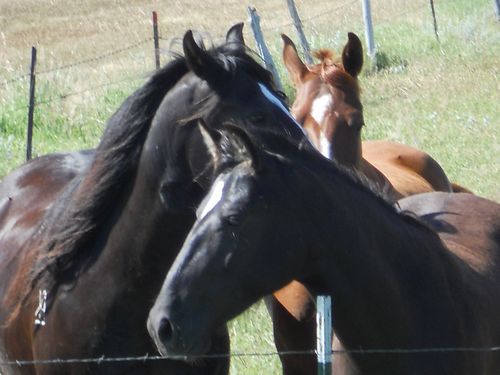 I was glad to put the rollies behind me and take a spin on the interstate (I-90). Traffic was light and the shoulder was wide and wonderful. No rollies! YAHOO!!! We got off at the Wall exit and rode a half mile to the motel.  Most folks headed off to have a mid-afternoon "snack" at Subway or Wall Drug. I went off to the local laundramat (AGAIN!).  Usually the motel has a guest washer/dryer, but not this time.  The one I went to was only a couple blocks away and had a long row of washing machines along one wall and those big honkin' dryers along the other. I met a family from Arkansas while waiting for my wash to get done. They were very pleasant and expressed amazement at our achievement and continuing adventure. When they left they even gave me their left over Tide because they didn't have room for it in their van. SCORE! 
Before dinner, I wandered down to Wall Drug so I could get a couple of photos and see how much it had changed in the last 30 years. In short — it is quite a bit bigger than I remembered so either my memory is poor (and we all know that's true…) or it really is bigger (a real possibility). I don't think they had the Jackalopes last time. I got to ride one in the "back yard" and got snap shots of several variations in the gift shop.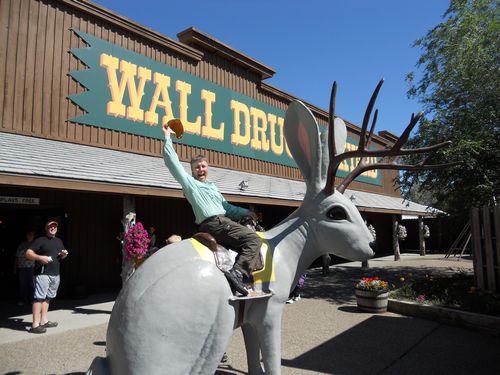 The guy behind the counter said that THIS one is a real Jackalope — the others are made up just to be cute. I'd like some of what he was smokin' !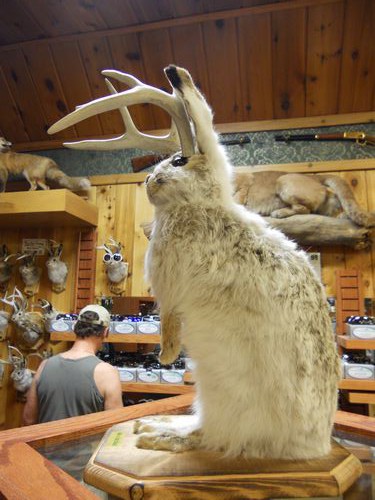 This is one of the "made up" ones. Looks a lot like the "real" one, don't you think?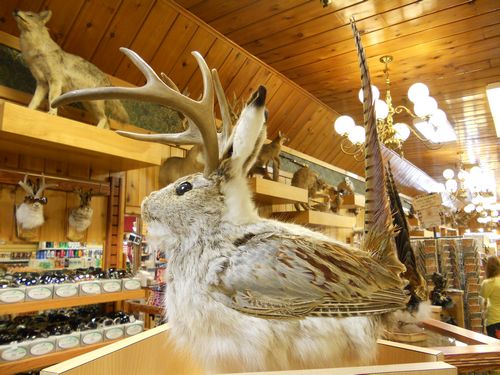 … apparently the Jackalope is not an endangered species.