Garmin Data: http://connect.garmin.com/activity/40540215
Leo must have taken 500 pictures today before the first two SAGs. I say that because he stops and takes pictures while I pedal along. Generally, he'll ride  up ahead a ways — sometimes I can stay with him, sometimes I just keep going my "natural" pace and over time fall back. When he notices that I'm a speck in his helmet mirror, he pulls over and snaps a few photos. Today he was pulling off quite a bit! I was pacing myself so that I could make the 117 miles. We'd been warned last night at RAP that after the second SAG stop there was a 20 mile stretch where the route went north — into a 20 mph head winds. Uffda!
The morning riding was beautiful — and we had the benefit of a nice cross/tail wind out of the northwest. The temperature was cool and the miles clicked by quickly. The scenery didn't change a whole lot today. Round hay bales sitting in the fields, livestock watching us from the other side of the fence or cattle guard and a gazillion grasshoppers trying to hitch a ride on our bikes…or US!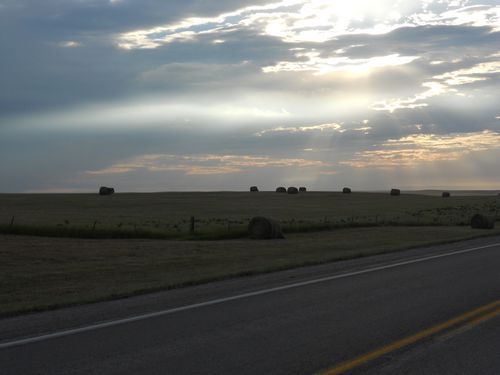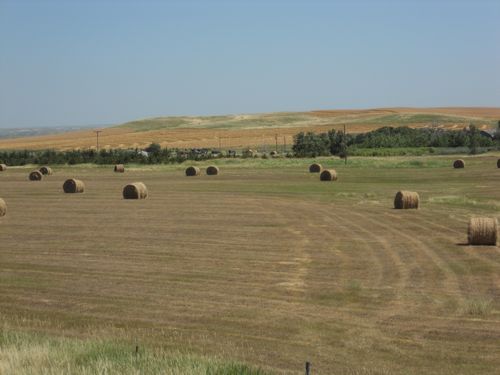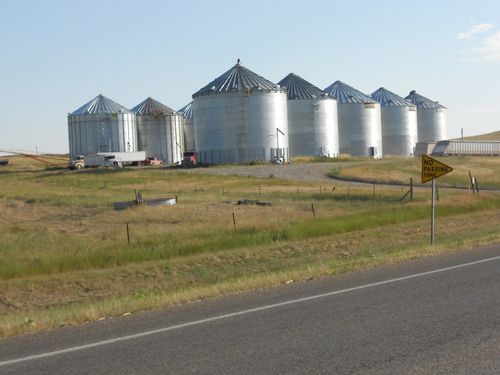 To add a little spice to our long ride today, the staff offered a poker game (I hope this wasn't illegal in South Dakota!). Anyone who wanted to play chipped in a buck and got cards when we loaded luggage and the three SAG stops. A fifth "community" card was drawn at RAP this evening. The pot was split by the low and the high hands. Tom (Fort Worth) had the high hand with three jacks and Sarah had the low hand with a seven high. The community card was a seven — which gave me a pair of sevens…. not in the running for anything! But, it was fun and it did give us something other than the 20 miles of riding into a nasty head wind.
South Dakota had their own idea as to how to add spice to our day. They decided to send out the machines that chew up roads and spit the asphalt into big trucks to be hauled awayl. Of course the wind direction was such that all that asphalt dust blew right into us (and stuck to our sunblock!) as we rode by. Todd and Bob had one side of their body that looked like it was dipped in tar "sprinkles."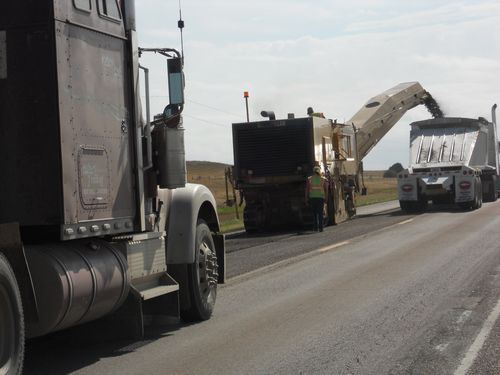 Leo and I rode through that 20 mile stretch together– and we rode really well at between 9-12 mph for the most part. There were quite a few folks who understandably struggled with the wind.  All the riding in the wind while I trained this spring sure paid off. I was fine with it and Leo and I cut through it like a hot knife through butter. OK, maybe not quite THAT well — but to be honest, I liked that stretch better than I did the rollies yesterday! (And, I'm the only one out of the entire group of riders who will say that!).
On long days like today, we try to stay focused on the ride. Leo was doing fine but managed to find trouble anyway.  When I finally caught up with him in Cottonwood I had to bail him out of jail. Never did get the story on what he did.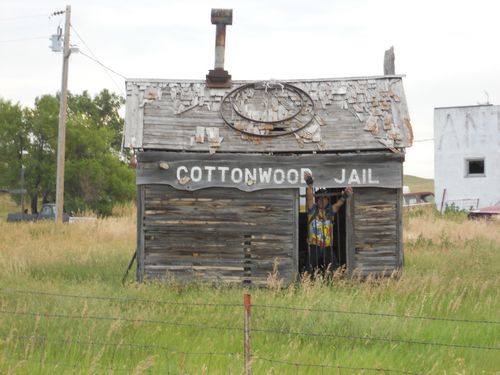 My left calf started to 'bark' again after 110 miles. I can't blame it! Michael (the PT of the group) worked on it some this evening and it should be good to go again. When I asked if I should do something to make it "happier" — and his reply was to stop riding 117 miles a day!  Hmmmmm…..
When we crossed the Missouri River and rode into Fort Pierre we entered the Central Time Zone. Not happy about losing an hour – especially since we got in later than usual anyway.
Our hotel is right next to a McDonalds and I can see the drive-thru window from our room. This is the most urban setting we've been in since Casper…and I think that is probably the only other time so far on the trip. I think I'll have an Egg McMuffin for breakfast tomorrow! A good breakfast will be important because we have another long, not day awaiting us.
My parting shot today — Dave celebrating the end of a long day. The hotel had a cooler full of beer, ice water and iced tea on hand as we rolled in. Let me tell you — that put smiles on a lot of tired faces!