Garmin Data: http://connect.garmin.com/activity/40657479
Just looked at my Garmin stats and got a good chuckle.  Today was by most measures the easiest day and yet, it is my lowest average miles per hour! It was hard for me to get motivated and ride hard. My average heart rate was 85 bpm and I rode at 13.9 mph! I think I was one of the last riders to arrive at the Corn Palace.
The route was pretty flat and without much interesting scenery. There were three small towns to break up the monotony but other than that it was corn and glimpses of I-90 off in the distance. We rode on concrete slabs most of the day — about 330 of them to a mile! Bump…bump…bump…bump…..OUCH, my aching bottom! We also rode on a couple miles of fresh chip seal. Now, I am NOT a fan of chip seal — but I've come to realize that most of the USA is paved with the stuff.  Especially where we were today! Not sure whether I prefer the Indian Reservation potholes or the new chip seal. Hard choice.
I had to get creative to get some shots for today's blog. Here's an early morning shot of me and Scooter. We left at 6am and we cast some real long shadows!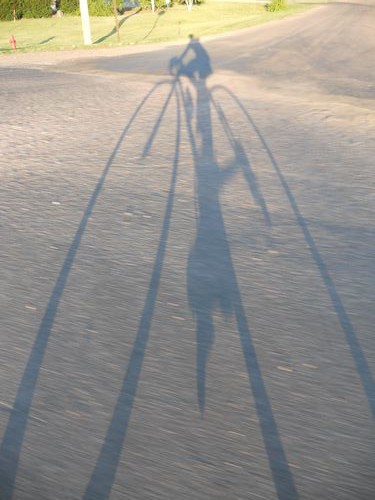 Several times during the day I had the pleasure of riding with Howard (left) and Bob (right, in red). They started with us in Astoria and are dropping off tomorrow when we get to Sioux Falls. I'll miss their company and good conversation.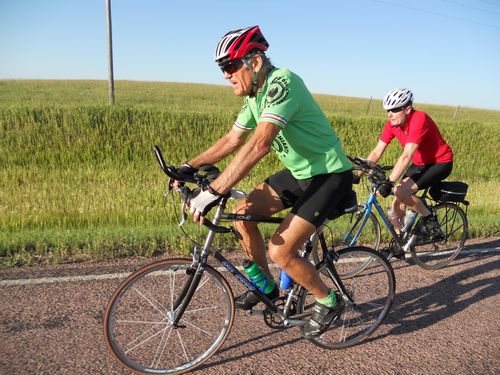 Although we didn't pass nearly as many hay fields, there were some big pieces of farm equipment on the road. Every time one of these big hay trucks goes by I think of how much our horses would love to see this come down our driveway!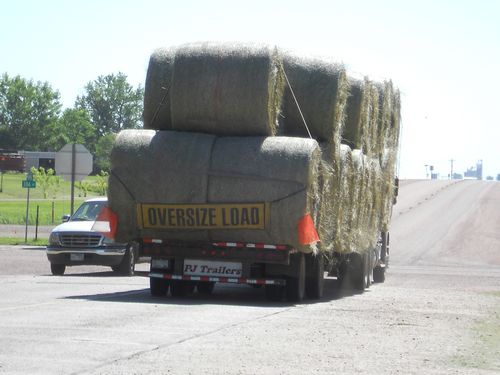 Later in the day I rode and chatted with Ian (from Scotland).  He's got a great sense of humor and he was a happy guy since there were no big climbs today!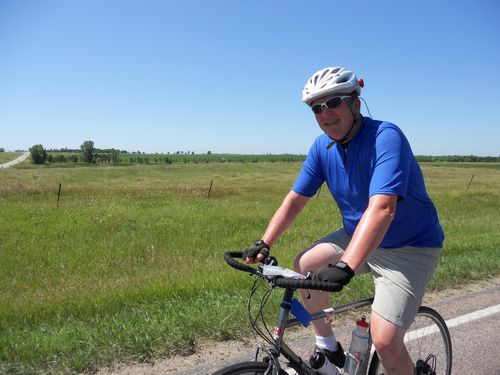 I followed Fred to the Corn Palace — although I probably could have found it by myself.  My sister, Karan, and I stopped out here over 30 years ago when I first moved to Colorado and I don't remember being back since. As soon as I walked in it looked familiar…. some things never change. The outside was decorated differently — but then again, it is different every year. The exterior isn't completed until later this summer (or early fall?). The main murals on the front were done — and get this — one of them was a cyclist! What are the chances of that!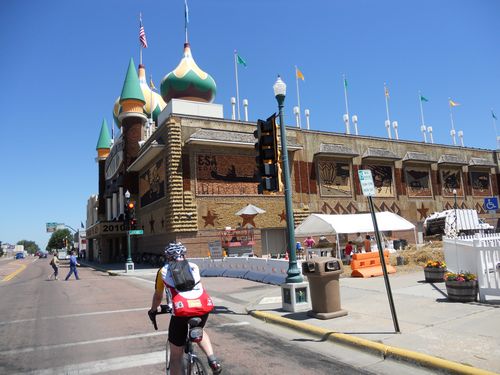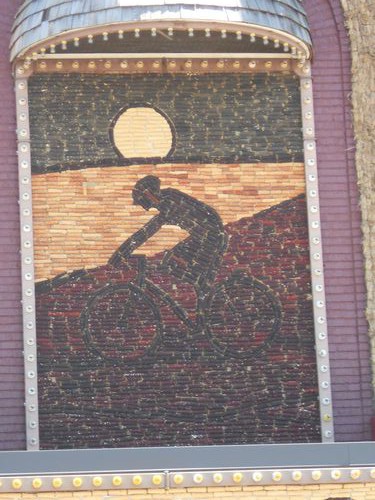 On the inside of the building are more murals — I think these are kept for multiple years. Very ornate and each with a story behind them. We watched a short video about the history and then got a mini-tour from a young gal who was obviously local and very proud of her Corn Palace!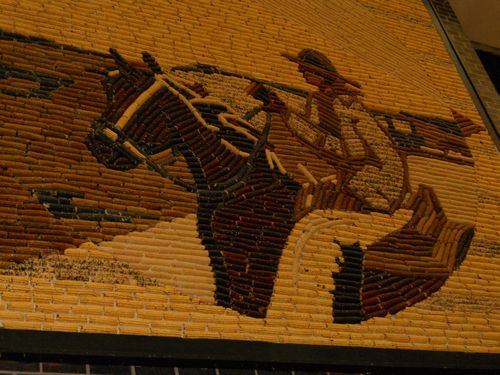 My parting shot today was one of the best sights I saw today… the end of the miles of new chip seal! I know Jim was glad too — the gold van took a rock in its face and has a nice new chip in its windshield. Oh well, its all part of the sport.