Gamin Data: http://connect.garmin.com/activity/40793364
Jeff Douglas' Garmin Data: http://connect.garmin.com/activity/40774932 – Jeff's got the new Garmin 500 that has temperature. His computer had the high for today at just over 100 degrees… factor in HIGH humidity and we've got some tough riding conditions! You'll see that Jeff is one of our stronger riders. He's one of the Thoroughbreds (a.k.a. Geldings) that ride along in a pace line everyday and are usually some of the first into the hotel.
As I look back on today the heat and the humidity stand out as defining characteristics or our ride. I think even the locals felt is was HOT and HUMID…. Ian came in to the lobby of the hotel at the end of the ride and reported that his bike computer's temperature hit 107! That is a bit misleading but I think it is accurate if we think of how hot it was for those of us riding on that asphalt. The air temperature was in the mid 90s but the heat coming off the roadway was definitely higher. I was actually thankful for the cross/head wind we had all day. I think someone would have had to scrap me off the pavement if there'd been a tailwind today. Talk about overheating! As it was I went through at least 8 water bottles of liquid, one ice cream bar and two bandanas filled with ice tied around my neck!
The route was very similar to yesterdays ride — not much elevation gain, not many turns and not much scenery other than corn and soy bean fields. Today's road surface was better — no new chip seal (YEAH!). It was nice riding early on before the heat really got cranking. I rode with Leo much of the day. I should've ditched him a few miles from the hotel though (just kiddin'). He flatted on a piece of metal, so Jeff (staffer who was riding with us) and I stopped with Leo and supervised him while he changed the flat. I held the Bike Friday and Jeff watched on. Leo proceeded to puncture two tubes while trying to get the tire back onto the rim. Those little Bike Friday wheels have VERY tight rims and by the time we were done,  Rod and Andrew  and Katie caught up with us (so we had the 4 bad pennies and a few other assorted "coins") and there were three or four pairs of hands on that rim — all at the same time — trying to get that tire back on. Too funny! A full 45 minutes later we were back on the road to finish the last couple miles to the hotel. All this in that nasty heat and humidity!
Let's talk about something else… This is Steve — I think he suspects we're in for a long day. It was already 72 degrees when we loaded our luggage and the air was down right THICK.  Steve is an engineer who has worked outside the country for much of the last 20+ years.  He's a quiet guy who I enjoy talking with very much — one of the things that strikes me about him is that he  rides in sneakers on "regular" pedals without straps or cages. I can't imagine doing that but he motors up everything without any problems and usually beats me in to the hotel!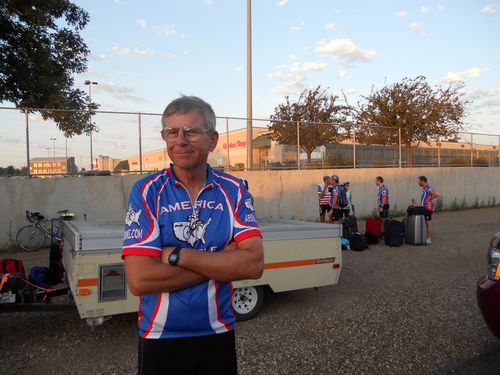 Early in the day our route went down by the river. The river banks were no where to be seen. There was water everywhere! This shot is of a pasture — the top strand of a barb wire fence was visible just in front of these trees. Wonder how long the water has been this high and whether this is a good thing, or something the local farmers would rather not have to deal with.  The crops look to be doing really well — but then again, I don't know what they could (or should) look like. Heck, this is my first time through these parts and past these crops.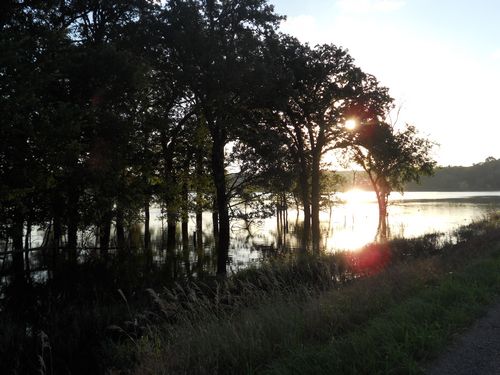 It was nice to see a familiar name when we got to Emery.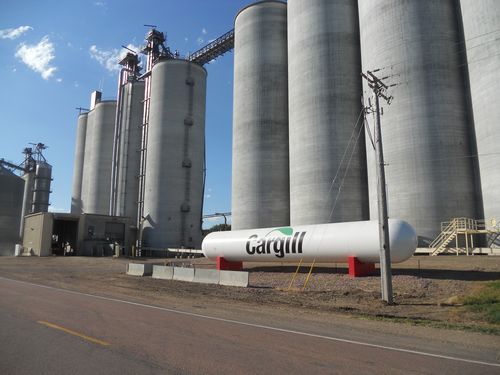 We stopped here at a little store for an ice cream sandwich, a potty-stop and some water (in that order!).  I had Leo take my picture next to the sign in front of the grain storage facility. The grounds were immaculate and it seemed to be a busy place.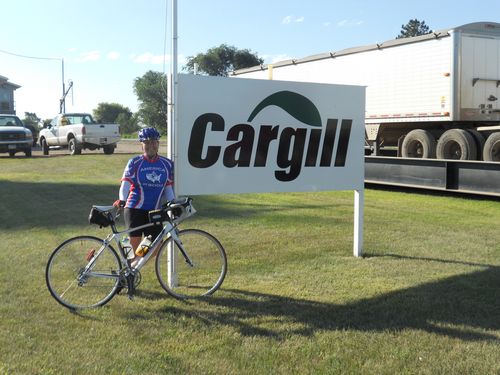 A group of us stopped to commemerate riding our 2000th mile. Yup — 2,000 down and "only" 1629 to go! Everyone keeps saying it is "downhill" from here. Geesh, if that were only true!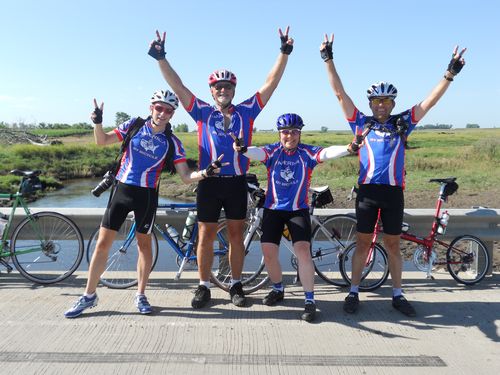 When we got to the hotel, very few of the rooms were ready. That's OK — we'll just hang out in the lobby and wait. Well, over 50 stinky, sweaty riders just hanging out can be quite a sight! Especially when we are all dressed alike! Today was "Jersey Day" — it is whenever we ride into the our rest day town.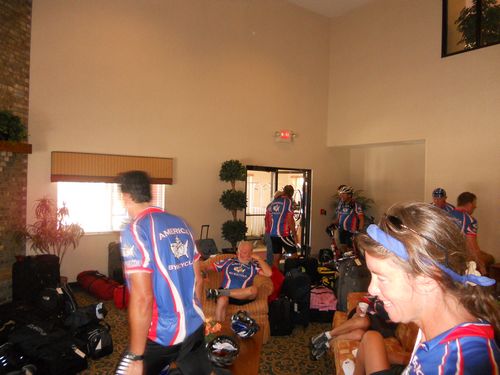 We said goodbye to Howard and Bob today — and Scruffy is once more returning to the corporate life for a few days. This time, Margot has a friend , Susan, riding with her while Scruffy is gone. There is also a couple, Carol and Mark, who have done sections of this ride before and I think will be with us unil Niagra Falls. Tomorrow we are supposed to pick up three more riders. It's gonna start to get crowded around here! ;-O
Nan and I are back to being a double instead of a triple. Our triple, Janis, who joined us in Casper also left today. I think she had a good time — although putting up with Nan and me proved to be a bit of a challenge and she was starting to experience some of the same soft tissue issues we all dealt with at the end of our first section. Unlike us, she is going home and can put her bike away for a few days. I am happy to have a rest day tomorrow. Hope that's enough of a break for my body to get refreshed. I'm considering getting a massage tomorrow in order to help my calf muscles in their recovery.
I thought of several things I wanted to share — but now that I'm sitting in front of the computer all those thouhts have vanished! UGH! Guess my memory hasn't gotten much better…. I'll sleep on it and if I think of anything else, I'll add it in the morning.
My parting shotsfor today — this is how the farm animals  deal with the heat and humidity! Take a dip!