The AmericInn where we are staying tonight doesn't have high speed internet, so I'm in the lobby on the guest computer. I doubt I'll be able to upload any photos until tomorrow — so stop back in a day or two if you want to see what I saw today! Most of the group is staying at the Travelodge. At RAP before the rest day about 10 of us were told that we'd be rooming at the "overflow" hotel and that we should load our luggage last today so it could be dropped off on the way to the primary hotel.
There were clouds everywhere when we took off this morning — but since it wasn't rainin,  instead of taking all my heavy rain gear, I opted to take my GoLite wind shirt just in case we got some sprinkles.
Ian was ready for anything!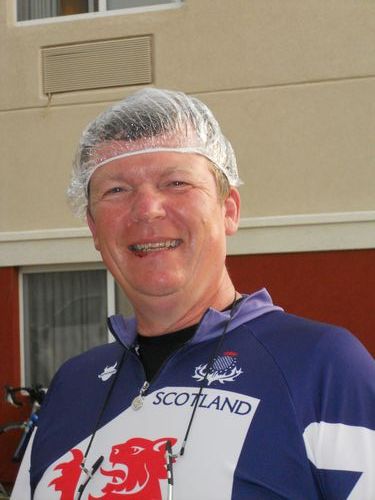 My helmet cover is the same as Ian's — a hotel shower cap! I'd say that about 1/2 the group was using this style of cover. I got the idea before the trip — but Barb mentioned it as one of her "Tour Tips" at RAP during the first week out.
Back to my rain gear decison… BIG Mistake! Not 15 minutes out of town the rain started. We were on a gorgeous bike path that took us down by the falls (as in Sioux Falls). I didn't get any photos along that stretch because everyone was riding together and it would hve been rather dangerous to stop. Everyone did stop for a few minutes at the falls to take the "tourist" photo — then we were off again. 
That's "Fort Worth Tom" looking at the camera and Mark (from Maryland) with the knee wrap on. It's kinda funny because I've gotten to the point where I recognize folks by what they wear and today I couldn't tell who anyone was when I came up on them because they had rain gear on!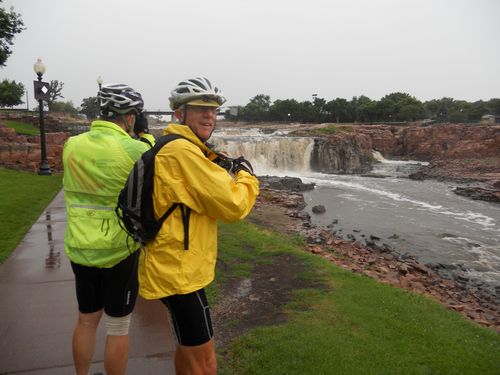 Katie usually wears a red sleeveless jersey. Here she has that "Alien" look going for her (or maybe this is what everyone usually wears in NYC?).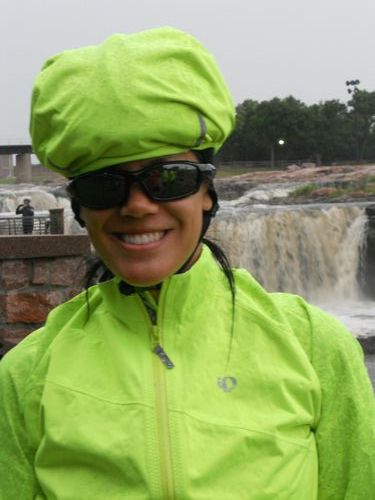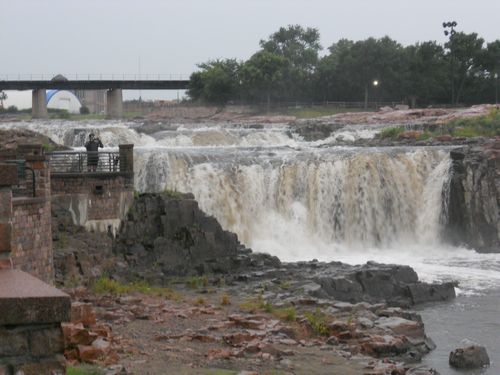 Sioux Falls must be a railroad hub — there were tracks EVERYWHERE. I'll bet we crossed at least 10 sets of tracks. The last set were especially dangerous because the metal track was sticking up above the road level. and theey were at an angle to the road. Three riders went down — two of them pretty hard but no one got seriously hurt. They were some of the first riders across….and they shouted for the rest of us to dismount and walk (which, of course, we did).
After that everyone spread out more as we all fell into our normal paces. The rain continued to fall and I started to feel chilled since I had bare legs and no rain jacket on. I should mention that I did put a shower cap over my bike helmet and a smaller similar type cover over my Garmin. I started to wish I had brought my heavy rain gear. As I thought a little more on it, I realized that I was an extremely lucky person today! Since I was selected to stay at the overflow hotel — my bag might actually be accessible in the Box Truck! And, as it is when things are going your way, the Box Truck pulled off at a gas station right up in front of me. When I asked if I might be able to get into my bag, Jeff said he'd see if he could find it. It was right on top at the very back of the pile! YAHOOOO! Within minutes I had my rain pants, jacket and booties on and was riding in relative comfort. Of course, my feet were beyond wet as were my double shorts and my jersey.  I didn't get any wetter from the outside though and I was able to retain my body heat. Ahhhh.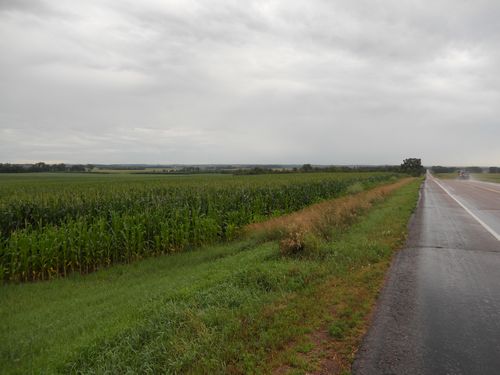 We rode in the rain for about 3 hours and then it gradually cleared. When we got to the South Dakota/Minnesota state line we were all still in our rain gear. Made for some interesting photos!
I had to get one of the Bad Pennies — with Todd standing in for Leo who was way ahead (as is often the case!). When Todd and Leo are both present we are a Bad Nickel — or as Rod says just "Loose Change".
Todd is in red, I'm in the yellow rain pants, Rod is sitting at my feet and Andrew is sitting slightly behind Rod. Leo…. well, he's somewhere else!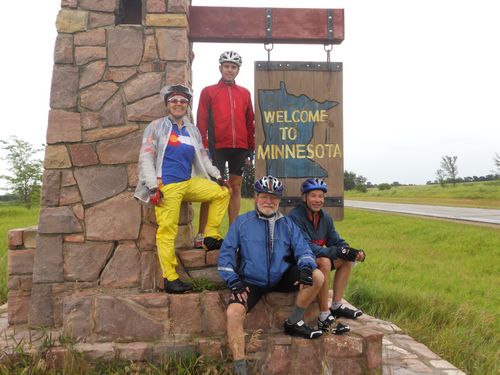 One of the things that happen when you ride in rainy conditions — more flat tires than in dry conditions. Wet tires attract and hold on to road debris instead of letting it fly off as the wheel goes around and around. As a result, a piece of glass or wire stays on multiple revolutions and has a greater chance of getting pushed into the tire and through to the tube.  Interestingly enough, Tom and Kim (both from Washington state) had flat tires within a couple hundred yards of each other…. right before the state sign! Kim was supervising Tom when we drove by on our way to the state sign.
As it cleared, the winds started to pick up from the east and we rode the rest of the way in with a moderate head wind. I spent much of the latter part of the ride with Rod. Andrew and Leo got in front of me when I stopped to get my rain gear and I never saw them again. Our group is so great. It doesn't matter whether I'm at the front, back or middle of the pack because there is always someone I can ride with.
One of our riders called it quits today. Phillip went home with his sister and brother-in-law. He had been struggling for much of the ride and had relied heavly on SAG support. I thought he'd done an incredible job and had improved quite a bit in the month that he rode with us. I'll miss his smile and his friendly conversation. At luggage load this morning, I just happened to ask if I could take a picture of him with his family. Then I asked him if he was going to ride today — since he was still in street clothes — and that's when he told me of his decision. All I know is that it couldn't have been an easy one to make.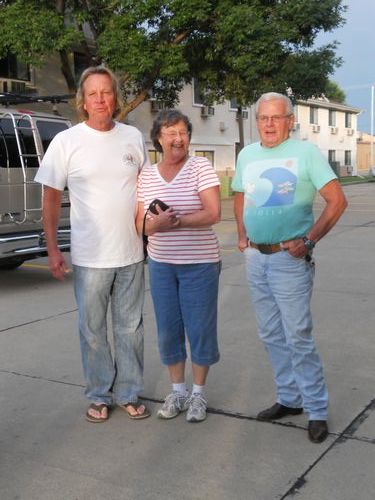 My parting shot today should probably be titled "Girls Just Wanna Have Fun!". Margot and her friend, Susan, couldn't resist playing on the playground equipment at our SAG stop. Not exactly an 'E' ride — but then again, this is Minnesota!