Garming Data: http://connect.garmin.com/activity/41545280
The air was so thick today that Mike (the head honcho) gave everyone credit for doing a triathalon — we rode 90 miles, walked over a mile and swam through the humid, thick air! I can't remember the last time I endured such humidity! Sure haven't seen anything like this in Colorado.
Inspite of being dripping wet all day, it was a super day. We rode 30 miles on the Elroy-Sparta rails-to-trails bike trail and then through more farmland and wooded areas.  We had cloud cover (albiet somewhat threatening at times) all day and the temperatures were relatively moderate.
From the Elroy-Sparta website:
The Elroy-Sparta State Trail is the property of the State of Wisconsin and is part of its State Trails System.
     It is located in Hidden Valleys Country and passes through a portion of the unglaciated areas of Wisconsin exemplifying the natural beauty of our State.
     The trail is 32 miles in length on the abandoned Chicago & North Western Railroad bed and passes through three rock tunnels. The Kendall and Wilton tunnels are ¼ mile long and the Norwalk tunnel is ¾ mile long. The trail is covered with limestone screenings and provides a smooth riding surface. The bridges are covered with planks and are guarded with railings.
We got on in Sparta – there is a rail station there with some information, exhibits and a restroom (YAHOO — no corn fields today!)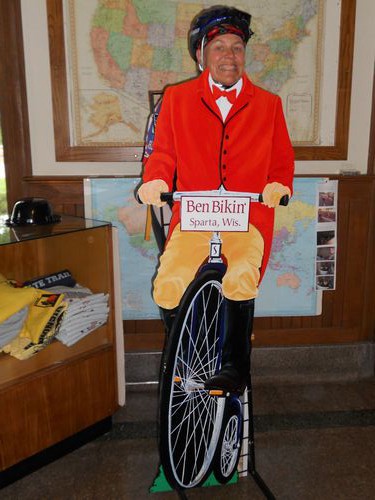 The tunnels were a blast! The first one took us about 20 minutes to walk and it was pitch black inside. I was surprised by the amount of moisture inside — there were riverlets of water running out along each wall and a fair amount of water dripping on us. Everyone had a light — most of us had small hand held flashlights, but there were head lamps and bike mounted lights as well. Quite an experience. The second and third tunnels were shorter, but no less interesting. In the last tunnel, we came upon a group of young riders going the other way. We could see their lights off in the distance giving off an eerie glow.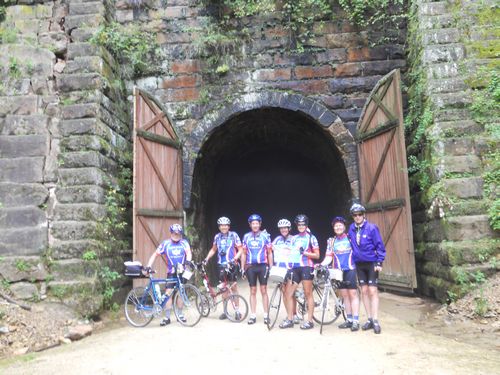 I took this shot as we got close to the end of the last tunnel. The air around each tunnel opening and inside was cool. When it came into contact with the hot, humid air everything got fogged up — including my bike mirror and my sunglasses!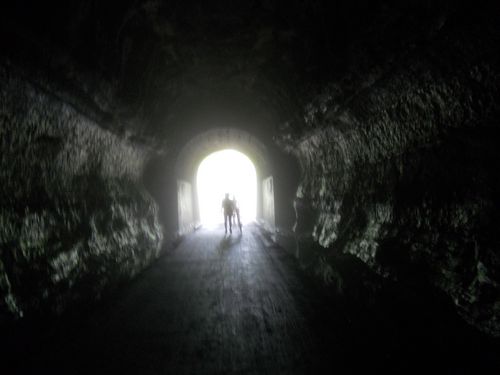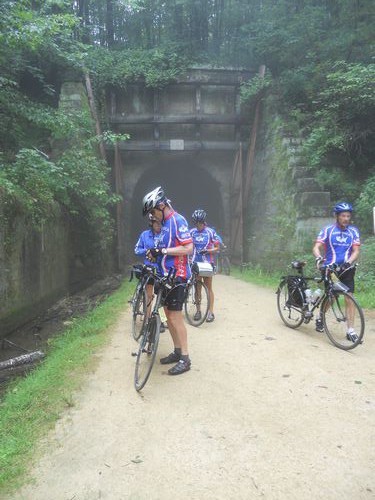 The bike path itself was wonderful. The area has had lots of rain this summer. According to Sue and Denny (visited with them yesterday) there were only two days in June when they didn't get any rain. YIKES! The creeks along the path were swollen and the vegetation next to the creeks was all bent over and mangled indicating there had been even more water there in the last couple of days. Made me think they might have had some flash flooding.  We benefited as well by having a moist (but not muddy) path and no dust! If it had rained today, I think this blog would have read very differently. As it was, I'd say it was close to perfect for riding on it today. I spent the whole day with the same group of riders — the other Pennies (Leo, Andrew and Rod) and Katie and Beth (from Boulder, CO). It was a fun group and we rode well together. I know that I was a bit tired. Looking back on the last four days — we've gone 380 miles !! And, we have another 90 miler tomorrow! Uffda!