Garmin Data:  http://connect.garmin.com/activity/41683548
Note: We've gone just about 2,500 — just over 1,00 left.
On paper, today was probably one of the easier days. Less than 90 miles and a very moderate terrain. No climbs to speak of. But, today my legs told me that they needed a break. After doing 380 miles in 4 days, I really could not argue with them either! As a result, today was a real accomplishment because I made it in under my own power…. WILL POWER!
Shortly after we left the hotel there was a short "incline" leading away from the tourist attractions of Wisconsin Dells. I distinctly remembering trying to recruit my quad muscles to pick up my cadence and power myself along with a bit more "umpf." Well, my legs weren't having any of that! They didn't respond at all. I tried again and was able to do a bit better but within seconds my quads started burning! Uh oh! I knew then that it was going to be a long, challenging day!
Lucky for me, there are some real fine folks on this ride — and I rode with some of the finest today. Safe to say, they could have all motored on and set a much faster pace if they'd wanted to, but they knew I was having a "bit of difficulty" (as Phil and Paul of Le Tour might say…) they stayed with me for moral support as much as anything else.  It didn't hurt that Todd's computer wasn't working and mine so I had something to offer him! Just kidding — he would have stayed with me regardless. Mark (NJ) and Leo were also along. If Leo hadn't gotten a flat (his 7th or 8th!) I might not have seen many other riders today. But, as we were fixing the flat, several others came by. Here's a great shot of the Washington Boyz – Tom (in front) and Kim.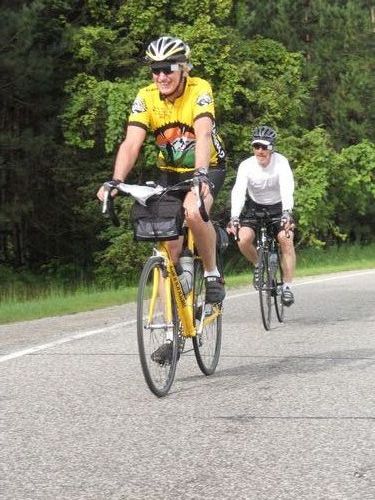 Karen helped Leo this time with the flat. Leo also pulled out a handy-dandy tool that Jim let him borrow. Seemed to make a difference. The last flat took 4 men and a small boy to fix! This one just needed one capable woman to assist!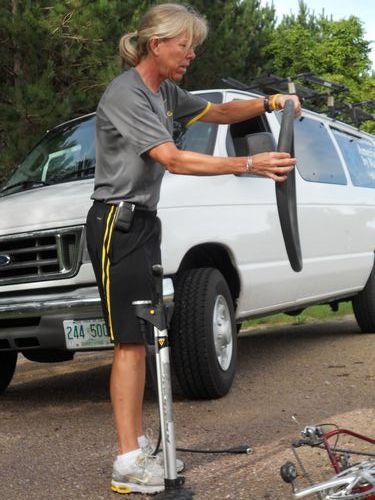 At the first SAG we had a quarry with nice waterfalls and even a pair of swans. I also was able to snap a few shots of our guest riders. Ellen's gentleman-friend, Robert is riding with us and Dan's son, Gary is too!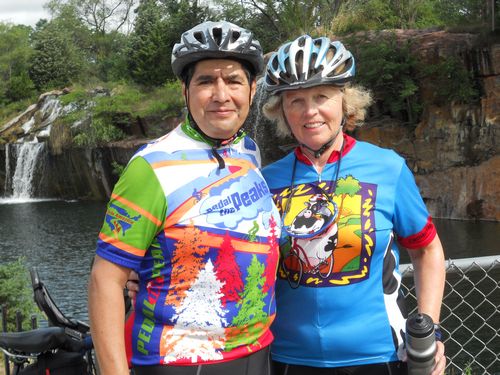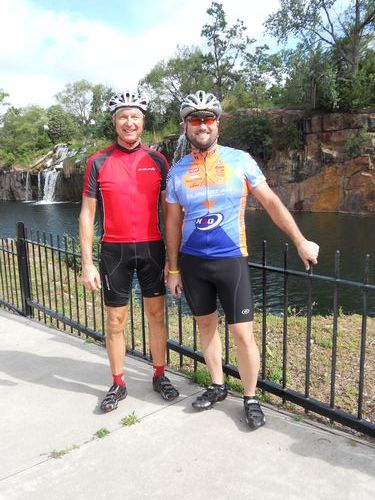 After the first SAG we picked up Leo's brother David who was riding to meet us from our destination. David lives in the area and drove to Fond du Lac and rode in a head wind towards our first SAG. We quickly turned him around and we all headed back towards Fond du Lac. At Princeton we stopped at the VFW's Brat sale — I don't usually stop for lunch, but I couldn't pass up these Wisconsin Brats. I ate half of mine and fed the rest of it to David. Usually I feed my leftovers to Leo, but I figured I should feed David instead since he's only with us today and tomorrow.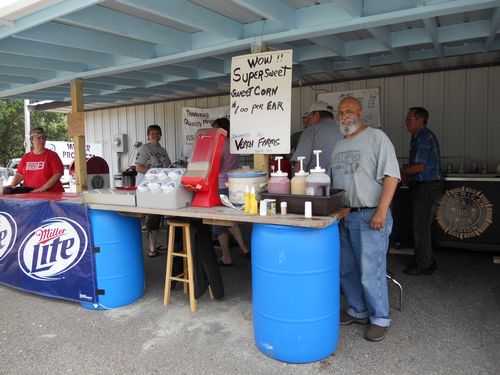 The countryside is sooo beautiful. It is shocking to see all the water. The creeks continue to be overflowing and there is water everywhere. Monster puddles that take up entire front yards! Mark and I actually stopped to help a young couple that managed to get their pickup stuck in their lawn. Sae them, exchanged a quick, "Hey, wanna help?", jumped off the bikes and ran over to lend a hand. The gal at the wheel really didn't understand how to keep the rear wheels from spinning — but we got past that. We flagged down Todd, Leo and David as they came up on us and with all of us leaning our shoulders into the front bumper we freed the truck. Good deed done — the couple had a bewildered look on their faces and still looked stunned as we jumped back on our bikes and were gone in a flash.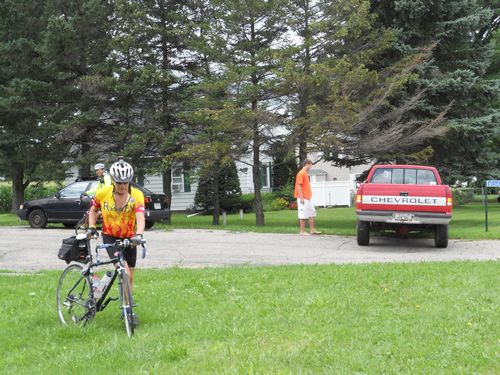 I had to take a shot of the "Birth of the Republican Party." I'm not a card carrying member — but just couldn't leave Ripon without a few photos.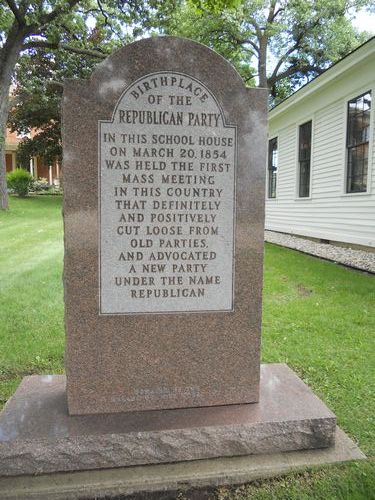 The real fun today started AFTER we were done riding. The hotel is in "downtown" Fond du Lac and does not have guest laundry available. The staff at the front desk told us about a place a couple miles away…. then kinda chuckled and mentioned a "bar/laundry" a block and a half walk from the hotel. He'd never been there, but said it might be worth a try.  Of course, given the choice of miles and blocks — blocks almost always win. OMG – what a place!!! Words really can't do it justice…. suffice to say, all but one of the dryers had "Out of Order" signs on them and several of the washers did too. But, worse than that, one of the guys in the bar part of the operation said that he thought someone came in at night and just moved the "Out of Order" signs around so no one really knew which machines worked and which didn't — but he was sure that more than half of them were busted….and had been for quite some time. So, half a dozen cyclists with bags of dirty clothes dropped quarters into machines as if we were playing the lottery. When we found something that worked — Hurrah! I almost didn't get back in time for dinner — and tonight's special event — the T-shirt exchange.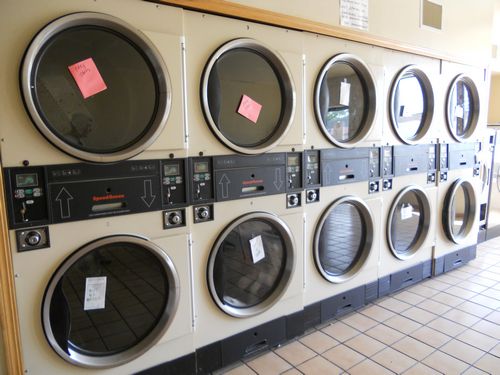 Ian spent a bit too much time on the bar side of the operation waiting for an available, working machine! He wasn't alone though. I think some of these would-be-washers became beer drinkers instead!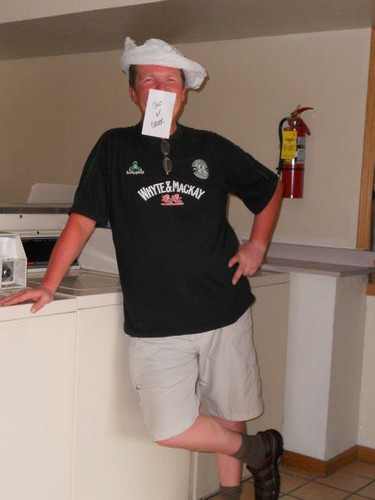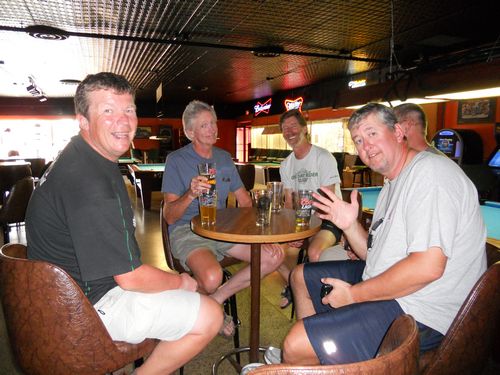 Everyone who wanted told the story behind their T-shirt and placed it on the floor with its most notable graphics showing where all could see it. Then we drew numbers and did the old "white elephant" exchange — except it was with T-shirts instead of Yard Sale stuff. There were some cool shirts. Many cycling event shirts, one Olympic volunteer shirt brought by Bruno of the "Swiss Train". Now that we all know each other so well — there were jokes and one-liners flying around and laughter was the order of the day! I came away with a "Hotter Than Hell" ride shirt that Alison put in. She confessed after the exchange that she thought it might acually be Jay's T-shirt. Fine with me! I may try to get my own shirt by riding the event some day…hmmmm, maybe next year. I think my calendar is open!