Garmin Data: http://connect.garmin.com/activity/41851385
Today we rode half as far as we'll go on our next ride day. That's kinda hard to get my mind around since it took me almost 4.5 hours to cover the distance today. There were 57 miles today through rolling farm country as we rode towards Lake Michigan. It wasn't as humid as it was earlier in this section but there was water everywhere and crops, wooded areas and yards are as green as green gets (and no irrigation!) Here's a photo that is rather representative — a corn field with a flooded section near the road.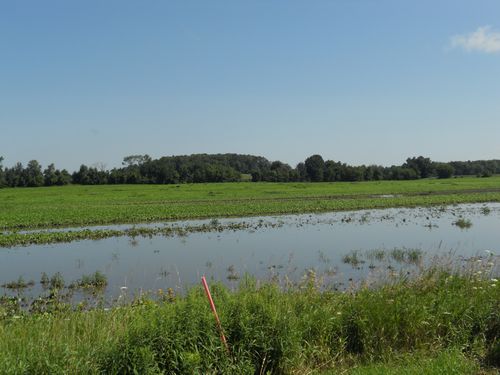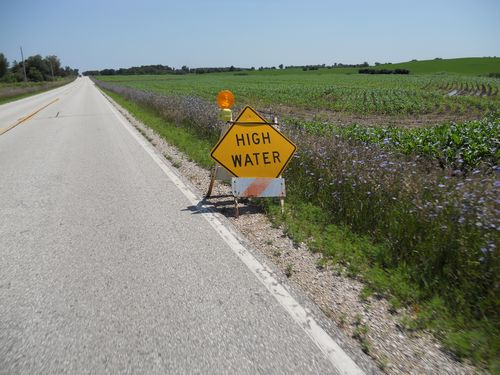 Leo's brother David rode with us again today. David brought reinforcements with him, his son Matt. David rode his Cervelo bike — one I knicknamed Angel Fish because of its deep, flat down tube. Since I last saw David and Angel Fish there's been a name change. Angel Fish now goes by Wildfire! The name is fitting — and it was just as much fun riding with Wildfire as it used to be to ride with Angel Fish. That pair is FAST!
I rode better today. I had a little more energy in my legs but I didn't want to ride hard and drain them again so I sent the Anderson clan on to ride hard into the wind. Well, we did have a slight head wind…but mostly I didn't want to be the one to hold them up. It didn't take long for the trio to ride out of my sight! They are all such incredibly strong riders! I'm thinking of changing my last name to Anderson …
It was kinda different leaving a downtown hotel this morning. Of course, you can't take us anywhere without us cutting up. Here's Jeff at the front desk right before luggage load. I tried to get his club's T-shirt in the exchange last night, but Nan snatched it away towards the end of the trading. Oh well, I got a great "Hotter'n Hell" century ride 2009 T-shirt.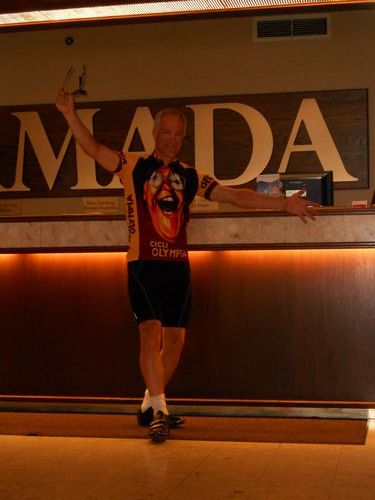 Here's Alison — one of our youngest riders. She's also one of our stronger riders and she doesn't cut up nearly as much as many of the more "mature" riders. Hopefully, she will only pick up our good habits and not our bad ones!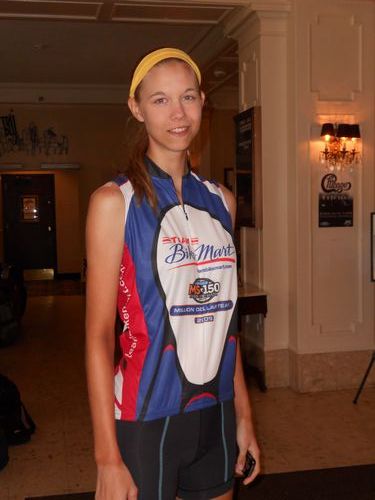 On the way out of town we rode through a wonderful park by Lake Winnebago. There was even a cool lighthouse. Of course that was just an excuse for us to take more photos!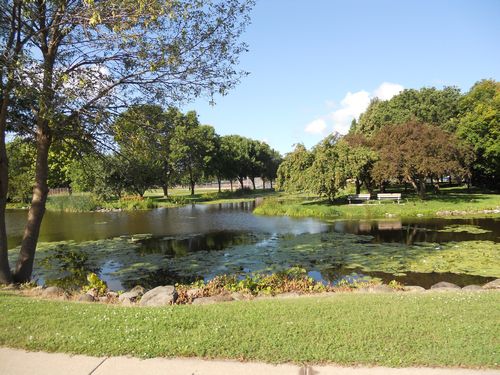 That's Nan in yellow (left) and Katie (right) approaching the light house.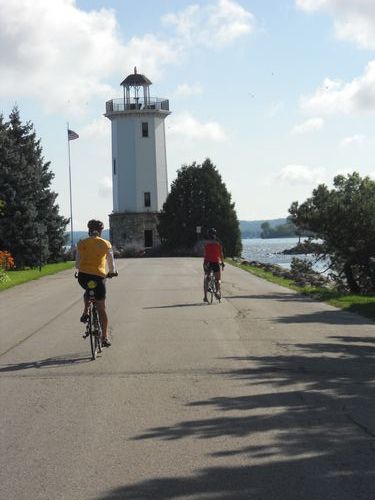 Here's the Anderson clan — (l to r) Matt, David and Leo.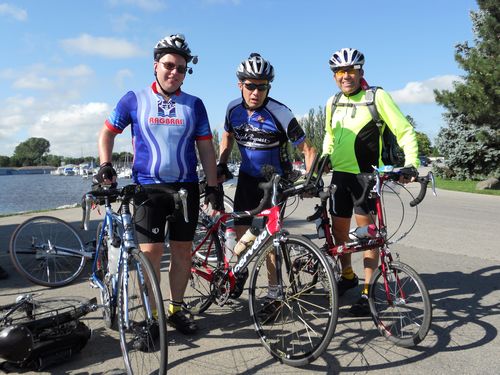 And one of me with Jeff — the Minnesota Golden Groundhog…uh, Gopher (a.k.a. Sudzy)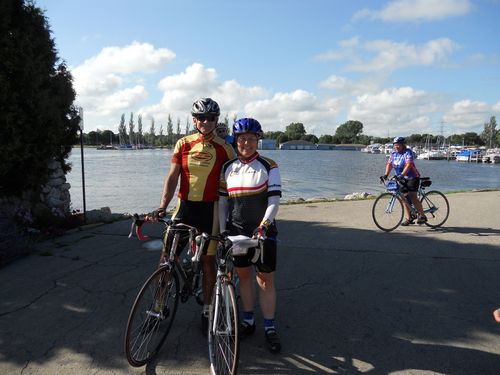 We had a small stint on a wide, smooth bike pass. It was very pleasant. I'm getting rather spoiled by the bike paths recently.  I may have to start riding more of them in Boulder and Denver when I get home.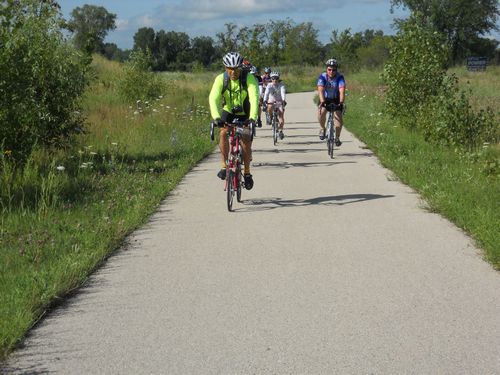 About half way through our ride we came upon a HUGE wind turbine field. There must've been close to 100 turbines. Their movement is hypnotic. I think I could easily watch them for several hours. As it was, I watched them for quite a while since they pretty much filled the valley on the left side of our road. Funny, there were almost none on the right side of the road. Just about all the turbines were turning — there was a steady, but light wind. Guess that's what works best. Wish I knew more about this new technology.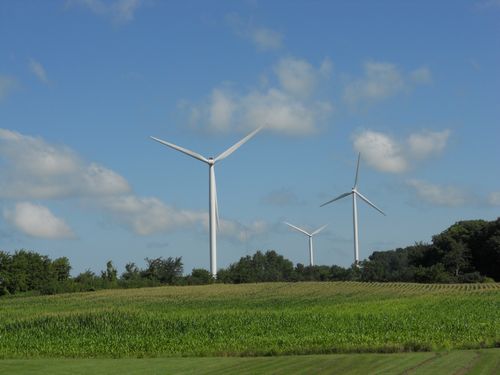 We're in a region of Wisconsin where the Amish live. I saw a couple of horse drawn vehicles yesterday and today we saw a few road signs telling of their presence — but didn't see anyone today (but it is Sunday, I think…)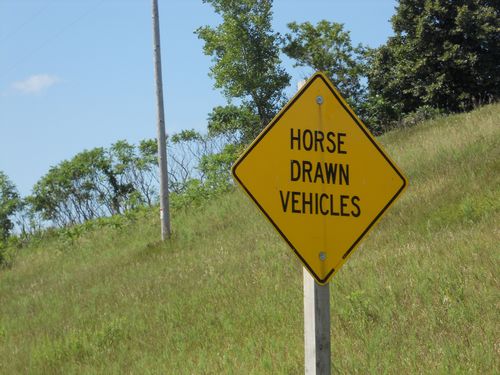 These horses apparently have the day off!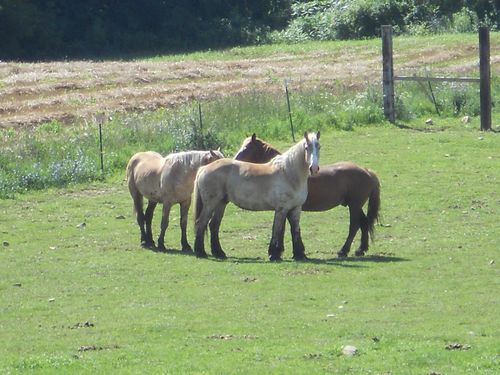 I came upon this one farm house that appears to be built of local stone.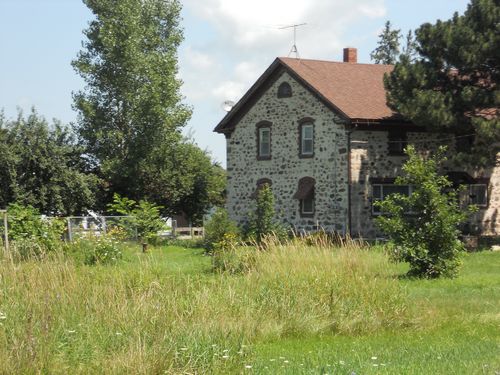 When we got within striking distance of our destination, we lost focus a bit and started trading bicycles! First Andrew and Ian swapped bikes. Ian rode "the tank" and Andrew rode Ian's bike with the fancy hub-gearing. Then Andrew and I swapped bikes — but I couldn't sit on his saddle and pedal at the same time, so we traded back after about a half mile. It was fun to experience the road as Andrew does on "the tank." It is a much smoother ride as his bike has a longer wheel base, bigger wheels and a nice, leather Brooks saddle. Here are the UK guys on each others bikes!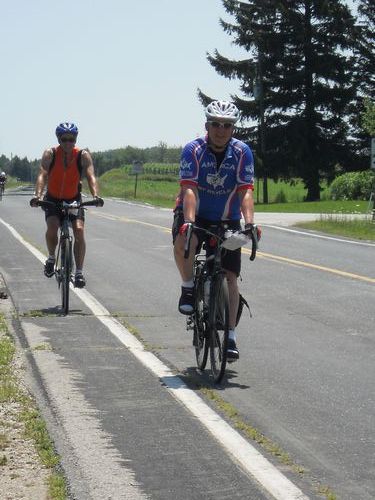 And here is Andrew on Scooter… he looks like he's on a kid's bike, eh?