Garmin Data: http://connect.garmin.com/activity/42196626
When I stepped outside the hotel this morning (at 6am) to see whether I'd need a light jacket or not this morning — boy was I in for a surprise! It had to have been at least 70 degrees already and about 110% humidity! I felt like I'd walked right into the deep end of a bath-water-warm swimming pool.  At the first SAG I was telling everyone that it can rain in Colorado and it would be drier than the air we were riding through. If ever we deserved credit for the swimming leg of a triathlon — it was today!
At load this morning I finally figured out why some of the riders brought their kids. Her's Alex with her luggage…and her Mom's (Helen) luggage too!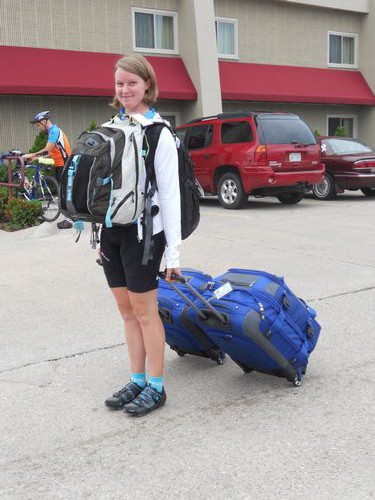 Some threatening clouds chased us most of the morning and we were all going the same direction (the clouds and the riders) at about the same speed.  The wind was out of the southwest and whenever we went east I could feel the wonderful helping hand of a strong tailwind. Less help when going south,  but the western component of the wind was still welcome.
Very little new and interesting sights today. We only climbed about 650 feet in elevation all day — can you say "Flat as a pancake?". Now that the ride is behind me, I realize that flat also means there are no breaks. You pedal and work the entire time — kinda like riding on the velodrome. The main difference is that we got to ride past crops. Today it was mostly corn and soy beans. A few beets thrown in for good measure.
For excitement, we had to look to each other. Leo ran with a rear tire that was about to go BOOM. The inner belt had been severed and as a result the tire lost its shape a bit. Leo rode with a "thump, thump, thump" until the first SAG at which point he could see the belt coming through and decided to put on his new tire. I don't think that tire owed him anything!
At the hotel: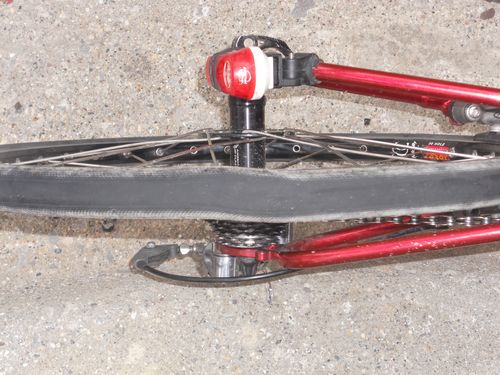 At the first SAG: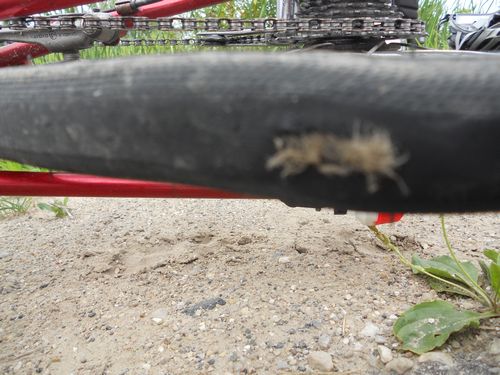 Tom (Washington) broke a spoke in his relatively new, "bomb proof" wheels. Kim was there to "help."  Actually, Andrew had spare spokes on "the Tank" and gave them to Tom in hopes that they might come in handy when Jim (Staff) came back to help with the Gold Van. We didn't stick around to find out — but I saw Tom this evening at RAP, so he must've gotten back up and running OK.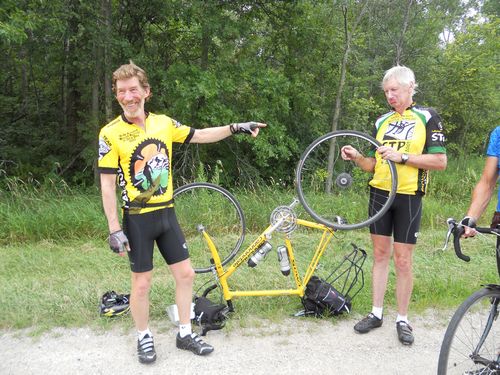 There was a small store on our route. Lately I've been getting a small bottle of chocolate milk to fuel my afternoon. The store, however, only sold chocolate milk in larger quantities. So, a couple of us bought 1/2 gallons and 6-8 of us shared them. Andrew got a 1/2 gallon too and a brick of cheese that he stowed in his all-purpose pannier. He is fond of saying that he's got EVERYTHING in there… even an ironing board! (sometimes I am not sure if he's kidding….)
Here's Renny (left) and Andrew with the milk, coffee cups for "sharing" and the brick of cheese!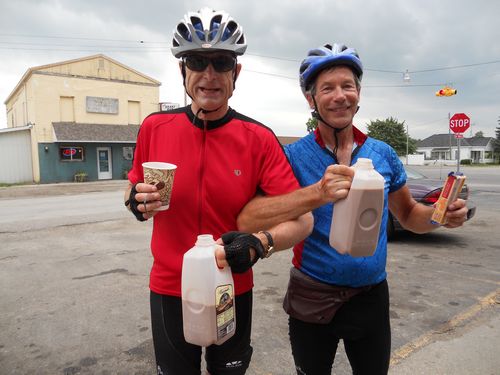 Rumor has it that late in the ride Leo and Andrew did another bike swap with Nan and the other folks they were riding with. Leo is taller than the rest so his Bike Friday's seat was lowered so everyone could sit AND pedal at the same time. I wasn't there. I had gone ahead as the I felt the group had gotten too big and I was "heading to the barn" about then.
When we got in and settled, several of us decided to do laundry. I just had to take a couple of pictures as this is the first time we've had the guest machines out in the open, right off the main lobby! Here are Jeff (left) and Margo (light blue top) guarding their places in line.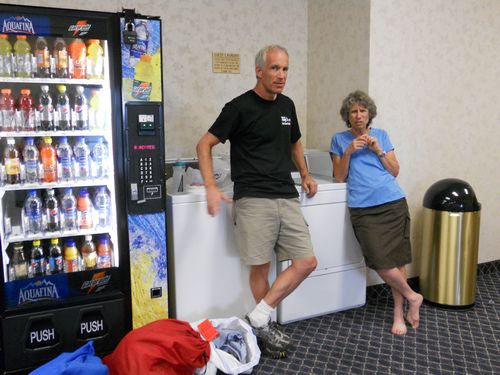 Margo's (light blue top) Flat Stanley took an unexpected bath! He's in his room drying out as I type this. I suggested the dryer, but Margo felt that might be a bit harsh.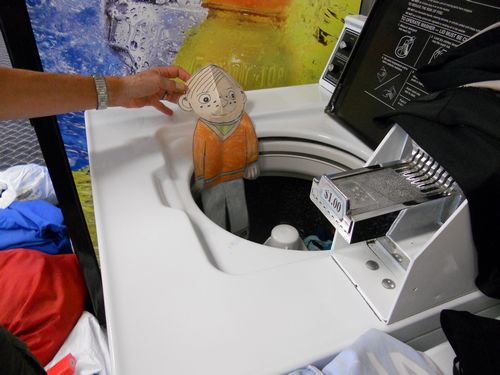 John (Ohio) was wandering the lobby and I've been trying to get a good picture of his permanent "helmet hair." Here his is fresh out of the shower… wonder if it will every be "normal" again! That's Bill (Colorado Springs) behind John.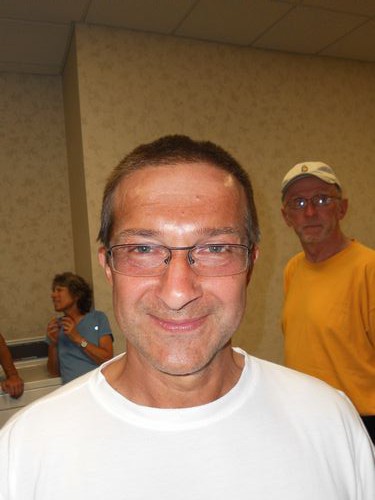 We've all started to notice how much weight some of the guys have lost. I think everyone has lost some, and there are a few that have lost a BUNCH – like Gerard – who I happen to have a photo of from Day 3 and from today.
Gerard (right in Ragbrai shirt) on Day 3, ( a bit out of focus…but worth sharing). Now that I see this photo though, I see that Andrew has also dropped more than a few pounds!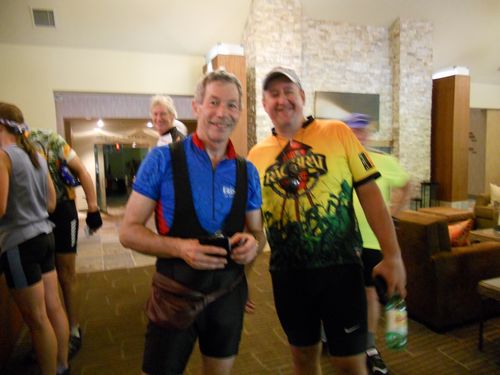 Gerard today…