Garmin Data: http://connect.garmin.com/activity/42457206
Everyone was excited this morning to ride across the bridge into Canada. At RAP last night, Mike went through the details of the morning — everything was timed to the minute… we would load at 6:55, line up for a photo at 7:10, be ready with our bikes to ride at 7:20…. then, we would proceed to the toll both on the American side to be escorted across by an official vehicle. Did I mention that they closed to the bridge to all other traffic!  That's just incredible when you consider that this is a major route between the two countries and it was solid cars for miles last night when we came in! As for our procession – the Gold van would go first, then the riders, then the White van and finally The Box Truck. He made it very clear that this was NOT the time for any funny business.  I think he might have been looking at either Dan or me when he said this…. hmmmm, some things just don't change!
There was a buzz in the breakfast room of the hotel – since the timing was so tight, everyone was there at the same time too and we were all in our ABB jerseys. Pretty impressive sight! I took a bunch of pictures of all this staging — but I'll share one of Michael, since today is his 55th birthday. One of the Marks presented him with a small sugar donut and we all sang Happy Birthday to him…. I had picked up a card and gotten everyone to sign it so I gave that to him then too.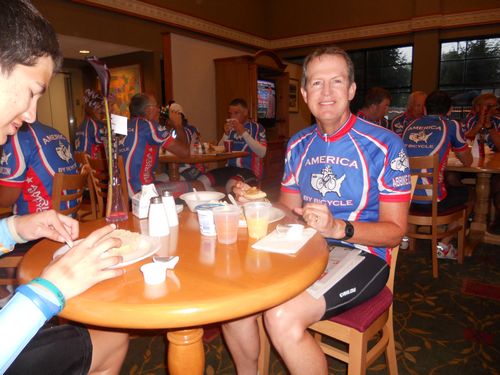 That's Joe walking between the bikes and the luggage. Normally, we load and folks just ride of f. Today everyone was going to head out as a group and stay as a group over the bridge. Then, most all of us followed Jeff  who grew up in Sarnia. He took us on a short (turned out to be an 8 mile "detour") of his side of the bridge.
Mike also told us that we were not to take our cameras out while we were crossing the bridge. That was REALLY hard. I remember reaching back to my jersey pocket several times and ALMOST taking it out. I didn't though. Gerard had another option — he wore his helmet-cam. He said that he hasn't used it much because taking footage of our normal day is kinda like watching paint dry. Riding over the bridge though  — that's a different story!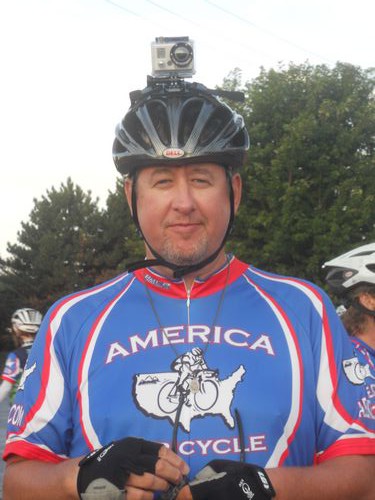 Here's the group shot…

.. so over we went, and once we were at the Canadian customs I was able to get my camera out again. The customs agent asked us (as a group) if we had any weapons or firearms. Of course, we answered "No!" — we didn't tell him that if for no other reason we wouldn't be carrying anything like that becuase it would not fit in under our luggage weight limit!!!!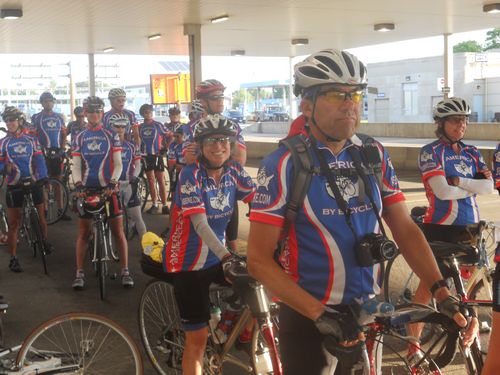 We met Jeff's Mom at a park just a little ways from the bridge. She was very sweet and was great about all of us taking her picture! I got one of me, Mom and Jeff. After a short visit, we rode off and Jeff took us around his home town.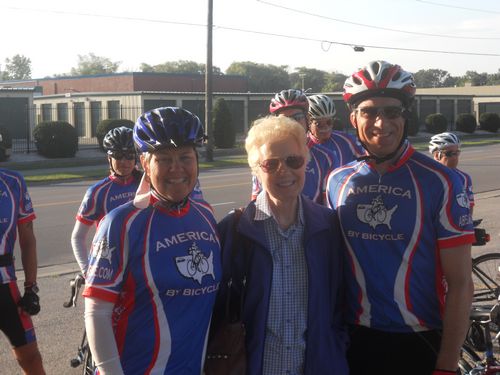 I was a little surprised by how special it felt to be riding together as a group. We rolled along at a pace that pretty much everyone could maintain and we stayed in single-file for several miles. Some stop lights broke us up a little bit, but we got back together as we snaked through Sarnia and out into the rural areas.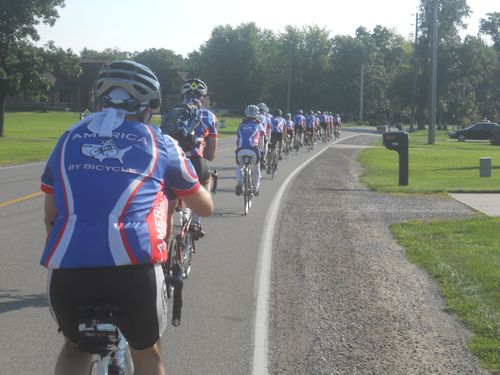 The rest of the ride was great. Cool, relatively dry ( speaking humidity here…) and only a slight head wind most of the day.  Andrew is a wonderful story teller and the miles went by quickly for Katie and me as we listened. We caught up with Leo at a late lunch stop and from there the four of us rode in together. About 10 miles before town we stopped to celebrate our 3,000 mile mark! Not many miles left now.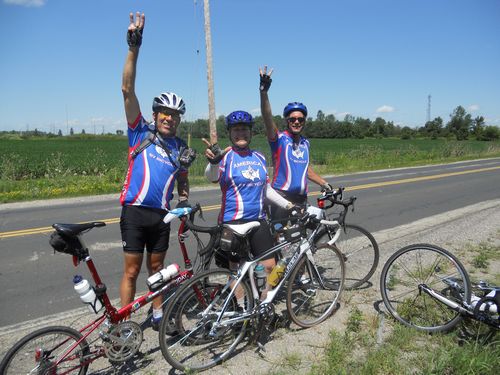 I have more photos, but the only one I'll add for now is of the tobacco field we came upon in the afternoon. I was riding with Andrew and Katie and neither of them knew what the plant was. Since I spent my youth working for Consolidate Cigar in Connecticut, I knew immediately and had to stop and take them into the field. This was not shade-grown, but it was pretty similar to the plants I worked with way back when.