After nearly 7,000 miles on my road bike, today I switched over and rode my 1991 Diamond Back hard-tail on some fairly non-technical trails just south of Boulder. It was Beth Laber's idea. She often trades her road bike in for her mountain bike as the summer comes to a close. Me, I generally just put my road bike away and call it a season!
We had a blast. Not sure what the name of the trailhead is, but it looks brand new. There was a well-designed parking lot, water and restrooms as well as an informational board. We rode for a little over two hours and covered quite a bit of ground during that time. There was a nice mix of climbing, "weaving" and descents. I had forgotten just how much focus is required to stay out of trouble on a mountain bike. There were a ton of pesky little rocks and boulder that we had to navigate around as well as trees, dips and bumps. Since I don't have front or rear shocks on my "old" mountain bike, there were a few times when we picked up speed on a rather bumpy trails and my eyeballs felt like they were bouncing all over the place and smashing into my skull! I hope it just FELT that way….
The views were magnificent. Riding in Boulder is such a treat. All you have to do is look west and you get views of the flatirons and the meadows that reach up to them. Breathtaking! Another great thing about this ride is that we started and ended right at Beth's house in south Boulder. No overhead of getting to the start of the ride, or a long post-ride trek back home. All of our time (which we all know is the most precious quantity!) was spent riding. Ahhhh, really doesn't get any better than that.
One slight problem occurred as we were heading back — my rear derrailleur shifter stopped shifting and then a few attempts later it just broke off in my hand! Luckily, I was in a nice moderate ring on my back cassette and the rest of the ride home was easily managed with my new 3-speed bike.
I don't think I had my camera settings quite right since all my photos have a blue haze to them, but you'll get the idea. Maybe put a pair of rose or green sunglasses on when you view the photos to adjust the color balance! 😉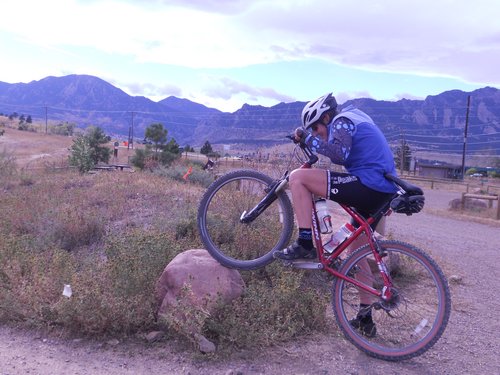 Before we took off on the trail, Beth practiced on a few of the boulders in the trailhead parking lot. What a natural, eh?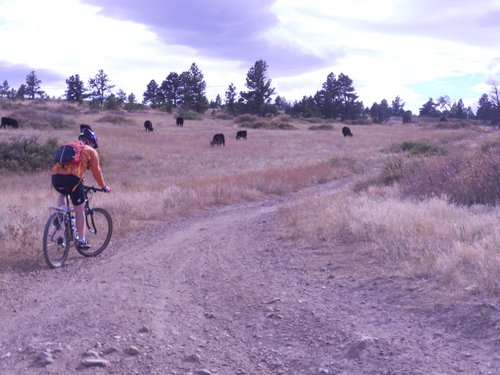 We  shared the trail with hikers, other bikers and some lazy cows. I checked, there were no bulls i the herd, so I wasn't concerned.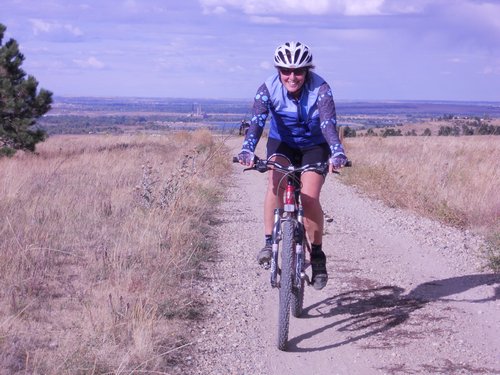 Notice that all my photos are taken while we're on the road — not the trail. It was all I could to do keep myself (and my bike) on the trail and avoid the small rocks, stumps and roots. I didn't have nearly as much trouble on the dirt road that joined the single tracks. Did feel VERY different from the rides I take on Scooter though….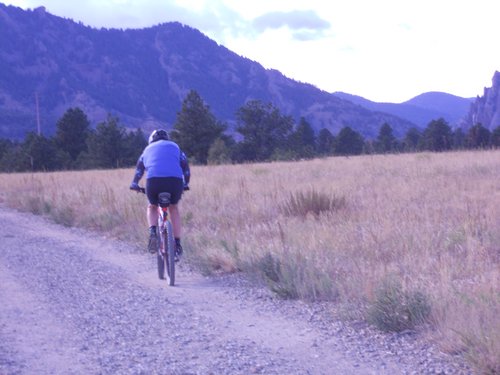 The vistas were just breathtaking….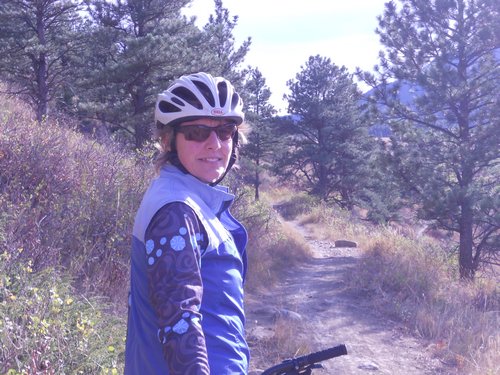 Beth had to wait for me a few times. I think I took this shot just after I picked myself up from falling into the hillside. The uphill bikers have the right-of-way, and I had just pulled off to let a cyclist by…but, my cleat did not release from my pedal cleanly so over … or at least "into" the hillside I went. I didn't fall far, just into a narly bush! Not hurt at all — I came up chuckling.