Most of the group left from Boulder this morning. 'Load' was at 7am. Nancy drove down from Berthoud to gather up everyone's luggage and share in a breakfast of scones and oatmeal (Tom's first attempt…. was pretty good, I hear) and hard boiled eggs. There were 5 of us,  4 riders and Sue, our other treasured SAG driver, who left from Starfire Farm in Berthoud after a measly breakfast of instant oatmeal and orange juice.
An hour later, both groups merged at the mouth of Left Hand Canyon. We arrived within minutes of each other. Cheers went up as we rolled in — the Starfire Farm group did have to do 3 miles farther. 😉  Everyone went thru the SAG protocol — which looks surprisingly like the America By Bicycle protocol, and we headed up the canyon. Here's a shot of the group at that rest stop.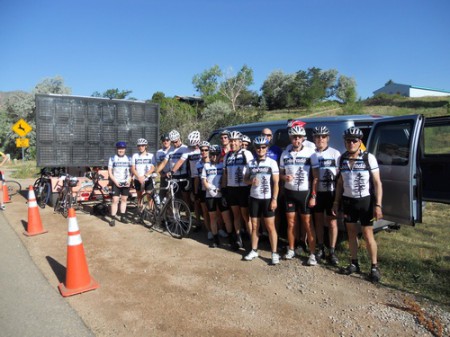 We have three SAG vehicles, two "official" ones staffed by Leo's wife Sue and a friend of mine, Nancy — and Joe's wife Karen is an unofficial helper (she was going to follow along in their car anyway, so why not put her to work, right?) 
It was a gorgeous morning. Sunny with bright, Colorado blue skies. Really doesn't get any better than this!  As beautiful as it was — it was also a very challenging day. Lefthand Canyon is a 17 mile climb with a real kick-in-the-pants 2-mile climb at the top with stretches of 10-14%. Oh, and it tops out just over 9,000′ so the air is pretty thin.  I overheard Don saying that he lives at 13′ above sea level…. so he must have really been wondering where all the oxygen went! 
About a week before our ride, there was a fire in the caynon right along the stretch of road we took. The fire crews were still in the canyon and I was surprised to see that the fire had come all the way to the edge of the road.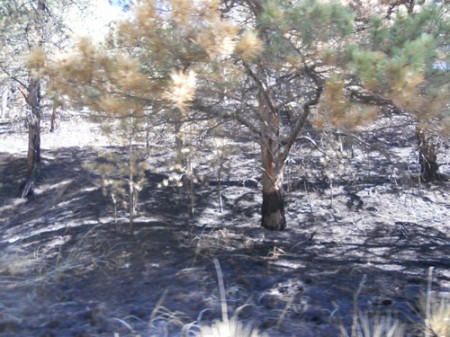 The crews were still in the canyon taking care of 'hot spots' . They don't look too stressed though, so I figured we'd get up the canyon without incident.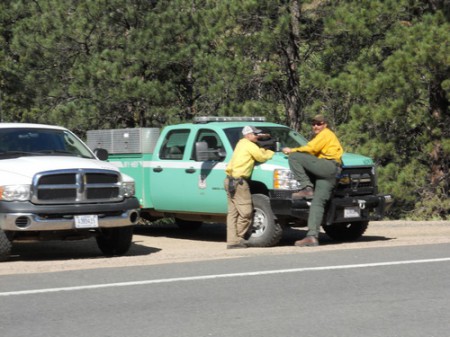 Glad we didn't have to resort to our "Plan B" – which was to ride up the So. Saint Vrain canyon about 6 miles north of Lefthand Canyon.  That is also a gorgeous canyon but I didn't have a chance to make route sheets for that ride. So many things to think about when you organize one of these rides!
As with most Colorado canyons, there is a narrow ribbon or road that winds its way upward. I counted seven "Shoulder Narrows" signs on the way up. By the last one, there was really no shoulder at all. But, traffic is light and  there are so many bikes that ride the canyon, cars are conditioned to expect us.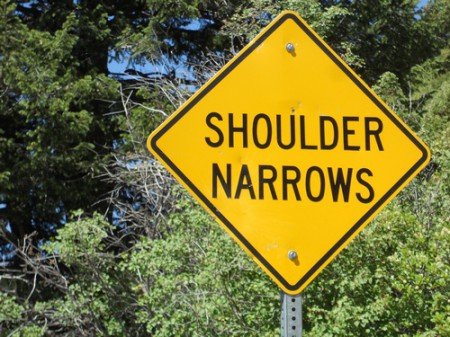 Our second rest stop was a mere 7 miles after our first one. Everyone seemed glad to see it as those miles were all uphill.  The long canyon climbs (at elevation) of Colorado take a litle getting used to – both mentally and physically.  None of the ABBers had similar conditions in their home states, so this was the first taste of this type of ride. They all did great!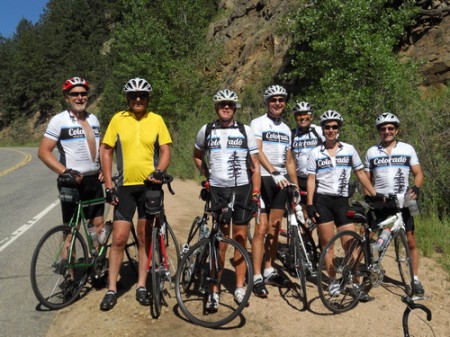 (l-r) Don Y, Steve L, Tom Z, Dan K, Leo A, Barb & John S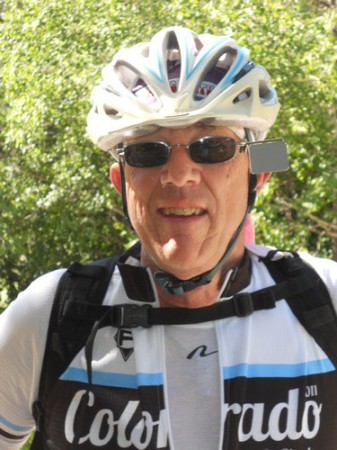 As you can see, Tom is having a wonderful time… so are Steve and Don. I made the stop and let me take their photo. I'm dangerous with a camera!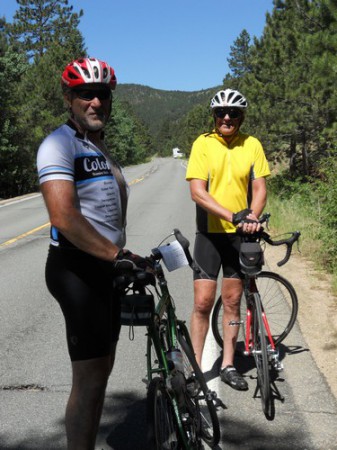 Ward is a hippy town at the end of that kick-in-the-pants climb. They have an interesting relationship with cyclists. They love us and they hate us at the same time. We probably account for 90% of the little store's summer business but we also are seen as a nuisance on the road. At one point, the town voted on introducing a "Lycra Tax" — which would, of course, be levied against cyclists. It didn't pass.
You can get a good idea of how steep the climb was up to town by looking at this photo.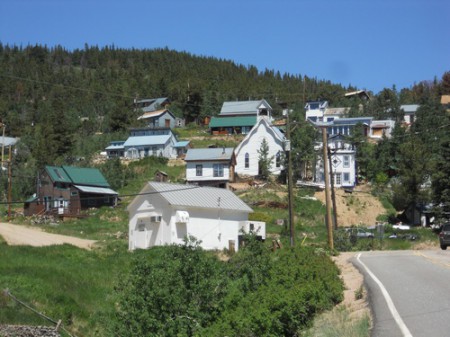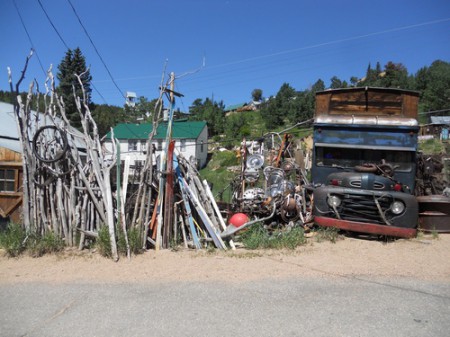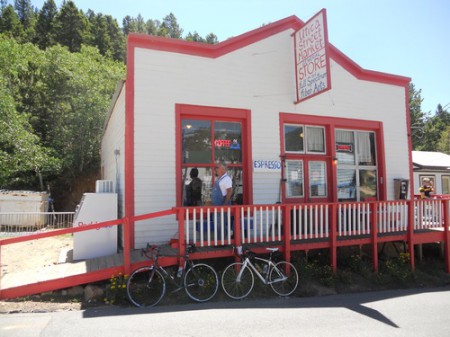 We did have one rider miss taking a left hand turn so he found himself on the way to Jamestown instead of Ward. Beth rode him down though and continued up out of town after  the rider  told her he thought another member of our group was up ahead. Well, poor Beth. That chase took her on some very steep stretches and eventually to some very steep dirt. UGH! She popped out on the Peak to Peak highway about the time the first riders were coming across from Ward.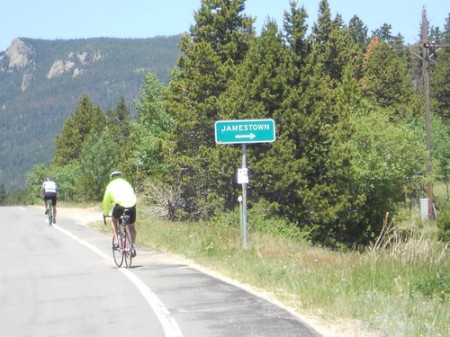 For those that stayed on the official route, there was a lovely 6 mile downhill. I'm guessing that most of the riders would have preferred that it was downhill all the way to Estes Park. Too bad. There was still more climbing ahead. The Peak to Peak highway rolls with several uphill pushes. Legs and lungs were hurting by this point and mentally everyone had checked out after the scary Lefthand climb was behind them. 
There were plenty of excuses to stop and rest. We passed St. Malo chapel – the Pope was here in 1993 – and at the top of every climb there was a new view of the Rocky Mountain's front range. Here are a few shots I took as I rode along.
Leo at the "Scenic Overlook"  where we stagged a rest stop — there could be one of these every quarter mile up here!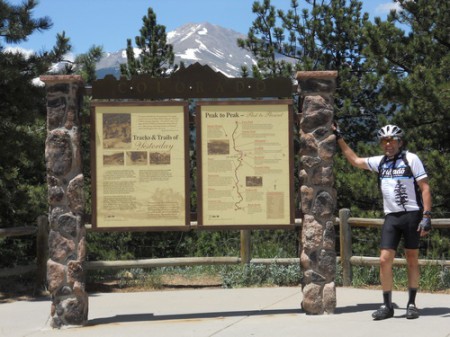 Leo, a bit later, at the St Malo chapel. Having Leo along is a bit like Margo's "Flat Stanley" — he's great to include in all my shots.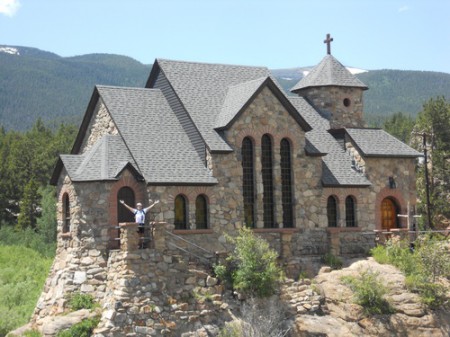 A few of the mountain shots. Of course, the photos don't do them justice. And, it is hard to convey the sounds and smells that go with these vistas. The wildflowers are still in full bloom up here at 9,000′.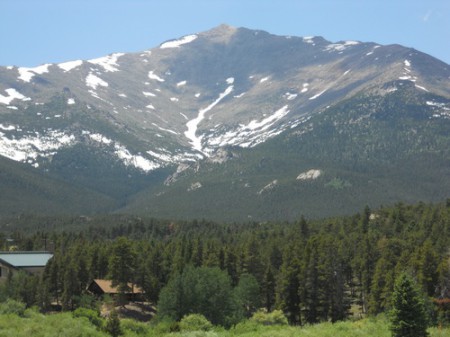 The shot below is of Longs Peak, one of the 54 peaks in Colorado that are over 14,000′ in elevation. I can see this peak from my house in Berthoud, but the view we get does not show this sheer rock face. There are multiple technical rock climbing routes on this diamond face of the mountain. You wouldn't catch me on any of them — back in the early 1980's I did take the hiking trail to the top. That was no cake walk either.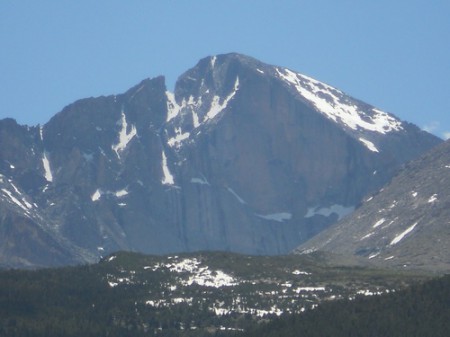 This is a long way from the Oregon coast! I'm not sure Don can believe he has climbed almost 6,200′ today! That's over one vertical mile!!!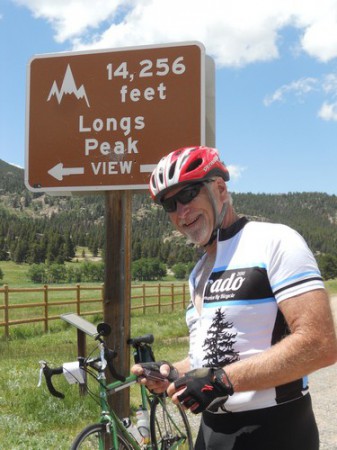 This next shot is from the Twin Sisters trailhead right before we drop down into Estes Park. If the pavement were smoother, this would be a downhill racers dream. It is a steep, fast descent with a couple of nice hairpin turns thrown in just to make sure no one gets going at warp speed. This was a welcome sight to everyone.  There was one small bump of a hill between here an our hotel.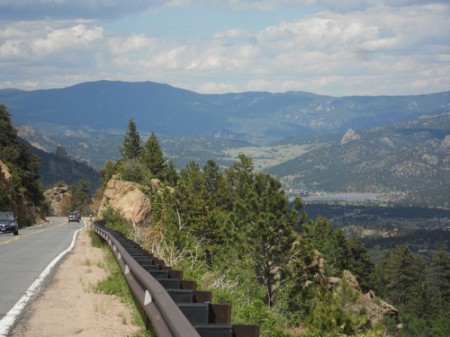 Once in town, there were lots of lunch options and even a Dairy Queen within easy walking distance. Several of the cyclists signed up for massages with Dr. Steve from ProActive Chiropractic in Gunbarrel.  Others went and waded in the roaring Big Thompson river – I stuck my feet in for about 3 seconds. Dam that water is COLD! It is a great way to take the heat out of your legs and start the recovery process. Hope 3 seconds was enough time for that process to kick in.
Everyone turned in early. Tired and smiling. Early start tomorrow – load is at 6:00 am. We want everyone up and over Trail Ridge road before the tourists wake up and before the storms roll in.