Yikes! I'm a SENIOR!  I suppose that's a good thing though because I get to participate in the Wyoming Senior Games (WSG) . While at the Track Nationals,  Julie and Jim Lockhart encouraged me to consider racing at the Colorado State Games in order to qualify for next year's national games. When I went on-line to check it out, I saw that Colorado's games were already held back in June. So, I checked for state's that had not held there games yet, and Wyoming was in the list… and registration closed that very day! I had less than 8 hours to make up my mind. I only needed a few minutes.  The registration fees for four cycling events was only $45. So, I decided, even if it turned out that I couldn't go, I'd go ahead and sign up.
The logistics were not ideal. The cycling events are held on Friday and Saturday mornings. On Friday the first event is the 20K road race that starts at 7am. A bit later that morning, at 10:30am, there is a 10K time trial. On Saturday the other two races are run, with a 40K road race at 7am and a 5K time trial at 10:30am. In order to get my registration packet, I needed to get up to Cheyenne the afternoon before the races. I decided that instead of running up there during the day to get the packet and then getting up at o' dark thirty each morning to race,  I would get a hotel room and make a mini-vacation out of the games.
My America By Bicycle friends will get a chuckle out of this — I got a room at America's Best Inn! Yup, it was the best deal in town and only about 10 minutes from the race venue and even closer to the WSG  registration center at the Cheyenne Ice Center. I figured if I had survived America's Best Inns while on the cross country trip, I could do it again for two more nights.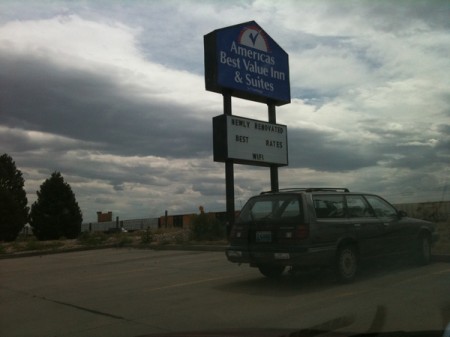 I left work early and headed north on I-25 for the straight shot through dry and desolate northern Colorado. Although it is not a metropolis, the region appears to have grown quite a bit and become more developed (not sure this is a good thing, but it is what it is) — at least close to the highway. There is still a wide-open expanse  for several miles on either side of the Colorado/Wyoming state line where there is nothing as far as you can see except perhaps an occasional small group of  prong-horn antelope.
Registration was well organized and the volunteers were friendly and helpful. It didn't take long for me to get my race bib with number '994' , a badge and a nice over-the-shoulder carrying bag filled with an event T-shirt, a water bottle and a WSG information booklet.  Getting my hotel room went equally smoothly — and to my surprise, the hotel was MUCH nicer than those that we experienced on our cross country trip. This America's Best Inn had been recently renovated and although my room was small, it was well appointed, clean and, most importantly, had a working air conditioner!
After hauling my gear into the room, I got changed into a cycling outfit and headed out to ride the course. It was probably 5:30pm by now and I wanted to ride the course one more time before racing tomorrow. The wind had also picked up since I arrived in town less than an hour ago and I wanted to ride before it reached gale force. My hotel was right off exit 9, the course was north a ways at exit (and mile marker) 16. There was NO traffic on I-25 and the trip took less than 10 minutes — I do like Cheyenne rush hour. There was only one other car in the parking area near the frontage road and for a brief moment I wondered if I had the right spot. Somehow, I expected to see more people doing a last minute ride on the course. Maybe I was the only one who had not raced the route before!
My ride was very pleasant, in spite of the wind — which was obnoxious. I used my power meter to keep my efforts 'light'  and my focus was on getting a good feel for the rises and falls of the course. The route goes on a frontage road that parallels I-25 for the first 5.1 miles, where  the frontage road comes to the next exit and an abrupt halt. From here, we turn left and almost immediately have to negotiate a cattle guard and then proceed about a quarter mile where we enter the Cimmaron housing development.  Whatever image just popped into you head when you read "housing development" is probably wrong. A you can see from the photo I took of the four-legged residents  – there are almost no trees and about the same number of homes.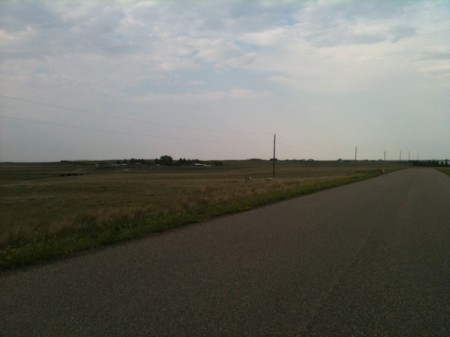 I retraced my steps back to the start feeling good about my pre-race ride. Next up was dinner and an early turn-in. As luck would have it, there was an Outback Steakhouse a stone's throw from my hotel. They serve up a wonderful blue cheese lettuce wedge, baked sweet potatoes and steaks so I was excited as I headed over towards the restaurant.  It turned out to be a very popular place! The line of folks waiting to be seated was out the door and around the corner. I made a quick change of plans and went to the 'ToGo" area and took my meal back to my room.  It worked out perfectly — I got to watch a little of the Bronco's first pre-season game and some of the Olympics coverage as I ate.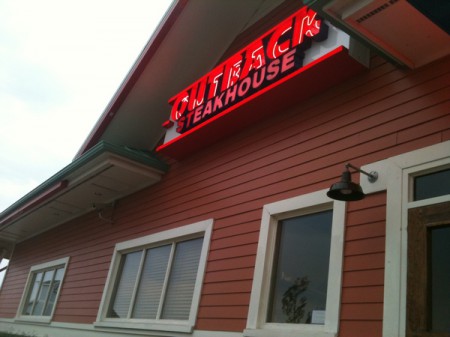 As I drifted off to sleep, I envisioned pedaling effortlessly up and down the hills of the route.