Getting to the race was almost as challenging as the race itself. I had spent the morning playing photographer for at an Amy Dombroski CX clinic. My cycling buddy, Michelle Stoll was in attendance and she and I planned to drive down to the race together after the clinic. There was a little over an hour to kill between the two events, so we went back to her house in north Boulder and chilled for a few. As we packed up the bikes and her gear in the car, Michelle received a text message from another of our racing friends, Valerie Eipper, who was down at the race already. She warned that I-25 was a parking lot and it had taken her 30 minutes to go 1 mile. Nice information to have! We altered our route and went down via 470
There were five SW55+ racers so they let us ride with the SW4s. There was no neutral lap because the course was over a mile long, so when we left the line, the race was on! I stayed up with the lead riders, tucking myself in the pack about 3 rows back in the middle. I wasn't sure initially how the winds were going to affect us, and I'd never been on the course so I wanted to be able to go either left or right on the first lap. One of the other SW55+ racers, Kristine, was to my left and she made her move almost immediately from the line. She quickly made her way to the front of the pack! She rode right to the left of the lead riders for the entire first lap and into the second. The corners didn't give me any trouble, and since I was near the front, I didn't have the "tail of the dog" whip-lash issues to deal with.  As far as I could tell, it was mostly Kristine and me with the lead group although I suspect Ceil was somewhere nearby.
I had to power out of the first turn up a several hundred yard incline to stay with the pack. It was not steep, but the rest of the gals were able to get up it with less effort than me. This was the stretch where I ultimately lost contact on the 5th lap.  Before that though, on the 3rd and 4th laps, I was just able to hang on. Meanwhile, Kristine was still easily staying on the front of the pack and looked like she was actually helping to push the pace. To be honest, the pace was just a tick above what I felt I could hang with — but by this time, I was pretty committed to trying since there was a HUGE gap between the front group and the next group of chasers. I couldn't even see them when I looked back!!! So, when the prem (or bonus) lap came around, I said to myself, "I can go for the prem and come away with a mini-victory, or I can continue to try to hang, and likely come away with no victories, mini or otherwise. My decision was to go for the prem. I rode that perfectly and came around from two riders behind Kristine and out sprinted her on the outside. She acknowledged as much after the race when she said she "Let me have it." — unfortunately, since we were mixed in with the SW4s (and there were at least 15 of us still in the pack) apparently  the officials did not see me beat her. No biggie, but it did cost me a few "matches" and probably resulted in me losing contact a little sooner than I might have otherwise. It was very cool though to actually have someone that I was racing against and having to make these kinds of decisions. I don't regret going for the prem — and I don't think it affected the outcome of the race, but of course, I'll never know that for sure.
I was riding on my own – off the back of the lead pack with one or two solo riders within sight  — for the last two laps. My friend, Michelle Stoll, came into view on my last lap but no other SW55+ racers were a threat.
Turns out, it was a VERY good day to be up front. There were at least two nasty crashes behind me — and Michelle got her front wheel mangled by the racer in front of her. The gal drifted back and then made a sudden move to the right which put her derailleur right into Michelle's front wheel. I was riding to Michelle's left and saw sparks and heard "baseball card in spoke" sounds for several seconds. Upon inspection after the race, Michelle's spokes were severely damaged but not broken. The wheel was majorly out of true and clearly not safe to ride on . How she kept the bike up and managed to finish the race is amazing!
Not sure when I'll see Kristine in another race — but I look forward to the challenge. I just need to keep riding at my limit, trying to hang with the faster gals longer and longer and eventually I maybe able to stay in that group for the entire race. I'd rather do that then settle into the slower group and not push my limits. Just saying…
I was pretty happy with my warm-up. A little scattered, but I did get warmed up and even broke out into a pretty serious sweat.  I timed it so I was done about 5 minutes before our race was scheduled to go off. Then, there were issues with duplicate race numbers at the line and I bet we were standing around for 20 minutes on the line before we got started.
And, my cool down still needs work. It was almost non-existent again. This time it was because we were checking in with the SW55+ gal who fell hard. That, and there wasn't a good place to ride — but I need to figure out a way to get that done. My cool down was a big disappoint for me as I know how important it is in general and for me specifically with my muscle/stretching issues.
Going in, I was a little concerned about fueling. I'm not used to doing 4pm races.  I spent the morning playing photographer for Amy Dombrowski and Paul McCarthy at a CX clinic and didn't get a decent mid-day meal in. I had oatmeal at 1:00pm and then some energy drink and shot blocks before the start. I think I was OK, but think I probably should have had some protein with my oatmeal. Will remember this for next time.
Here are some shots from the venue.
The podium was set up so that the photos were taken right into the sun. DUH! Oh well, good time not to be on the top step, I guess.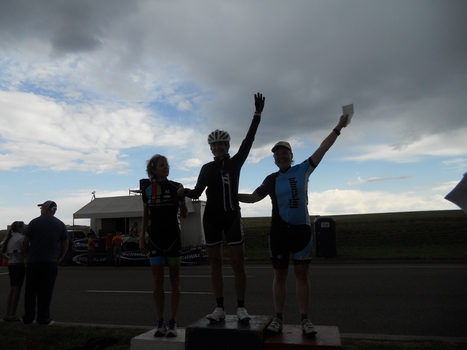 Kristine Johnson won, I came in second, and Ellen Hart came in third just a few seconds behind me.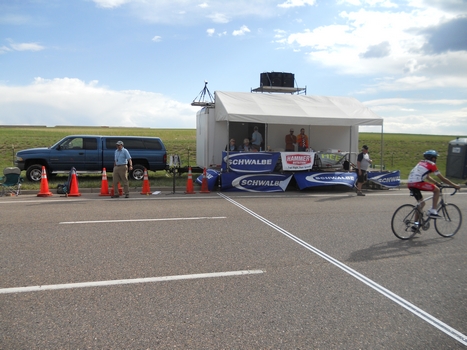 The Juniors raced after us. This is a shot of the start/finish line. Out in the middle of nowhere!!!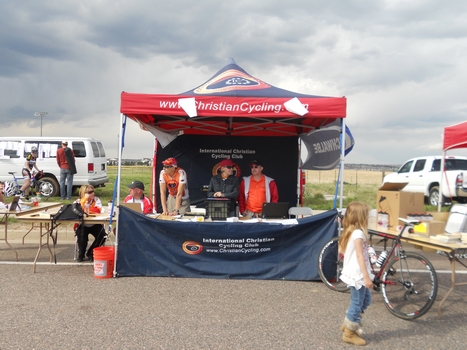 The Christian Cycling Club hosted the event. Maybe it was selective hearing, but Michelle told me they actually said a prayer before the race. I missed that one!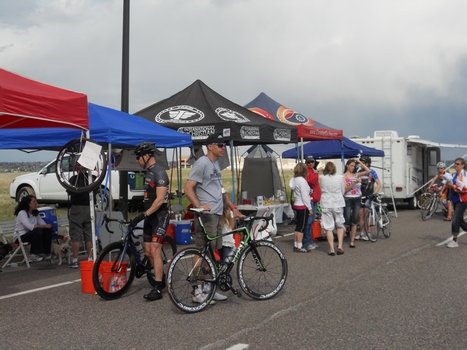 A shot of the vendors who were there supporting the event. It was a nice
event.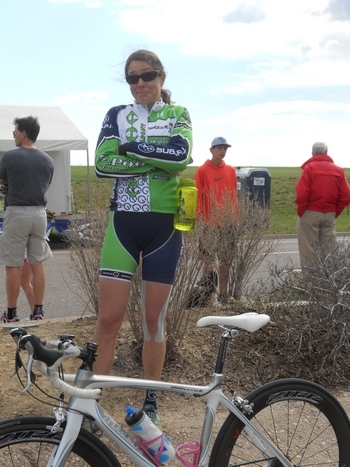 Here's a shot of my friend, Michelle. Looks like she's got her eye on this little Trek. I think it is WAAAAY too small for her!