I'll bet you never even given this a thought, have you? Well, Dave (a.k.a. "Eddie") brought it up in conversation on today's ride  — after he had shed some layers and I was looking to put another one on! You see, those ears are used by elephants to dissipate heat. Apparently, without those big floppy ears, the amount of surface area (relative to their body size?) wouldn't be enough to allow them good temperature regulation. The things you can learn on a bike ride!
Before we started out, I told Dave that it was nippy (36F – to me, that's nippy!) and he should add a layer on top of his cycling shirt & football jersey. Dave took my advice and took it one step further. He also swapped out his baseball cap under his helmet for a balaclava. After this transformation he looked more like "The Assasin" than "Eddie". See for yourself….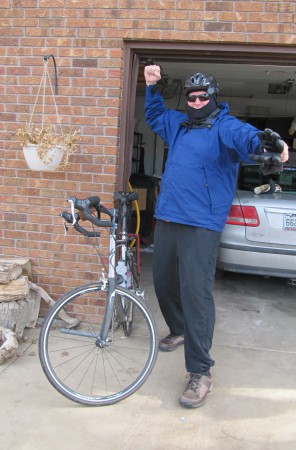 However, he probably wished he hadn't listened to me at all. You see, when we started the climb up the front side of the Hogsback, Dave started to strip all the 'extra' clothing off. By the time he was at the top I don't think he even had his gloves on anymore! Of course, since Dave doesn't have much cycling specific equipment and his ski gloves don't 'breathe' very well it actually made perfect sense to do that! Same was true with his jacket. I don't think it was specifically designed to be worn while exerting so when he started to really work (and sweat!), the jacket was rather suffocating. But, if Dave had the ears of an elephant, he would have been just fine.
I, on the other hand, was pretty comfortable except for my toes and finger tips on the fast descents. I had three layers on top and two on the bottom. My silk base layer does a great job wicking moisture away from my body and my jacket is vented in the back which keeps me from overheating on the climbs or billowing on descents. I was also glad that I had front wind panels on my long tights because the wind picked up a bit on the way back. Lucky for us,  it was a light wind and there were brief moments where it would suddenly disappear all together. Ahhhh, what a nice surprise when that happened.
For me, today's pace was mellow. I think it was a little tougher on Dave since he hasn't been riding regularly since this fall. Other than a few attacks on short steeper sections, I just spun along. Most of the time, when I looked down, my heart rate was well below my normal training level — which was perfect for today. This past week was hectic and I missed doing anything Wed/Thurs/Fri so I wanted to ease back into working out again. My Garmin data from today is not accurate, but what there is also indicates a light workout. I must've hit the start/stop button and before I realized it wasn't recording I had already lost about 30 minutes of data. It wasn't a hard-core training day for me, so I'm OK with just Time/Distance from my other computer. But, I've got to become more consistent with the Garmin before I go cross country with it, because I will want more accurate data then… and there are no "Do-overs" on that ride!
Here are a few more shots of Dave from today's ride – notice that the enitre "outer layer" is missing in these two shots that were taken later in the ride. I'm sure the ski gloves came off before the top of the hill too!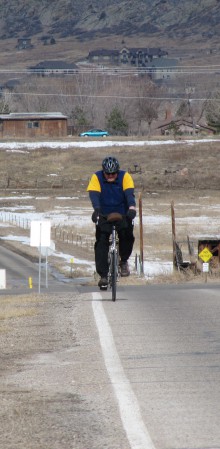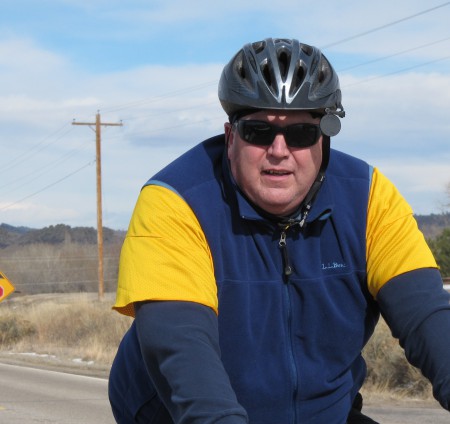 On the last stretch towards home before we parted ways, I asked Dave to snap a picture of me and Scooter. After my "self-portraits" last weekend, I thought it might be better to have someone other than me holding the camera! The pull-out where I stopped has a small sign advertising "Self-serve Honey." I bet I've seen this sign 100 times, and have always wondered what a self-serve honey dispenser would look like. Today I found out. I realize now that I should've taken a picture of it (and I will next time I'm out with the camera!). Here's a picture of the honey…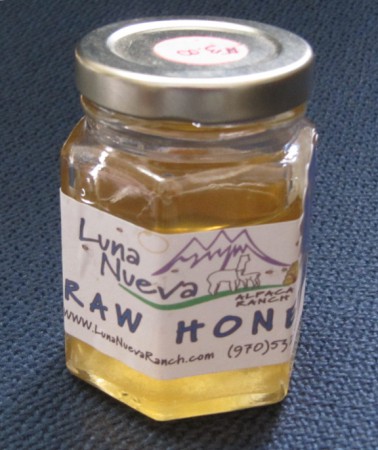 For now, I'll just tell you  that it is a small hand crafted box with a clear plastic pane on the front that allows you to see the jars of honey and the cash box inside. I had a few dollars in my seat bag, so I bought a small jar to bring home to Beth. She loves honey in her tea — and what better than homemade, local honey!
Todays Stats: (partial data from the Garmin, ODO from my Vetta bike computer)
Distance:  25.3 mi
ODO: 849 mi
Ride Time: 1:58.53 Ave Speed: 13.0 mph
Max Speed: 32.7 mph
Elevation Gain: 1177
Elevation Loss: 1437
Est. Calories: 783 (partial)
Ave HR : 111 bpm
Max HR: 148 bpm
For the Garmin time (1:38:30)
Z1 (< 103): 17:48  for  2.3 miles   
Z2 (< 120): 37:32  for  6.4 miles
Z3 (<137): 28:34for 5.0 miles
Z4(<154): 10:51  for 1.7 miles
Z5(<171): 0