We rode from our campground to the start of the path and then continued on it through Fanconia Notch State Park. We didn't stop at the Flume Gorge, but we did get to see The Basin and The Old Man of the Mountain historic site. I shared the plaza art in my previous post. In this one, I'll share more images from that ride — a lovely, almost nine mile long paved path that had a surprising amount of elevation gain! This was not a rail-trail, that's for sure.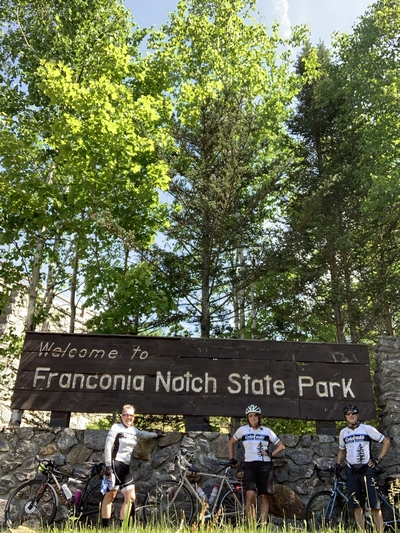 As we rode out of town I caught a glimpse of Clark's Trading Post. My mind immediately rewound to a time when my family stopped at the attraction. It all came flooding back to me as if I had just visited yesterday!! OMG — it was surreal. I even remembered that they kept bears in large areas kinda like a zoo. When I took a closer look — I could see that the bears were still there too!
It was hot on the ride and we stopped off at the Cannon Tram for an ice cream cone. Since we were there again, we went in to the New England Ski Museum. Bode Miller's Olympic medals and an old racing kit were there along with lots of other ski gear and photos. Reminded me of similar stuff I've seen about Colorado's early impact on recreational skiing.
We stopped in town (Lincoln, NH) on or way back to the campground. Another quaint New England town with a few olde tyme stores and a couple nice cafes. One of the stores displayed several first-place ribbons for maple sugar products and they had an evaporator set up so folks could get a feel for the process of making maple syrup. The gal at the register said it takes about 50 gallons to make a single gallon of syrup! They also had lots of other north country stuff too.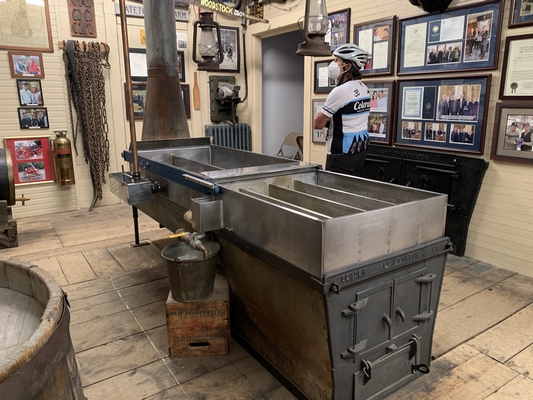 Remember all the mailboxes I shared back in Florida — well here is the New England version…