It was a good thing my iPhone alarm went off or I might have slept right through my first event. I woke feeling well rested and after I shook the cobwebs out from between my ears I set about getting ready for the day. First order of business was to get eat breakfast so it had time to settle. I just hoped there was room in my stomach next to the butterflies to put some oatmeal. Since I wasn't sure whether or not I'd be up too early for the hotel's continental breakfast, I brought my own oatmeal, granola and milk. Good thing too, because at 5:45am, I was the only one in the breakfast area and there was no other food in sight!
After eating I quickly dressed and gathered up everything I'd need for the races. I did a last check of my bike. Last night I washed Pogo's frame and stripped off all the extra gear — my handlebar headlight and the tail light that is attached to the rear triangle. I even took off the second water bottle cage and removed my little saddlebag with its spare tube and gas cartridges. I sure hope I don't get a flat out there in no-woman's land! Pogo looked awesome! No matter how well I rode, at least we were gonna look sharp.
When I arrived at the parking area this time, there were already a bunch of cars and lots of activity going on. I pulled in, set up my trainer and started my warm-up routine. It was really chilly this morning — my Subaru let me know that it was all of 56 F when we left the hotel room! I pulled on my GoLite under-layer and a pair of light weight tights. Then I got on the trainer and  started spinning.  Of course, I also chatted with my fellow riders – most of whom were older than me! Mark, from Laramie was parked right next to me. He was competing in the 80-84 year-young group and didn't look a day over 60! Everyone was very warm and welcoming. I got off the trainer after 10-15 minutes of spinning  and took my warm-up to the course. I was trying to figure out whether or not I should keep my warmer layers on, or take them off for the actual race. It was not an easy decision. There was also a slight breeze which, of course, made it feel even chillier. I decided to wait until right before the start but was leaning towards taking off the layer and starting off a bit chilled.
At 6:30am there was a short rider's meeting. Nothing earth-shattering was covered — but I did learn that last year a couple of riders touched wheels in the road race, went down and both broke their collar bones and at least one required surgery! Oh boy, I'm gonna be really careful about which wheels I consider following and how close I'll get  to them. The other fact that was important and a little surprising was that everyone — men & women from 50-85 would be riding together. There were at least 75 riders, maybe even a few more than that so this also gave me pause. I'd have to be careful about where I lined up at the start and pay close attention to the pack until it naturally sorted itself out and spread out some.  With about 5 minute to start time, I made my way to the line – without my warmer layers. I listened to some of the other cyclist conversing and started to pick out those that I thought might be riding either at the same speed or at least with the same level of competitiveness  as me. At the meeting, I asked the organizer to see the list of 55-59 women riders and tucked the names & bib numbers into my memory bank for later recall (… I just hoped the recall worked!).  I found the other women in my category and determined that Lynn Babbitt was going to be my main competition. There was also a gal from Jackson, Wyoming named Monica Steidele in the 60-64 age group who looked really strong that I was planning to keep an eye on. I lined up directly behind both of these women. My plan was simple — stay on their wheel at the strat, let them do the work while I sized them up.
That's exactly how it went. There was a half mile rolling neutral start — a brilliant idea as it served to spread out the group and allow folks who lined up farther back to work their way to the front by the time the real racing began. When we rolled off the line for the neutral start, Lynn dropped back a bit,  but as Monica started to pickup the pace and pull away I took her wheel.  I stayed tight on her wheel for the first couple of miles. She proved to be a strong, steady rider. I looked behind me and saw that Lynn had tucked in onto my wheel. So, this is how it was going to be. There was only one other woman that I saw early on — she actually shot past us and continued on up the hill. I wasn't concerned with her though — she was not in my age group so she was no threat for a podium spot.  I kept telling myself to be patient…. be patient.  I don't think Monica was oblivious to the fact that I was on her wheel but she didn't do anything to try to get rid of me. She did start to lose steam when we hit the second long grade. About half way up she pulled to the left and made a gesture for me to come through and take the lead. I could've moved to the left with her, but I decided that it was still very early in the race and if I ended up in a situation where I needed to work with Monica then I'd better build a little goodwill now. So, I came through and took the lead. I felt strong but I held back a little and just maintained the pace. Lynn was now behind Monica and still sucking wheel. I  think I had pulled for less than a minute when a guy rode up along my right going a couple miles per hour faster than we were.  I quickly sized up the rider and realized that this was a 'nice wheel' — and as he came by, I surged to take his wheel. As the pace was a bit quicker, I had to adjust and dig a little deeper. There was that momentary question — did I make a mistake? — is this pace going to be too fast and cause me to blow up? But, I was able to settle in and find a rhythm that I could maintain. It turns out though that this pace was too fast for Monica and Lynn and on slightly steeper incline leading up to the overpass they dropped off my wheel.  Now it was just the two of us. Not a great situation, but it was better than pulling my competition along with me!  My new best friend and I headed around the Cimmaron loop at a good clip. He was a strong rider and there were only a couple times when I took the lead during the loop through the development. I wanted him to know that I was not a wheel sucker and that I would help as much as I could. There was a group quite a ways in front of us, but that's were we set our sights. There were not many other riders in front of them and at this point I was the lead woman (the gal who blew by us early just went out too fast and ended up being swallowed back up shortly after she passed us).  We continued to work together on the return trip with me taking short pulls and spending most of my time in the slip stream of his wheel.  The long inclines on the way back felt like vertical cliffs. Each one brought me closer to my max but I never felt like I was going to blow up.  Luckily, the 20K finish was only part way up the final incline and we did not have to endure the pain of climbing the entire way back to our start line.  I was spent, but elated when we crossed the finish line!
I don't have the times, but I was told that I was quite a ways ahead of the next woman who finished. I am not even sure whether it was Monica or Lynn who finished next. The gal who took off like a bat out of hell finished fourth and after that, I have no idea what the order of finish was for the women. I struck up a conversation with the 'bat out of hell' – turns out her name is Amy and she is good friends with a co-worker of mine and his wife. Small world! Amy is really a triathlete and this was her first road race. I felt infinitely more experienced having done the Boulder Roubaix earlier this year. So, we chatted about racing and she shared that she had an awful experience racing today. After she took off too fast, she was on a wheel for a while but got dropped before turning off the frontage road. After that, she was riding alone the whole way. And, that was a lot of work and no fun. I suggested that she take my wheel in the 40K race tomorrow and that we'd work together. I was sure she'd be able to keep up and that all she really needed was a better understanding of the strategy involved in road racing. It is clearly not a case of the strongest rider wins — that's what the Time Trial races are all about. The winner of a road race is often the rider who makes the best decisions and finds ways to conserve energy while others expend it. Today, for the women, I was clearly that rider.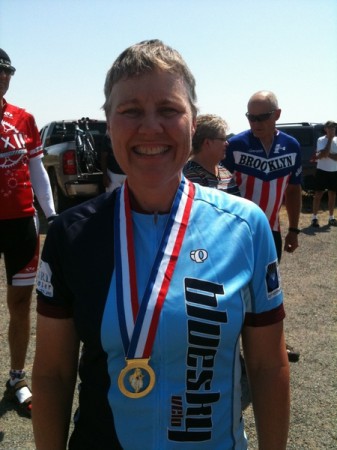 I went back to my hotel room after the race, made myself a recovery drink and  put my legs up and rested for the 10K time trial. It was less than two hours from the end of the first race. I felt relaxed but nervous. My time trialing experience is about as extensive as my road racing — and I don't have any of the fancy time trial equipment that Lynn Babbitt and company do! I'd just have to rely on Pogo being an incredible bike and on my own power and drive to win.  I returned to the course about 45 minutes  before the next start. All I wanted to do was get on my bike and spin my legs out. I had decided to use my 20K race as my official 10K time trial warm-up.  A bigger concern was using up all my energy than it was to be loose for the start.
There were only three racers in my age category – Lynn Babbitt rode out first, Colleen rode out second and I took up the rear. This was perfect for me! I got to chase down the other two riders which I much prefer to being chased.  Colleen didn't seem to be much of a factor — but even from a distance, I could feel Lynn's intensity. She also looked the part.  She had a real TT bike – complete with disk rear wheel, an aero-helmet, aero-booties and maybe even a full skin suit. Me, I took the visor off my road helmet to cut down wind resistance.
The 10K TT is an out-and-back along the frontage road. We started at the same place we did for the earlier race and then the route for the 10K goes up and over three hills on the way north before it turns around and does the hills in the opposite order.  Thanks to my coach, Alison Powers (alpcycles.wordpress.com)  my strategy was set. I'd try to go out at about 75-80% and then turn on the gas on the way back. That's about how it went. The only detail that is missing is how much that hurts! UGH!
We waited for over an hour (closer to two!)  while the race organizers sorted through the data and determined all the places. I guess that is one of the down sides of having such a liberal medal policy — there are just that many more places to figure out! Everyone stuck around – most of us trying to find a sliver of shade to stand in. Wyoming is not known for its large stands of trees. As I looked around for such a stand, I could not see a tree in any direction for as far as I could see! I ended up standing on the shady side of the car hauler that was doubling as the race office! When it was all said and done, I placed second overall behind Lynn Babbitt of Wyoming – by a mere 7 seconds. I was immensely proud of this result given that Pogo and I were basically roadies, not TT-specialists! Once the medals were all handed out, folks went their separate ways. I headed back to the hotel to rest and cool off. I wanted to turn in early since tomorrow I'd have to get up early and do it all over again!