Garmin Data: http://connect.garmin.com/activity/38891468
Got Trains? We sure did today. We saw our first train as the sun was coming up and saw them on and off throughout the day. Couldn't tell what the cargo was in most cases, but it seems like lots of stuff up here must move around by train as opposed to semi trucks.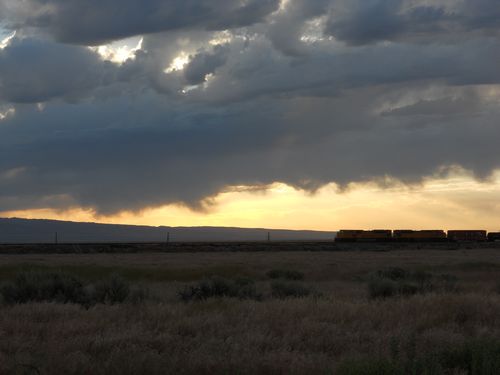 Today is Canada Day — we have three folks with Canadian citizenship — so we wished them all "Happy Canada Day" (first time I've ever done that!).  On July 4th, we'll be celebrating the United States independence and I hear there may be fireworks too!
Our route today was extremely rural. There were a couple of very small towns along the way, but for the vast majority of the time it was just us and the great outdoors! Wherever water has been added things were green otherwise, they were mostly arid and brown. Irrigation ditches criss-crossed the landscape and the water in them looked crystal clear.  Off in the distance we could see wind turbines – but today it was calm (bummer, but no tailwind) and the blades sat idle.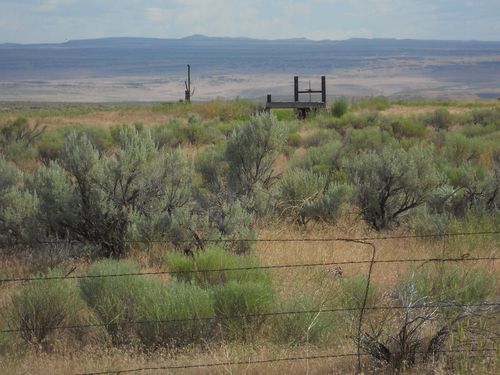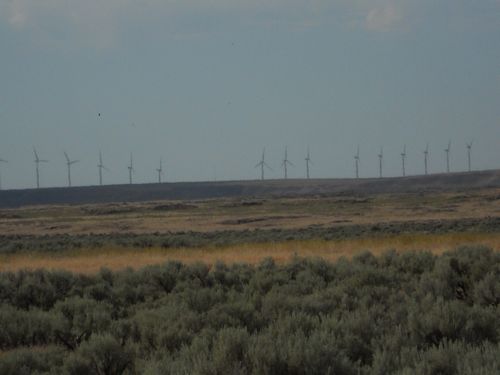 I've seen lots of horses in this part of the state — no Fjords yet. If any Fjord folks are following this blog. Check the www. abbike.com site for the Across America North ride's detailed itinerary and let me know if I'm going to be riding by YOUR Fjord. I'd love to meet you and your Fjord(s). You can email me at starfirefarm@usa.net. In the meantime, I've made friends with a bunch of non-Fjord horses and ponies!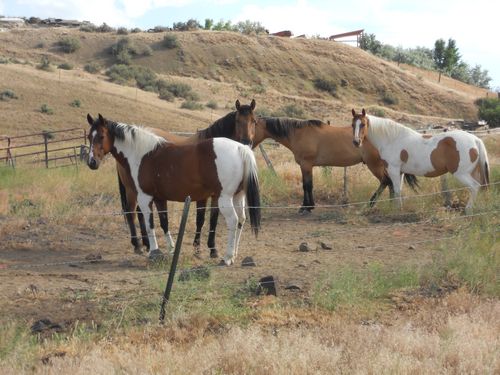 As we crossed over I-84 today I came upon an AT&T vehcicle…. couldn't quite figure out why the phone company would be sitting up here, in the middle of nowhere with an SUV full of equipment, but here they were….hmmmm. I figure they must've been getting ready to work on one of the many cell towers in the area. Our phone coverage has been super so far.  Should be, there is NOTHING in the way to block the signal.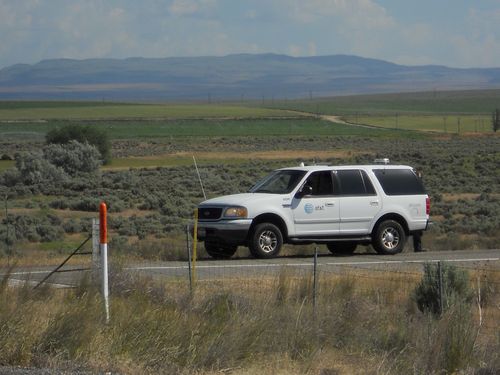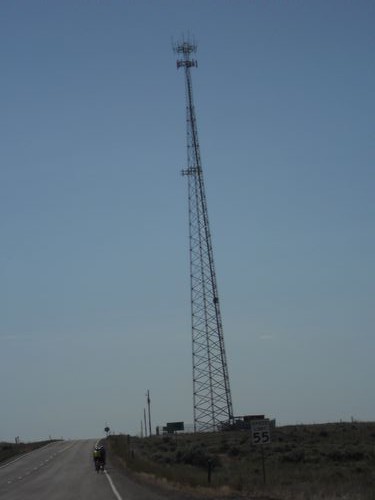 A bit further down the road, we passed the largest dairy farm I've ever imagined. Geesh, this place probably provides milk to the entire state of Idaho (of course, there really aren't that many people here it would seem, so that isn't as far fetched as it sounds…). Lucky for us, the winds were in our favor and things were not too stinky.
Leo and I stopped at one of the many dry lots — here Leo is playing "Cow Whisperer." The calf was NOT impressed.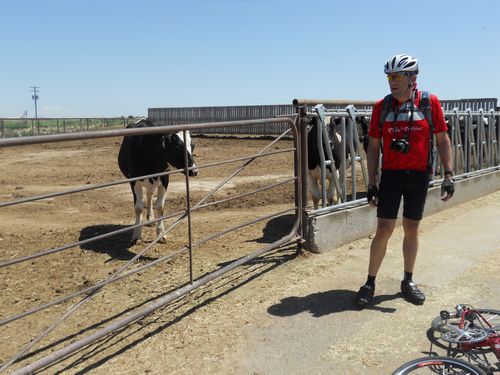 On the way in to Twin Falls there were a couple of scenic overlooks.  With almost 100 miles in for the day, most of us were happy to stop an "Ohhh and Ahhhh" for a few minutes. Leo did manage to pick up a goat head in his front tire, so we ended up having to change that before we could head off to the Best Western where we are staying.
We ended up with just shy of 100 miles today. Our ride time was about 6.5 hrs and our total time was closer to 8.5 hours (I keep forgetting to turn the computer off when we get to the hotel, so the Garmin Data will sometimes look like I was out there for days on end!). I was happy to see the end of today's ride. Even though we gained almost 3,000′ in elevation — there were not "real" climbs and I miss that. I'm not so good at just cruising along on the flats or undulating terrain. The heat (though most would say it isn't hot) is also going to take a little getting used to. Can't wait until we  crank up both the heat AND the humidity as we get deeper into the midwest states!
I've heard that this is the place where Evil Knievel tried to jump the canyon…. don't think it was a successful attempt however and after seeing the canyon, I can understand why. WHAT was that man thinking!?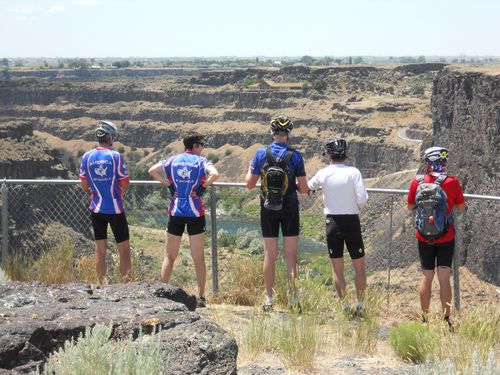 (l-r) Howard and Shirley, Tom, Kim and Leo. Pretty good since there are still folks in the group who don't know everyone from the front, let alone the back!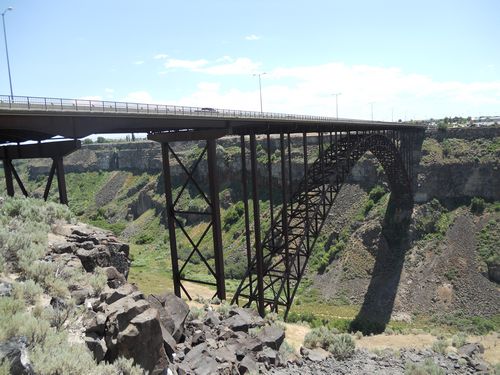 Today's parting shot is of Scooter and me on the far side of the bridge. We're checking out the edge to see if we should try to jump the canyon. If we'd hung around a bit longer we would have seen "B.A.S.E" jumpers – I think that's what they are called — folks who jump from Buildings, Antennas, Spans (bridges) and Earth (cliffs). From what I heard, all that jumped today landed safely! No one from our group took the plunge.