Garmin Data: http://connect.garmin.com/activity/62505230
It really was supposed to be warmer this morning. When I checked the internet at work yesterday afternoon, the forecast was for relatively light winds out of the west and temperatures in the mid to upper 30s.  Based on that information, I left my car at work last night.  After Beth picked me up at work and we went to a meeting in Denver ,  I just rode all the way home with her instead of stopping back off to get my car.
So, when I got up this morning, I didn't have much of an option. Ride or take one or more vacation days until the weather was such that I felt like riding my bicycle down to work to retrieve my Subaru. Actually, I never considered not riding. I admit though, I was not thrilled when the WeatherBug website popped up 17 degrees for Berthoud.
 I carefully considered all the layers I had planned to wear and decided to switch to a thicker cycling jacket as my outermost layer and I also went with a heavier balaclava (from Outdoor Research) than normal. One also has a special nose cover that protects from the wind yet allows me to breath freely.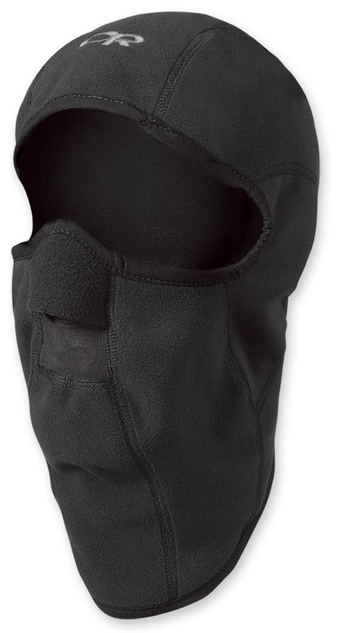 I think I would have been a hurtin' puppy without it. As it was,  when I hit 25 mph a couple times on some long downhill stretches, my face was pretty chilled. But, other than those few speedy moments, I was pretty comfortable. My feet were the only thing that got cold. And they were even OK for the first hour. After that, they went from chilled, to cold, to REALLY cold, to kinda numb, to …. well, I was starting to think I'd have to stop at a gas station or convenience store and spend 15-20 minutes to get them somewhat thawed out. Then, the most bizarred thing happened. At around mile 25, I crossed an invisible weather barrier. I think it might actually have been a 'front'. On the one side, was calm, cold air and on the other was turbulent, warm air. And, I experienced a 20-25 degree F increase in the distance of about a mile. If I had not been there myself, I'm not sure I would have believed it. Suddenly, the air aound me was warm and within about 10 minutes, my feet actually started to get some feeling back in them.  The last 12 miles were tougher because it was windier, but it was a bit easier to tolerate because my feet were so much happier!
Another interesting thing happened on this ride. I started with room-temperature water bottles. When I took my first drink about 45 minutes into the ride, I was shocked when I got a mouthful of ice cyrstals along with my Cytomax. That takes some serious chilling power! After I crossed that magical weather barrier, my water bottles slowly returned to a totally liquid state. (Whew!)
I'm pretty sure I would have opted out of riding today if I hadn't left my car at work. And, to be honest, I would have missed out on a really neat ride! There's still more work to be done with respect to keeping my feet warm — but I'm convinced that I once I get that figured out, I can ride comfortably when the temperatures dip down as low as 17 F !
There was some snow that I had to deal with — most of it was within 1/2 mile of our house. But, I modified my regular route a bit in order to put me on roads that had wide, marked shoulders. That meant  an extra 4-5 miles. No Cty Line Rd with its 6″ to non-existent shoulder which is the most direct route. I am concerned that automobile drivers are not looking for cyclists during these winter months and that I am less visible on these darker mornings  or when a driver is blinded by a 7:30 am sunrise. Even with my awesome new head light and dual red-blinking tail lights…and my reflective vest.
Here are some shots from this morning…. a couple from the farm (at sunrise) as Scooter and I took off. The others were taken shortly before I crossed over into the tropical temperatures.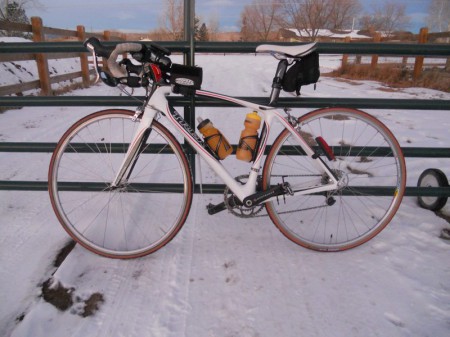 Scooter right before we left the farm….snow everywhere and no pavement in sight!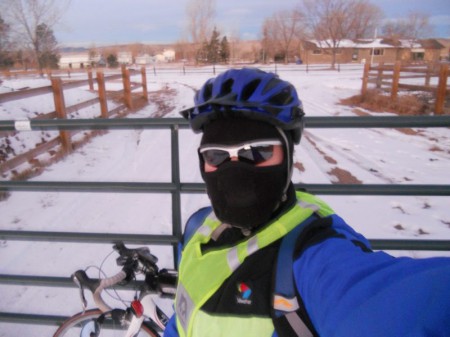 Me in all my layers. Kinda "Pillsbury-dough-boy-ish", eh?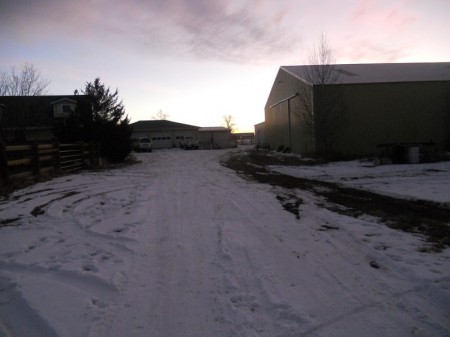 A look back at the farm. We left at 7:15 am. Sunrise was officially at 7:22 am this morning.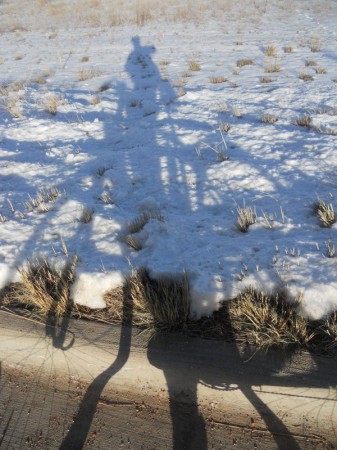 A variation on the "Shadow Rider" theme from this summer…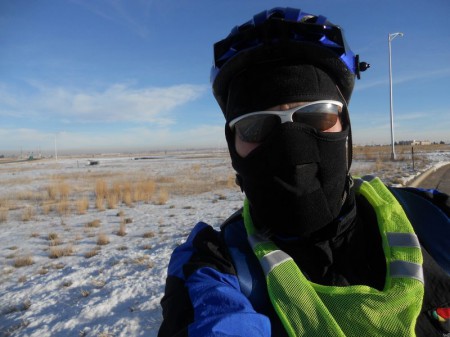 This could be just about anyone…. did I mention that I didn't see any other cyclists this morning. Wonder where they all were?