I think this was my third time up the canyon this year. At least my second. I have ridden it so many times that I lose track of exactly when I do it. I know the last time I rode it was at the end of April and I went with Randy and Beth (from Boulder). That day I rode strong and felt good. Today was similar.
Randy was with me again, and so was our Triple Bypass buddy, Michael. Just the three of us. We met at the bottom of the canyon at 9am. Not terribly early, but Michael had family stuff to do and I helped feed the horses before heading out. There was already a line of cars parked along the side of the road when we arrived. We added our three to the queue and got ready. It was hard to decide what to wear. The entire sky was dark with angry clouds. Not much wind, but not much warmth either. I opted for long tights and my GoLite under-layer, a short sleeve jersey and my bright yellow vest. I brought along my Pearlizumi Barrier jacket, long-fingered gloves and my turtle fur head cover. No doubt in my mind that I was going to want all of it on the descent.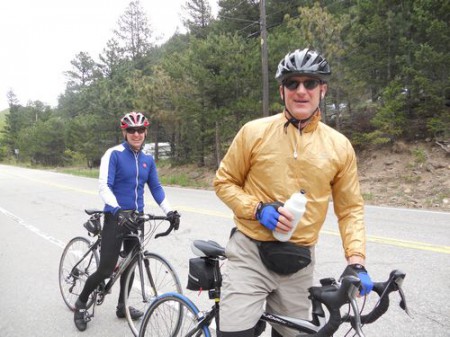 That's Randy in front and Micheal bringing up the rear. You'd never guess by the way we're all dressed that this ride took place over Memorial Day weekend at relatively low elevation!
Prior to today's ride, my very best time to the top was exactly 2:00:00. I shattered that though. I summited at 1:54:20 today. And, I think there is still a better time in me. I won't attack it like this when we ride the CRR-ABB tour up the canyon – but maybe later in the summer I'll try to beat my time.