Beth and I cooked oatmeal in our room….uh, our suite. It was hard to leave such lavish accommodations.  Here's a shot of my room. THere were three bedrooms in the condo and three bathrooms. The place was big enough that we had RAP in our living room las night! As a treat for finishing the first half of the tour, the staff providing chips 'n dip and a few beers.  Rick surprised Beth and me with a gift of Moose Poop and ELk Droppings — tasted more like chocolate covered peanuts.  You can bet I'll be looking on the path for more of these tasty little morsels!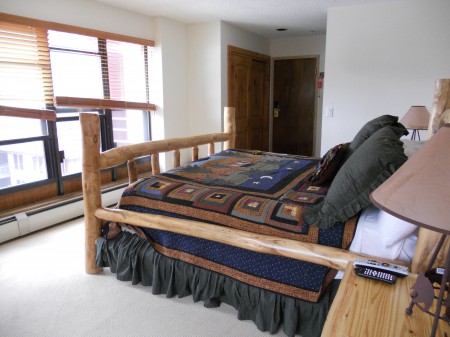 We loaded at 7am and then most everyone else went back to Claudio's and his uncle's place for breakfast. We left in a few small groups. The air was crisp and there were low clouds lifting as we took off.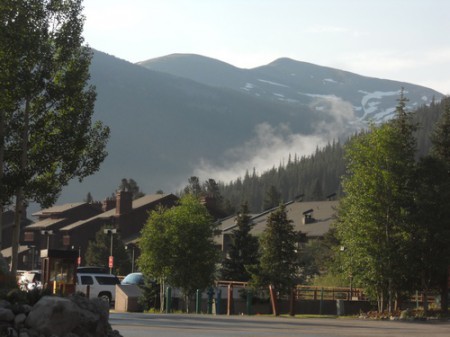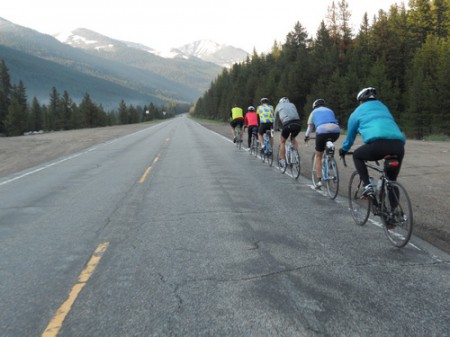 Our route took us up Freemont Pass. The road is narrow and since they are reopening the mine at the summit, there was lots of construction type traffic – especially cement trucks! They were not the most courteous of drivers. I opted to leave the road for the soft dirt shoulder twice in order to avoid a truck that I felt was just a tad too close. I saw one of the other riders ahead of me do the same thing. After a few miles there conditions improved because we started to climb and there was a climbing lane for the motorized vehicles as well. With two lanes, most of the traffic stayed in the left lane as they passed us.
B arb provided the mornings diversions. She managed to have two flat tires within a few minutes of each other. Sue was close by with the van so we got the benefit of using the floor pump. There were nine of us riding together at the time and we all stopped to help or watch and lend moral support. Joe and Tom took on the duty of looking back and keeping the traffic over in the left hand lane. It was quite the event!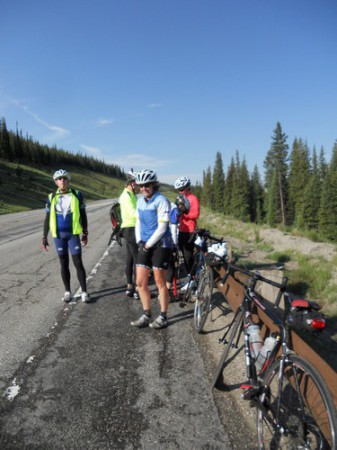 Barb is pretty proud of her second flat! David put a new tire on this time. He just happened to have one in his backpack. He's really taking his role as our mechanic VERY seriously. He even attended a one-week bike mechanics class in Oregon before our tour.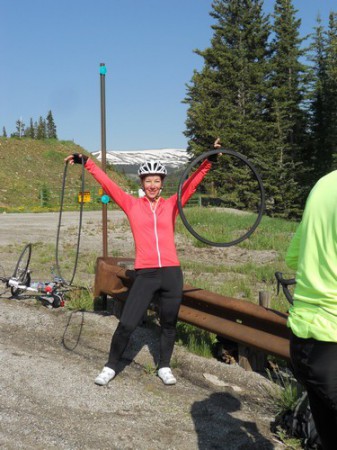 After the second flat, everyone was able to find their rhythm and make their way to the summit where Nancy and Karen were set up and waiting for us. The mine site is incredible. Nothing like I rememebered it. Much larger. But, that was some 15-20 years ago,  so I guess I shouldn't be surprised. There was a nice mining display at the pullout. I'll post pictures as soon as I can. You'll see.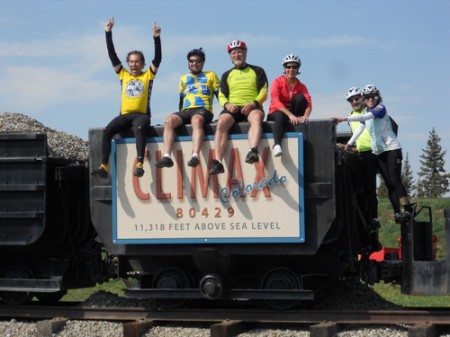 (l-r) Leo, Joe, Don, Barb, John (I think) and Margo.
Margo found a mining scoop that was just her size.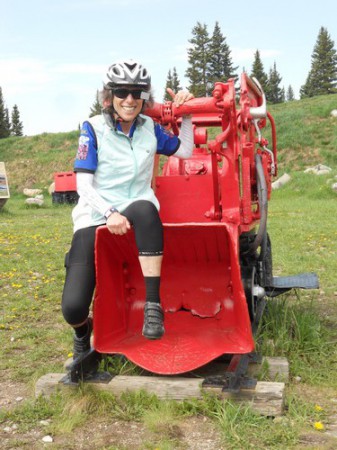 There were lots of informative placards and mining equipment on display. I found the drills and bits fascinating.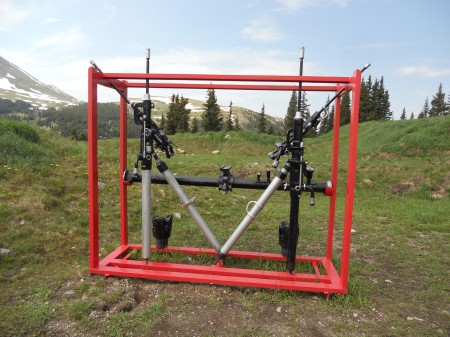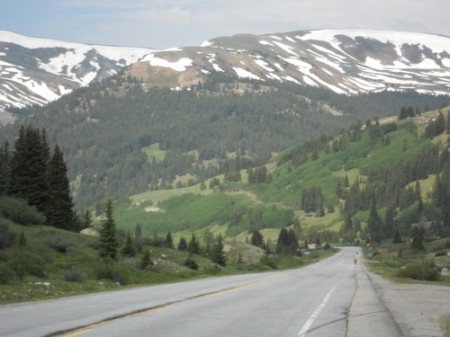 The downhill into Leadville was a treat. I thought there was a long stretch of flat, but it never appeared. We had downhill all the way. YAHOOO! Once we got to the hotel, it was still pretty early. We had planned two optional loop rides for the afternoon but moved them up in time since we had all arrived and there was the normal threat of afternoon thunderstorms. Don opted out all together. Steve offered to lead a group on the Mineral Trail – it is a very doable ride that highlights the mining history of the town/area. Another group of us (Margo, Rick, Jim, David, Sara, Leo,  Beth and me) rode the loop around Tourquoise Lake — just wonderful.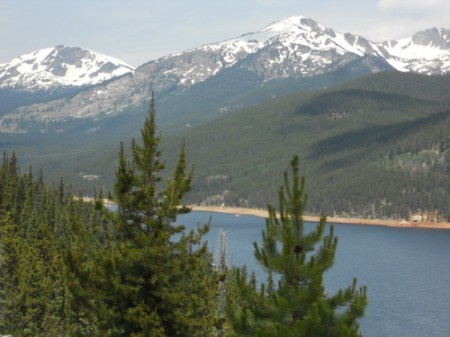 I could put a hundred photos here – we saw a huge nest. There was somebody home, but we couldn't tell for sure what type of bird it was. I thought perhaps an eagle.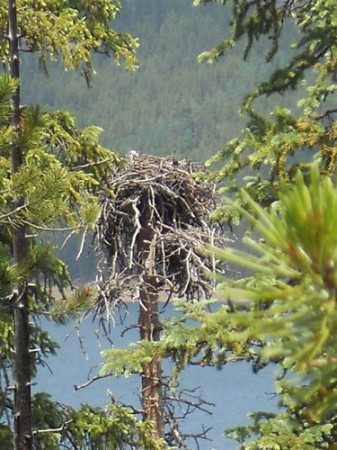 Dinner was in two parts. The first was salmon  crepes at the hotel and then two slices of a Mountain Pie (pizza) at about 7pm. We wandered around the downtown area while our pizza was cooking – there are some really cool homes there. Lots of color and they are all so cute.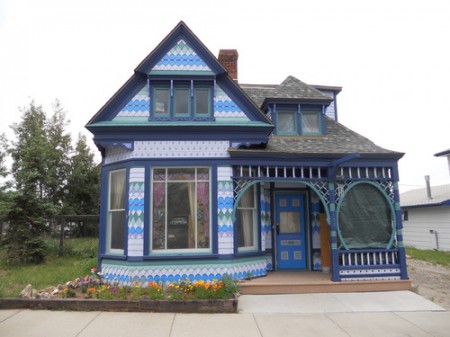 We are staying at the Delaware Hotel — built around 1890. The inside has been updated, but has lots of antiques and the rooms still retain quite a bit of the turn of the century character.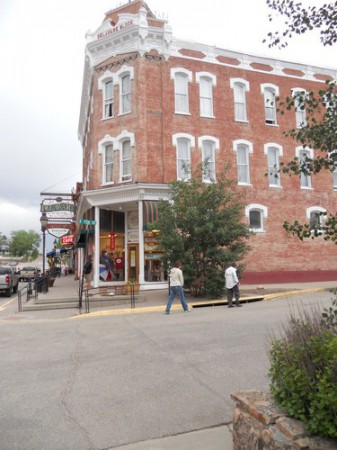 Now it is time for bed! Tomorrow is going to be early. We have our bikes stored at the local bike shop and we're going to pick them back up at 6:30am. Load is at 6:45 and breakfast (at the hotel) is at 7am.
Today was another good day…. hard to believe there are only two days of riding left.