Garmin Data (Kurt's) http://connect.garmin.com/activity/115961456
Fall is a perfect time to ride in Colorado. No more sweltering heat, no bugs and, for the most part, fewer late afternoon thunderstorms. It was almost a little on the chilly side this afternoon when my co-worker from the Chicago area, Kurt, and I headed out to ride the Morgul-Bismarck route.
This is a familiar route to just about every local cyclist and many non-cyclists as well. This hilly 13 mile loop that culminates with a steep climb up McCaslin Boulevard that has a few short 12% grade sections was made famous as a stage of the Coors Classic bike race back in the 1980s. In those days, the pro cyclists did 8 laps of the Morgul-Bismarck as a circuit stage. For us, one lap was just about right!
We did park close to work (at the top of Sims) which added a couple of miles each way — but those four miles were pretty tame relatvie to the rest of the ride. I realized that I hadn't ridden the entire loop in over 20 years! In many ways, nothing has changed in all that time — the roads are the same. No new spurs and the pavement is still in good shape. However, we rode by a huge shopping mall with a Super Target, Whole Foods (also referred to as Whole Paycheck)  and a COSTCO warehouse store at the outskirts of Superior that certainly were not there the last time I did the circuit!
Today's ride was special in that Kurt and I have been trying to ride together all summer long. Every time it looked like we might both be in Denver and have time to ride something came up. Scheduling conflicts, a fall and subsequent hand surgery, too much work or bad weather. But today, everything came together. It almost got derailed when I had a last minute request to get something ready for delivery by the end of the day. I was still working on that as our original departure time came and went. It was another hour before I finally got things far enough along that I could hand it off to someone else to do the final verification and packaging.
Then it was off to Kurt's hotel so he could get his changed and pick up his bike. He brought his all-purpose "Tricross" bike that reminded me more of my touring Trek 520 than Scooter-II. Kurt's bike had a frame pump, a couple of computers (can't say much about those since I usually have two as well), two large water bottles , a bike rack complete with a roomy rack bag. I think there might also have been a mini-fridge and a well-stocked pantry in that bag. My point is, Kurt did not have any equipment advantage today! He took on a tough route and had to work a lot harder than I did whenever we fought gravity — which was quite a bit, actually. He did a great job — and from his ever-present smile, I'd say he had a damn good time too! It was a pleasure to be his guide and companion today.
Clouds were all around us and it looked like it might be raining on either side of us. The route in front of us was fairly clear and it looked like we might be able to squeeze in the ride without getting wet. There was also a light breeze — which made it a bit chilly at first. Once we had a climb under our belts though, I didn't feel chilled anymore. Kurt said he was still a little on the cool side. Better that then sweating to death though!  We both sucked air a bit at the start but found a comfortable pace and settled in as we rode the large rollers towards of Hwy 128 towards Hwy 93. Once at Hwy 93, we climbed a very short hill and then enjoyed a long, fast descent to the Marshall/Eldorado Springs traffic signal. Of course, we were right in the middle of rush hour so had a fair amount of traffic to deal with on the descent. I went first and enjoyed a traffic-free descent as Kurt was behind me holding back the line of cars! Thanks, Kurt.
It's amazing how things changed as soon as we turned off of Hwy 93 and headed east towards Superior. Kurt and I both enjoyed the gentle upward trend of the road as it paralelled the open space mountain bike route along the hillside. After the ascent we rode next to CO 36 for a short time — that was louder than I remembered. Then we went past the shopping mall and finally made our way to McCaslin Blvd. After turning right, we were officially on our approach to The Wall. There is a short, rather steep climb right out of Superior that never gets mentioned but didn't go unnoticed by either of us. Of course, I think Kurt was starting to think about what lay ahead. Not far now….
One more little downhill to catch your breath and recover…. then, the traffic circle and the start of the ascent. Just a slight slope at first, then as you turn the corner you can see the ribbon of road wind up … and up…. and up. You can't actually see where it tops out when you start climbing. But as you crawl up the face of The Wall you can see a steep (as if it isn't ALL steep!) section right before the top. UGH! It is a great climb! And Kurt conquered it without any problems. I can't wait to see what he does next time when he brings his other bike and leave the mini-fridge and pantry at home!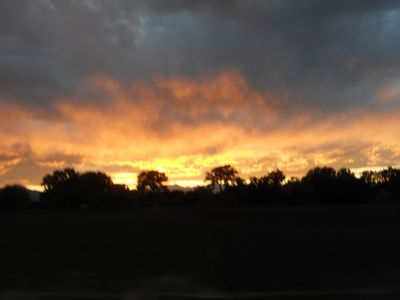 Taken on my way home from our ride….great ending to a perfect ride!