One look at the wind forecast and I knew Pogo and I would be heading out today — no matter how cold it was. Today's winds would be 5-10 mph and tomorrow there would be steady winds up over 35 mph. Luckily, today  was warmer than an average January day. I bet it was easily in the 40s, maybe even close to 50. For some reason though, I was nervous that the winds might come in earlier or the cold front drop down sooner than it was supposed to. So, I dressed a little warmer than the actual conditions called for. One major difference was with my tights. I wore my winter-weight, wind-proof  tights. Normally, I reserve these for temps in the teens and 20s. And, I stuffed glove liners in my pocket and brought my neck gaiter and my ultra-light GoLite wind shirt too. Good thing my jersey has three large back pockets because in addition to the extra clothing, I still had to make room for my iPhone, my Nikon CoolPix camera and a couple packages of Shot Bloks. No doubt I waddled a little bit under all this extra weight as I made my way to the street!
Once I was riding, it was clear to me that I was NOT going to be cold. If anything, I might start to overheat a little. There was a slight wind out of the north and west — not so strong that I felt I was having to fight it, but enough that I was glad I had wind protection.
I headed north again. Since I missed out on getting a time riding up the face of the dam, I thought I'd head back out that way and try to keep my computer running this time! Within a half mile of leaving the house I started to see riders coming the other way. There was a steady stream of them. Large club groups as well as singleton and smaller groups of 2-4 riders. Mostly guys, but some women too. I bet I saw between 100-125 riders. Seems like everyone knew that today was the day to ride! And, since the conditions were so nice, everyone I came upon seemed to be enjoying themselves. I heard lots of chatting as the bigger groups went by and I exchanged greetings with everyone along the way. I just love the cycling community.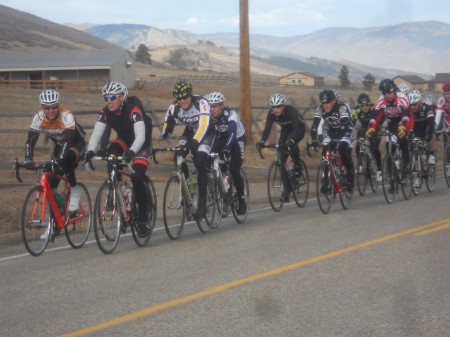 I even got passed by a group going the same direction as me! That is not all that common.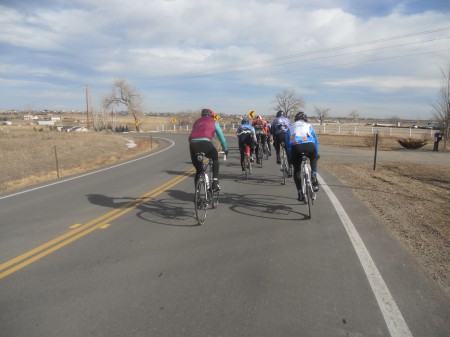 My route took me up behind the Hog's Back and down to Hwy 34. I pushed on the approach to the Hog's Back as I knew this was one of the segments but not as hard as I did the first time when I was trying to establish a 'personal best' time. Today, my target was the climb up the dam face, the "Creepy Cult Climb" on the way back and perhaps a shot at the climb up to Horsetooth Mountain Park trail head.
I've probably included shots like these before — these red rock cliffs are breathtaking. There is a ridge north of Hwy 34 and I almost always take a photo or two of them. The different light transforms them and every ride I see something new so feel compelled to capture it.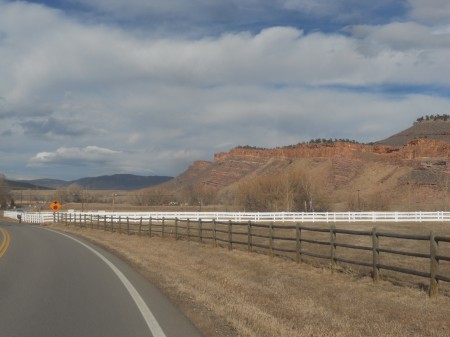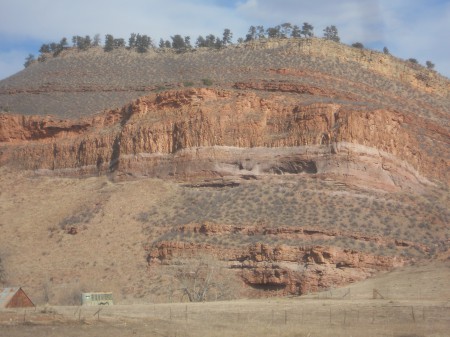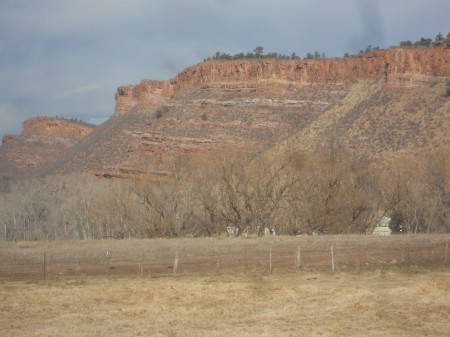 The climbs felt good — but I found that I had to take my Turtle Fur helmet liner and warm gloves off. I wore the glove liners to allow some heat to escape and at one point, I was riding with bare hands to keep from overheating. Those winter tights were certainly doing their job! I'll have to remember that if I decide to commute into work this winter. I was still feeling fresh when I got to the base of the dam so decided to ride it with some real energy. Of course, it always looks easier and shorter as you approach it than it does when you're half way up it! I dug deep, was sucking air and looking for the climb to end by the time I got near the crest. I forced myself to continue to power over the top instead of backing off as soon as things leveled out. I was just hoping my computer was recording this effort. It didn't feel as strong as my first attempt, but I knew that it was a solid climb.
After the dam climb, I decided that I would continue on and go for the climb out of Masonville up to the Horsetooth Mountain Park that overlooks the Horsetooth reservoir. That would make today's ride my longest of the year — and longest in quite a while. But, I reminded myself how fortunate I was to have this great weather and that eventually (and probably sooner rather than later) winter WAS going to show up in Colorado! There were other riders on that climb as well. Since it was going to be work to get up that hill, I once again took off my helmet liner, my gloves and, this time, my wind jacket too! Truth be told, I probably could have taken off my super-duper winter tights too and just ridden up there in my cycling shorts! It really was a nice stretch and protected from the winds.
When I got up to the park, I used the facilities (hate to pass them up!) and chatted with a gal who was taking her dog for a hike.  I let myself dry off a bit, then put my layers back on and headed back down the hill. It was quite a bit nippier on the descent and I was glad for all my layers. By this time, I was starting to feel a little fatigued. I still had the Creepy Cult Climb ahead of me and the grade back up the Hog's Back — both segments where I wanted to improve on my previous times. I managed to find the will to push up both those segments. There were two cyclists ahead of me right as I started up the Hog's Back so that was all I needed as a spark on that one!  Unfortunately, they weren't very strong riders and I overtook them in the first minute or so of the climb. It was enough to get the juices flowing and I was able to find a pace that was tough, but sustainable. Once I finished that stretch, I took it more leisurely the rest of the way.
All said and done, I rode a little over 45 miles and climbed 2,200′. Not shabby for the middle of January (on my sister Barbara's birthday!) And, when I uploaded my data, I found that I have the second fastest time up the dam face (a.k.a. Loveland Reservoir Hill) at 2:58. The best time is held by Meredith Miller, a pro cyclist who is currently in Belgium competing at a cyclocross World Cup race! Watch out Meredith, I'm gunning for you now!  😉