This is starting to feel like the norm. Although it wasn't exactly warm this morning for today's ride, it was a far cry from the 17 degrees F that I rode in a few days ago! (My feet did NOT get cold today!) When I left there were even a few rays of sun making it through the clouds which made it feel warmer than the actual temperature of 35-40 degrees. Of course, air temperature in the winter is not the number you need to watch — wind chill index (WCI) is a much more important one!  Today there was only a slight breeze out of the north so I was OK. And, from the number of riders I saw out today, everyone felt that weather was not going to be a major factor today. I added a Wind Chill chart to this blog — there's a new 'tab' on the main page. Check it out. It doesn't take much wind to make it uncomfortably cold!
Right out of the gate I started seeing lots of riders. I passed a couple single riders shortly after leaving my neigborhood and then saw two large "packs" of guys heading the other way. The first one had maybe 10 riders in it, the second must've had closer to 20. I snapped a shot of the larger group when it was still a ways up the road because when two riders turned out of a side road to head north (like me) I chuckled to myself, "Sheesh, January 8th and we have a bicycle traffic jam brewing in Larimer County!" I took another shot as they rode by, but unfortunately, my little handy-dandy pocket camera has a fairly long delay between shots so I wasn't able to adjust the zoom very much before I had to snap it. Those guys were moving! Still kinda a cool shot.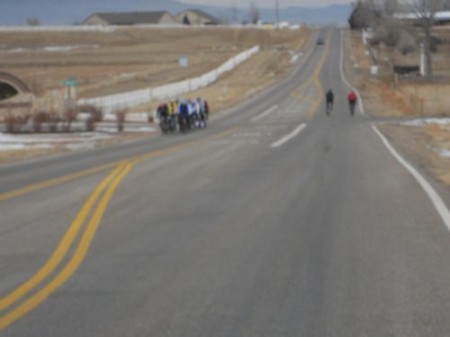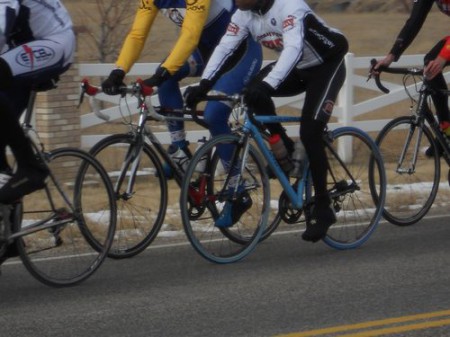 Notice the rider at the right edge of the image doesn't even have gloves on. Brrrrr. It was NOT that warm!  He must've been pretty well protected riding in the middle of the pack.
I only saw two other women riding today. They were together, on cruiser bikes and looked like they were out taking a spin of the neighborhood. Both had big smiles and were dressed in lots of layers. I think I may have seen these same women last spring and early summer when I was training.  Hope they continue to come out and keep me company! Otherwise, its just me and the guys.
Once again, I thought I'd just go out for a leisurely ride myself today. Then, right after heading out, I spotted a rider "on my tail." He had parked along side the road not far from my house and I saw him about to leave as I rode by his stagging area. Well, that's all it took to 'flick the switch'. My goal was to stay ahead of him. It turned out to be easier than I expected. Not only did I manage to keep ahead of him, within about 15 minutes he had fallen so far back I couldn't even see him. Just about that time, those two other rabbits (in the photo at the top) turned out of the side road in front of me. And, you guessed it…."Game On!" They were easy prey since they were riding side-by-side and having a bit of conversation as they rode. But, I caught and passed them within a mile and continued to pull away over the next several miles. Then, I was alone again. So, I backed it off a bit and started to take in the scenery. The clouds formed interesting patterns across the sky and along the tops of the front range peaks. I gazed over at some houses that had "For Sale" signs in front of them (not sure why, I'm not moving!).  It was really quite pleasant. As I headed west towards the Hogsback hill, one of the riders that I had passed earlier came alongside and passed me! I recognized him immediately. He was VERY tall and was riding a big, white bicycle with a very long seat stem. Nice guy. I think he was also a rabbit chaser. He had that sense of accomplishment about him as he rode by. Nothing about me — just happy that he had reached his goal, caught his rabbit.  We didn't get to continue trading leads. At the next intersection he turned right towards CO-34 and I turned left to start my trip up the Hogsback and back home.
I chased three other riders who had come off the back of Carter Lake. They started up the Hogsback several hundred feet in front of me. I gave it a bit more effort than usual and was climbing the 2% grade at 14-15 mph. (For me, that's fast). Surprisingly, I was still losing ground. I kept up my effort, but the trio was truckin' up that hill! By the time I got to the top, I couldn't even see them. As I descended I had to look past the road I was on that headed due east to the one that it intersects with. Sure enough, they were already heading south as I came down the hill. I couldn't believe how much time they had put on me! So, I noted my time and continued to the point where they were at that same moment. It was a full 3 minutes later by the time I reached that spot. Whew — they were definitely out of my league. But it was still fun to give chase.
I stopped at the Carter Lake turn-off on my return trip to get a few more photos. I took one of Boulder. Lots of smog or something sitting right in front of the Flatirons. Boulder is about 20 miles south from where I took the photo.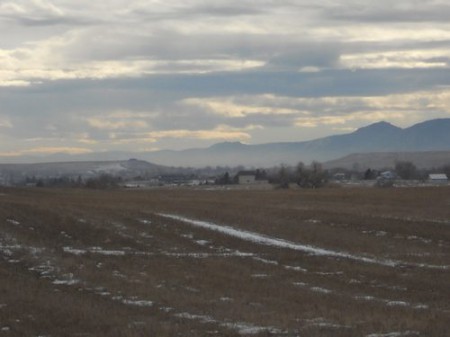 I took a few others so you could see the low clouds. By the time I got back home the clouds had pretty much taken over and the sun retreated for the day. There is a storm predicted for tomorrow and these clouds may be the early warning signs of it. I really was just thankful to get a ride in today. Not likely to get one tomorrw, but there is always the velodrome!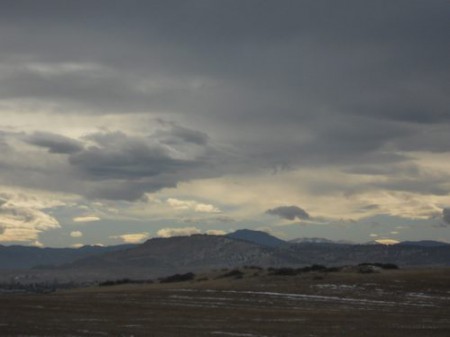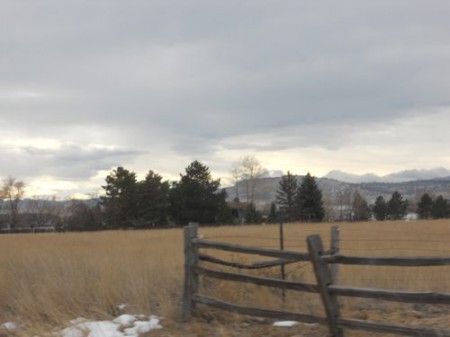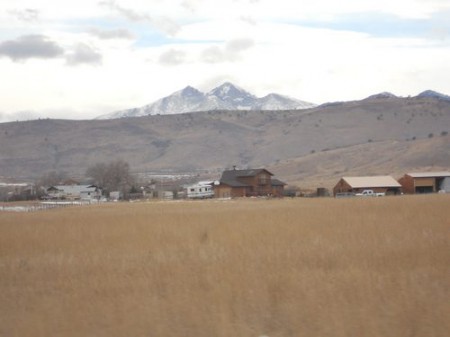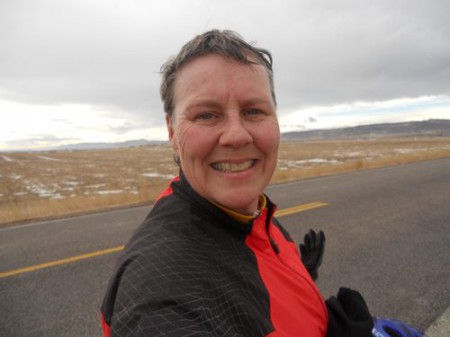 I decided to take off my balaclava and bike helmet since a friend suggested I looked like a bank robber with all my garb on!
My parting shot is of a cat that I've seen on this phone box the last several times I've gone out on Scooter. This spot is about a half mile from my house and on the way to just about any ride I take that goes north. I stopped and chatted with this cat — very content to have me take its picture and visit. Don't tell Herbert (my cat).