Garmin Data: http://connect.garmin.com/activity/69085715
When we left the farm at 9:30am, I knew that we were in a race against an impending wind. But, I had no idea that it would overtake us so quickly! It was fairly calm as I rode south down our street and it wasn't until I was 3-4 miles from home that the wind made a signficant appearance. Even then, I thought it was just a stiff breeze and would either stay as a breeze or diminish. I was dead wrong! Within the next couple of miles, the winds whipped up something fierce. Suddenly I could hear the wind whistling through the trees and Scooter and I were getting buffeted about. Winds whipped snow and sand up out of the stream bed and carried it across the street in front of me.
But, I expected it to pass. Instead, it got steadily stronger. The gusts were more violent and Scooter was now being shoved several feet into the road. Luckily we were on a quiet country road at the time. For the first time in I can't remember how long, I felt as if I could actually get blown over. As I leaned Scooter into the wind, I felt as if his wheels might be swept right out from under me. It was around this time that I unclipped and put down a foot a couple of times to wait out a gust. I gave it another mile or so and then decided that the wind was NOT going to go away and that it was unsafe for me and Scooter to continue. I pulled over to the side of the road and called Beth. She and the whippets agreed to come rescue me and take me the rest of the way into work.
While I waited for my rescue, I took out my wind/temperature meter and snapped a few shots. I saw wind speeds in the low 30 mph range. Mostly they were 20-30 mph. I know Colorado can experience much stronger winds, but as I found out today, when you are on a bike, a 30 mph cross wind can really get your attention!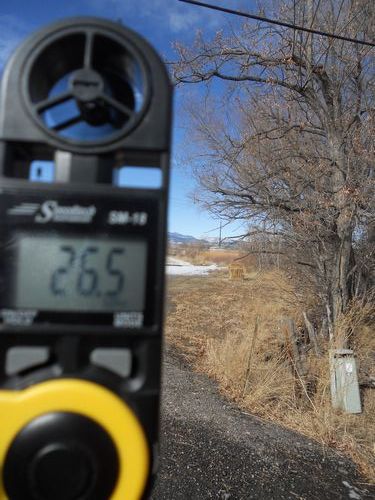 As we drove the route I had planned to ride, I was glad I decided to bail. It was VERY windy.  The rest of the week is supposed to be warm. I'll be looking to see if there is a warm day where the wind is not quite this strong! I might try another commute… so far, Wednesday morning looks like a good possibility.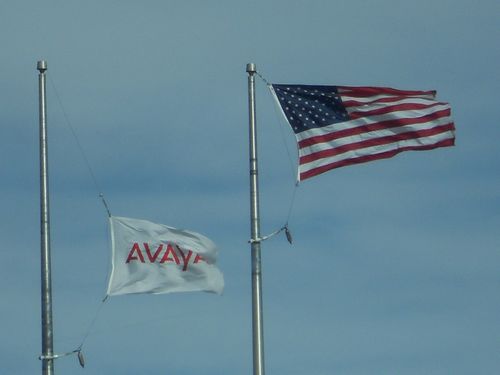 At least the winds make for pretty flag pictures!