It was cooler today and overcast. As a result, I saw a fraction of the riders that I saw last week. It is a little hard to make a direct comparison because I was on a less popular route for over half my ride. On the other hand, I rode between 12:30 pm and 2:00 pm whch is prime winter riding time. But, in the end, I only saw a "baker's dozen" riders. All but two looked like serious riders out training.
My ride today was a "recovery ride" — but not the usual type. Earlier in the week, I tweaked a lower back muscle while attempting to get 100% out of the "super-woman" yoga position.  Lying on my stomach, with outstretched arms, our instructor had us lifting our arms and legs up off the ground. After holding that for several seconds, she challenged us to lift our arms, chest and legs just a little higher off the floor. So, of course, I did. My lower back, however, would have preferred I did not….. I didn't realize it until we were done and I went to shower and change. I could not lean over to reach into my gym bag on the floor to get my towel! Right then, I knew I was in trouble. I grit my teeth and suffered through showering and driving home. By then, my lower back had started to seize up. Time for Ibuprofen! Long story not quite as long… I didn't work out the rest of the week and didn't even attempt to ride until today. It still felt a little tight, but I had much better range of motion and I sensed a ride would do me good (mentally, for sure!).
I'd like to think I'm getting wiser as I get older… instead of just older. To that end, I planned a short, low-effort ride from our house to my partner Beth's parent's house about 7.5 miles to our east. Beth was driving over there with Finn & Fergus (our two whippets) and could drive me back home if I didn't feel up to riding back.
I was thrilled to be out with Scooter again. I think I'm hooked on exercising again, because I found myself wanting to work out and feeling antsy about being able to ride. I started of "gently", with an ear-to-ear grin. The pedals went around easily and Scooter just cruised forward as if he was propelling himself. We really do make a great team, Scooter and me. The ride was way too short. I enjoyed seeing the sights of Berthoud. I rarely ride out this way, so I took a few photos to share. It is a small town with an even smaller main street consisting of a few shops, a couple of small restaurants a drug store and (I think) a bank. Oh yeah, there are also two liquor stores, a pizza shop and a small, independent gym that offers spin classes to the locals.  There used to be a tiny bike shop, but that closed. Not nearly enough business and there are much larger shops in the nearby towns.
When I got to the half way point, I stopped and visited with Beth and her parents. After a short time, I found that I wanted to be back on the road. I wasn't interested in taking a lift back home. I rode the route in reverse and enjoyed it just as much as I had the ride out. Nothing of interest happened to make the ride special from a reader's point of view. It was special to me though. My back survived the ride! I'll work to build up again to longer rides and hopefully a commute into LGS soon. Snow is in our forecast, so my March ride may have to wait. I'll be watching for a window of nice, calm weather. Spring is right around the corner — I can feel it!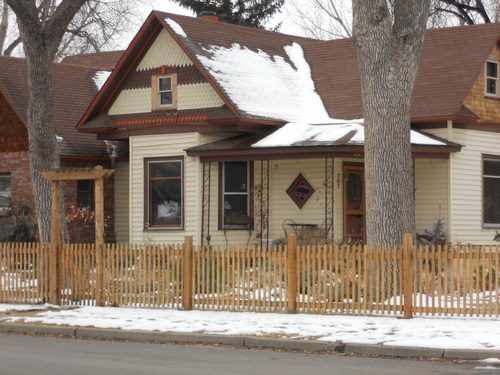 There are lots of very cute homes in "old Berthoud". This is one street south of Main Street. It is a wide, tree-lined street where a big, old cruiser bike would feel right at home.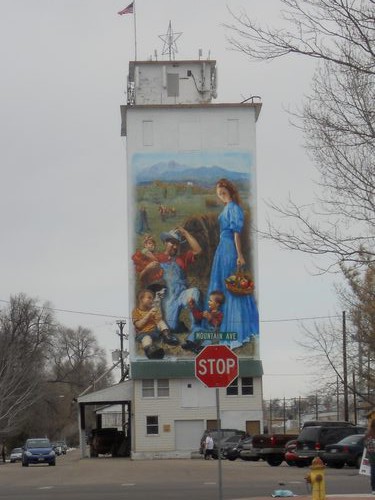 There is a mural on the old grain storage building at the east end of town, right next to the rail road tracks. Between this and the art work on the side of the Subway sandwich shop building — quite the artsy town!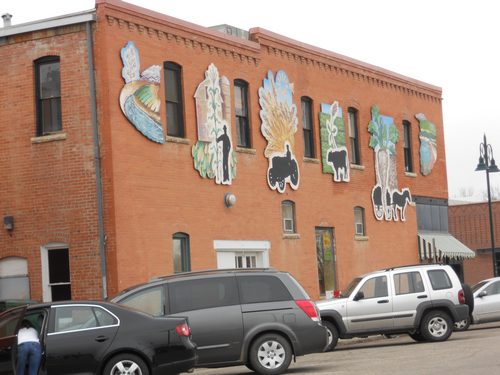 Riding back home, I got a good view of the front range. There were a few breaks in the clouds, but it was not as bright and sunny as I'd like it to be. Those days are coming!