Garmin Data: http://connect.garmin.com/activity/72694891
What a great way to spend a nice spring day! Beth Laber and I arrived in Moab last night and registered with over 400 other riders. The registration was done in conjunction with a silent auction and a raffle for a custom built 'Blaze' bicycle.  After registering, we wandered down to the far end of town where we are staying. It has been over 20 years since my last trip to Moab. In the olden days, I came over with friends to mountain bike a go rafting. Let me tell you — the sleepy old hippy town that I remembered is hardly visible anymore. I did recognize a few of the indepenedently owned hotels/motels but for the most part, Moab had become a rather upscale tourist spot.
As part of this transition, the town or area has invested money into a very nice, new bike path that goes all the way from town to the turn off to Deadhorse Point. We saw this path as we drove into town and rode it this morning. But, I'm getting ahead of myself.
This morning, we woke early, got ready and headed up to the Aarchway Hotel for a mass start at 8:30am. It has been my experience that even though organizers plan a mass start, most riders are already out and riding when that start takes place. Not so much today. The parking lot of the hotel was packed with cyclists eager to start their cycling season. B eth and I wandered the parking lot and took care of last minute details (including a last trip to the restroom!) . A few minutes before the scheduled departure, she spotted Steve Lange! He rode the ABB cross country ride with us this past summer — and neither of us had any idea that he'd be here at the Moab Skinny Tire Festival. We bee-lined for him and sure enough…it was Steve!!! He was equally shocked to see us. He was there with 6 other cyclists from the ABB – East coast ride. One of the 10 East coast riders, Mary Kay, had suggested this as an alumni ride for that group. So, in total there are 9 ABB alumni riders here. Beth and I were the only ones in ABB jerseys this morning.
We headed out with Steve — after we let everyone else start in front of us! The last thing any of us wanted was to be in the middle of this pack of chomping-at-the-bit cyclists! It was probably close to 50 degrees F when we pushed off. A police escort took us the short distance on the highway from the hotel to the start of the bike path.  The bike path was wonderful. Brand new, asphalt that was set apart from the highway. It was uphill for the first 6-7 miles as we climbed out of town and out towards Deadhorse Point. Everyone was jazzed. Everyone was just soooo happy to be out riding. The weather couldn't have been better.  I admit, I did wear long tights and a go-lite light-weight shirt under my short-sleeved jersey…but I did wear my summer riding shoes (OK, I did put my wind covers over them)  and I only had a vest over my jersey. 
Once we  turned left from the highway and started climbing up the canyon leading to Deadhorse Point, everyone stripped off one layer. Soon enough I too shed my long sleeve "under-shirt" and was bare armed! I also rode with summer gloves on. It was absolutely luscious! Beth and I rode together most of the day. Occasionally we drifted apart on stretches of the climb, but those separations were short lived. We hooked up with  Brian and John on one of the climbs — and as is the case when you have a long climb together, Beth and Brian struck up a conversation. Brian lives and works in Boise, Idaho. I was riding in front of them when I hear them both hoot and holler a little. Turns out they have the same career. They are CRNAs. OK, before I tell you what that stands for… who knows? Give up? That is short for — Certified Registered Nurse Anesthetist…. or maybe it is Atheist? I'll double check and get back with you. John and I do not share the same career. He is into real estate. That's OK, we still got along real well and enjoyed chatting with them as we seemed to leap-frog them throughout the day.
We climbed 3,800 feet in 32 miles on the climb up to the point. Once there, I could hardly believe the view. There is a VERY narrow spit of land just before the point itself. The narrow spot is maybe a couple hundred feet long and not much wider than a the road itself . On either side, the canyon drops several thousand feed. It was crazy!!!! I am not sure I took a photo of it since I probably didn't want to take my hands off the handle bars! I'll include it if I took one though.
There is lots more to share, but it is almost time to turn in, so I'll upload a few photos and let them tell the rest of the story. I'll have to make sure to come back and tell you about the Cateye video camera Scooter wore today…. very cool!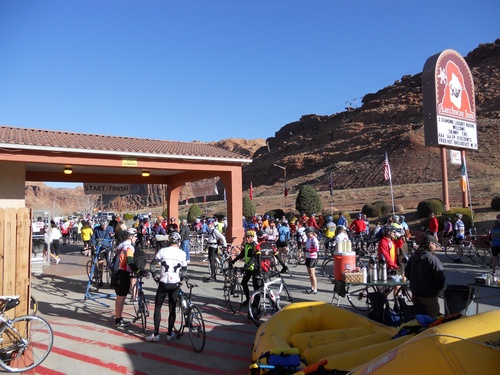 A photo of me and Steve right before we started the ride.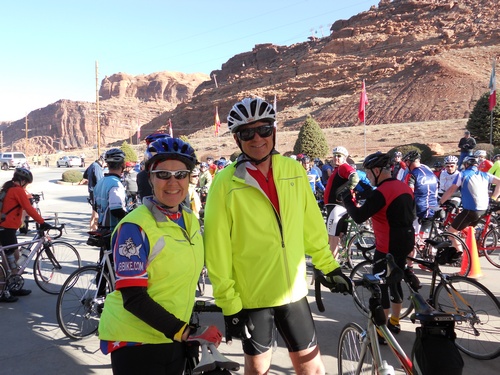 Beth riding with a guy wearing an "Angry Bovine" kit. He has white athletic socks over his riding shoes. Rather clever, eh?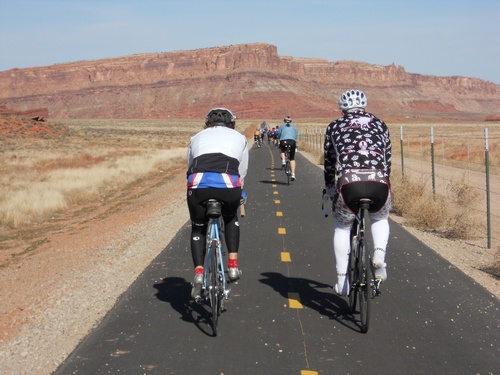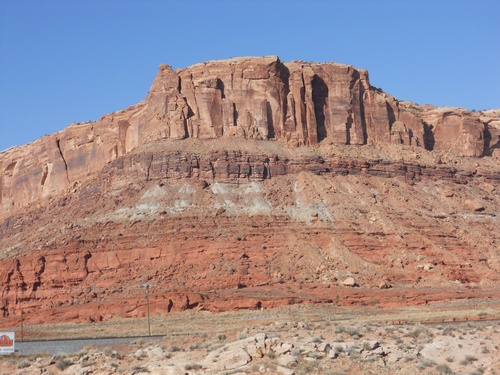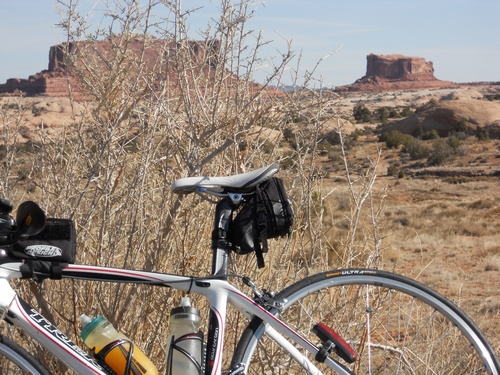 This group of gals decided to go crazy with their socks — don't be fooled… these gals could RIDE!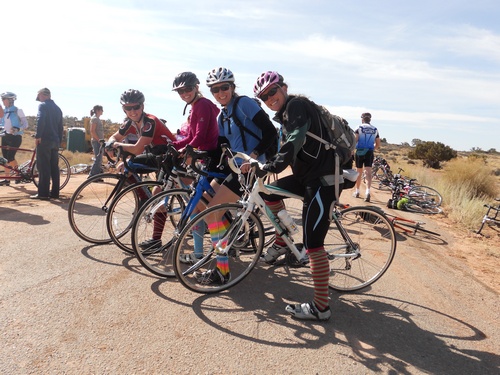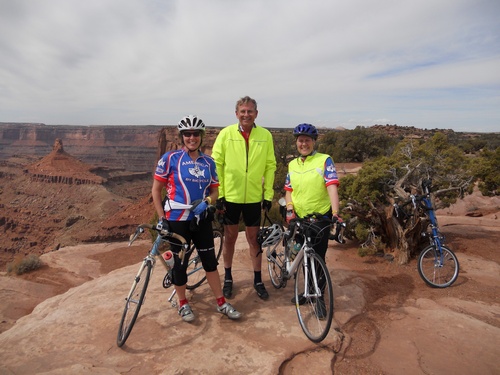 Beth, Steve and me just before we got to Deadhorse Point. Nice background, eh? The White Rim trail is down at the bottom of the canyon behind us.