Since my last post, when I rode 2/3 of the Triple Bypass ride, I have literally switched gears. My focus since then has been on track riding and preparing for the USA Cycling Masters National Track Championships (now that's a mouthful. eh?).
Riding at Nationals had been in the back of my mind since it was first mentioned by my Boulder Indoor Cycling (BIC) buddies early in the year. A couple of them had committed themselves to a serious training regiment with several trips a week down to the Colorado Springs velodrome. I went down with the gang once in April, but hadn't made a trip down since.  Paul kept kidding me that I should sign up to ride…that I'd do well.
Although I know I'm built to sprint, my passion has always been distance and climbing — the two disciplines I am least suited for. My focus during the spring and early summer stayed  solely on endurance and climbing. I rode well in the Bicycle Tour of Colorado and upon my return I started to dial in on improving my climbing with the thoughts that I might even enter a Hill Climb race (Rist Canyon was the one I had ear-marked).  As I was training though, I kept thinking about riding the track, how much fun it is, how explosive I can be — and wouldn't it be fun to try for a medal! With about two weeks to go before the Nationals, I gave in to the little voice in my head and with about two hours left in on-line registration, consulted with my coach, Alison Powers, and  I signed up for three events.
I had been a bit apprehensive about telling Alison about my sudden change in focus. I expected her to tell me that I was crazy, that I was 'flighty' or question whether I had any idea what my goals really are! Instead, she simply said, "Hey, if that's what will make you happy, then you should do it! I'll adjust your training program and we'll go from there."
So cool! And off we went. I had less than a week to prepare and since I'd been doing endurance and climbing work — other than being fit in general and probably stronger than I was a few months earlier — very little of my recent training work supported racing on the track. But, I knew this and I also knew that I was just going to go on my natural sprinting ability and bike handling skills I had acquired while riding at BIC. Deep down, I still thought I had a good shot at a medal. Heck, Paul told me I did, so why should I doubt him!
The Thursday and Saturday before the championships, I went down and practiced on the track. Michelle and Paul helped me get my track legs back. On Thursday, the first lap around the track on my Fuji-Pro with its  51×15 gearing felt as foreign as walking on the mo0n. My last several months had been spent trying to stay below a power threshold and, at times, riding up 8-10% grades at 5.5-6 mph. Now I was at the other end of the spectrum.  I was trying to generate as much power, as quickly as possible in the largest gearing I could handle. Couldn't have been more different! Michelle assured me that if I came back on Saturday it would feel much, much better.
So, I returned on Saturday. This time Beth and the whippets (Finnegan and Fergus) came along to support me. We had to be back in time for our dear friend Margaret's 60th surprise birthday party so it was a quick trip. Drove for 2.25 hours to get there, rode for about 1.5 hours then drove back! But, Michelle was right — it did feel better. I also got some practice in on how to properly do a 500M TT start. Alison had sent me a link (http://www.fixedgearfever.com/modules.php?name=Coaching&op=sst) that explained standing starts and even had a video that was incredibly helpful. We only did it a few times, but I got the hang of it pretty quickly. I could see just from my practice starts that my explosive power and my size were going to be an advantage in this event getting off the line quickly and up to speed faster than most.
The next few days leading up to the race was spent resting my legs or doing short active recovery type rides. My first race was the Women's 55-59 Scratch race on Tuesday afternoon. I packed and drove down Tuesday morning arriving at the velodrome before noon. Since I was traveling along and didn't have a team, or a pop-up canopy, or anything else, I found myself looking to share space with an existing club.  I asked a Wisconsin team if I could join them, and they were nice enough to allow me under their canopy. Turns out, it was the team of the top rider in my age category, Rita Kacala. Her husband Gordie was there along with some other riders from a Kenosha, WI team -Tony, Barb, Andy, Jay(dentist & track official). Rita doesn't do any mass start races — just individual stuff — so she and I were not competing today. It was fun sharing stories and I learned an awful lot about race strategy while we visited. I was like a blank slate when I arrived and by the time we were done visiting, there was no room left on the slate to write anything!  Before I left for my race, Rita had mentioned that she was disappointed with the way the 2011 Scratch race had gone. She said it looked more like a nice, friendly group ride for the first dozen laps and then a 3-lap sprint race. I told her that, if nothing else, I'd try to make it interesting.
My race was called to the line around 2:30pm. There were five racers and we lined up at the rail on the home stretch. On the gun, we rolled off for a neutral lap. I remember thinking that it was a pretty quick 'neutral' lap and I had expected a more leisurely start. No problem, I found a spot behind the second rider and tucked myself right in the middle of the pack.  There was some minor jockeying during the first lap or two but then it seemed like everyone was starting to just settle in, I was in second position and we were riding a little higher on the track than the red line. I found myself thinking …. "Is this going to be a repeat of the 2011 race? …. heck no!: So, about that same moment,   I dove down and took off in a hard sprint down in the sprinter's lane. I went 75-100 yards and looked back to see who had jumped with me. There were two of the four gals within a couple of bike lengths of me. Since there were still 12-13 laps left, I knew I wasn't going to be able to stay off the front and out ride them, so I let up and brought the whole group back together again. I wish I remember how I did it, but I managed to get the gal in the black and yellow kit to be the lead rider again. There was a noticeable breeze out of the south so I did NOT want to stick my nose in front any more than I had to. I was fine going off the front hard, but if we were all together, I wanted someone else in front so I could ride in their slip stream. I tucked right behind the 'Bumble-bee' rider. There was a gal on my right (I refer to her as 'Cruiser' because the white rims on her bike make it look like a beach cruiser instead of a track bike) who tried to push me off Bumble-bee's wheel. I imagine many riders would have easily yielded to her pressure. Not me! I held my position and made her stay on my left,  exposed to the breeze.   Things started to stagnate again and I really wanted to keep the other riders from taking control of the race, or having 'quiet' time to ponder their own strategies. So, I went off the front again — hard.  Cruiser stayed closest on the jump, followed by Bumble Bee — the other two riders were back there but I didn't see either of them as being a factor in the outcome of the race. Hope I didn't misjudge them because I was not watching them very carefully anymore. I was focused on our little three-some.
After my sprint, I gathered my data and let up again. My goal was to regroup and get in position for a sprint finish. Again, I don't remember the mechanics of it, but I got Bumble Bee back in front and Cruiser to my left. But, rather unexpectedly, Bumble Bee took the whole group up track close to the rail. I had a moment where I was concerned about getting boxed in — there were only a couple of  laps left and I was trapped up track by Cruiser behind Bumble Bee. I knew that Cruiser had a huge advantage at that moment and I had to look for a way out. I don't think Cruiser realized my situation, because all she had to do was keep me boxed in and then out sprint Bumble Bee to the finish. Instead, she let off (or didn't accelerate) and I could see daylight ahead of her to my left. I shot through that hole without a nanosecond of hesitation. Bumble Bee also squirted forward and took us all down track towards the sprinter's lane again.  It was coming up on the last lap now and the speed had picked up considerably. I made my final attack on the back stretch near corner #3 . I had been riding in second position in the lane, but went up track from the sprinter's lane because I didn't want to have to stay in it for the final sprint (there is a rule about that….).  Instead, I came around Bumble Bee and rode up track (the long way around!) to her right and started to  took off for all I was worth.  Of course this lit a fire under Bumble Bee too and she started her final sprint too. I had farther to go since I was up track and it was anyone's guess as to who would win.  Cruiser, on the other hand, had gotten stuck behind Bumble Bee and could not come around until I cleared her. She never got the chance though.  Bumble Bee could not hold her line and swerved in and out of the sprinter's lane. There was no contact, but Cruiser definitely had to let up or be involved in a crash! I suspect Bumble Bee was digging deep but after being forced to lead most of the race and she was just spent. The result was sloppy bike handling. Cruiser was unable to come around. Bumble Bee and I were left in an all-out sprint for the line. I crossed first by maybe the length of my front wheel. I had won my first-ever sanctioned track race! I am a national champion!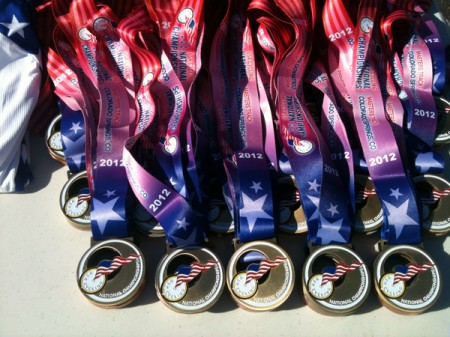 These are the medals awarded at the USA Cycling Master's Track National Championships in Colorado Springs.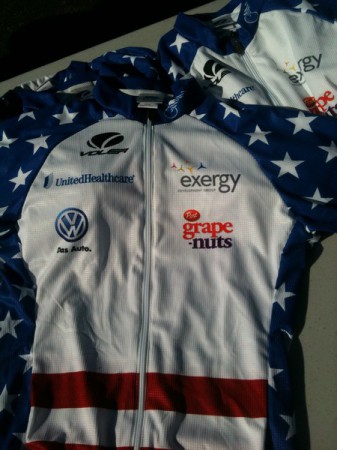 And this is the much sought after Stars 'n Stripes jersey that goes to each National Champion.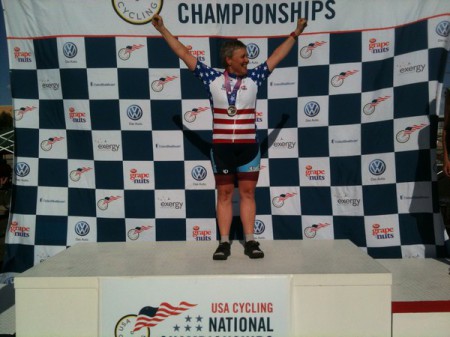 Somehow, I managed to snag mine on my very first attempt. So proud to be representing Blue Sky Velo!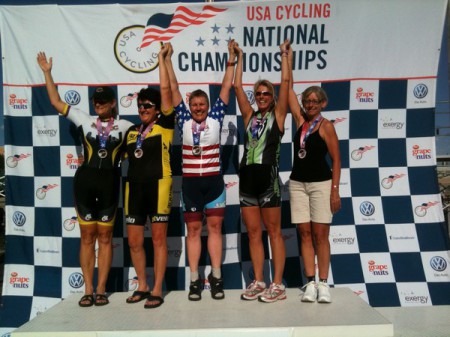 Here we all are! The official  results are listed below.
Women – Master – 55–59
Place
Points
Name
City, State
Time
USAC #
Bib
Team
1
482.16
Sandra North
Berthoud, CO
368581
363
Blue Sky Velo
2
508.95
Debra Cavender
Troy, MI
249943
361
Fraser Bicycle & Fitness
3
535.74
Sile Kiernan
Marysville, WA
234010
362
Broadmark Capital/Lake Washington Velo
4
562.53
Barbara Thiele
Hillsboro, OR
268052
364
5
589.32
Valerie Tiemann
Spring, TX
330038
365
Northwest Cycling Club