I woke up early at the Days Inn a few blocks from the track. I'd slept well and was ready for a long day of sprint races. Of course, I had no idea what to expect when I signed up for my three events. Sometime yesterday I figured out that each day the order-of-go was the same and the only thing that changes each day is which age group does which event. There is only one event per day per age group. It was all so logical — and I was starting to catch on! It also became very clear that the Sprint race was actually multiple races and probably the best value for your registration dollar.
My BIC friend, Michelle, raced her 500M TT a few races before my first Sprint race. Michelle came down last night, stayed with her friend Duane and got up early like I did to be at the track at 7:00am for warm-ups. Her race lasted 42 seconds. Period. She did hang out for a while, then went to have coffee in town with some Rocky Mount- Izzie teammates. Then the long, 1.5-2 hour drive back to Boulder. When you think about it — that's a lot of overhead for a 42 second race! And, to be honest, she'd rather have had it be for 39-40 seconds of racing!  😉
My day on the other hand would have a minimum of 3-4 races.  Today I would be racing with some of the older gals. They lumped all the women into a SW55+ category for the sake of the races. The awards would still be given my age category though. Here's a list of who I raced against today. Don't know how Rita managed to get the last time slot — or why I was slated to go third. That piece of the puzzle is still a mystery to me. But, I did know that Rita was attempting to set an American and World Record, so maybe that's why the let her go last. Hmmmm.
55+ Flying 200M, Sprint Qualifier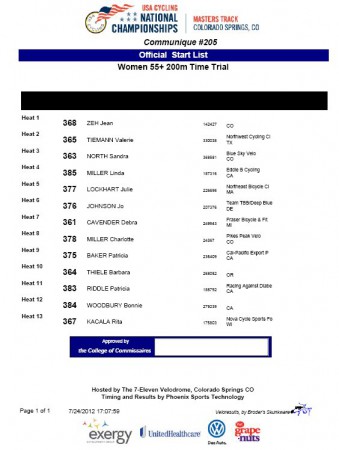 I started with a Flying 200M race that was used to seed the Sprint races. It was my first Flying 200M and although I'd been given basic guidelines on how it is done, there is nothing like doing it a few hundred times to solidify your technique and get the most out of your sprint.  I knew that you got a couple of laps after you took off. Then, you ride high up on the rail, start your sprint somewhere between corners #1 & #2 and then take a line that took you gradually down to the sprinter's lane as you enter into corner#3 — then just sprint like there is no tomorrow!
What I hadn't counted on was being a tad confused with the lap counting. Yes, they had said two laps….but was that two laps BEFORE my sprint lap, or was my sprint ON the second lap. I found myself debating this point as I came into the homestretch to start my second lap. Oh crap! The official standing at the start/finish line rang the bell. Hmmm, guess I'll take that to mean this is my last lap and I'd better make this the one with my sprint!! Luckily, I guessed right! I took off and got a good jump into the sprint. I probably could have done a little better, but I was happy with my effort. My time was 14.2 seconds. The rest of the field took their turn — they all looked like they really had done this hundreds of times before! When the dust settled, I was 5th out of 13 racers and second (behind Rita Kacala) in my age category.
I'm not sure how the did the math, but the determined that there six racers would emerge as victorious from the initial 13 heats. To hold a quarter finals they would need two additional racers. They would come a repechage round made up of the losers from the first races. Then after best 2-out-of-3 quarter-finals there would be similar semi-finals and finals races.
My first heat race was against Jo Johnson of Delaware. She and I had struck up a friendship over the last day and a half so it was both good and bad that we were going to be competing against each other now. Her qualifying time was over 16 seconds. I felt that I could probably beat her in a final sprint — and that was the way I decided to try to plan my race. With half a lap to go, if I was in contact with her (or her with me) then I'd make a dash for the line.
But, first things first — I had to get out of the first heat with a victory to move into the quarter finals with a good matc-up. I wanted to stay on the top side of the bracketing as long as possible to give myself the easiest road to the finals.
For each sprint, the racers are assigned positions, #1 (low) or #2 (high) and then the bikes are placed on the start/finish line and held by 'holders' (profound, eh?). Oh crap — again. I didn't even know I had to have a holder! When I saw the first group go, I quickly went in search of a holder. I found a fellow who seemed very approachable and I asked him if he would consider helping me out. He  readily agreed. I thanked him sincerely and we exchanged names – Jim was my new hero!  Jim came over to the start area with me and took my bike to the track.  I mounted the bike from the high side (you ALWAYS do that apparently…) and I warned him that I was probably heavier than most riders he had held for before, so get a solid grip! He chuckled and held on like he'd done it a million times. I think he could tell that this was all very new to me — he leaned towards me and said, just 'Relax and just pedal like a gerbel!" I didn't have much time to process his advice as a few seconds after I had plopped my butt onto the saddle the whistle was blown and Jo and I were off! This was a single elimination race — so I had to be sharp!
As the down-track rider, I was required to ride in the lead for the first 1/2 lap and nothing slower than a walking pace (no track stands — which is fine with me since I can't do them!). My goal was to get on Jo's wheel and stay there until we had a 1/2 lap to go. Jo and I had both been there when a veteran racer gave us advice about taking the other rider to the rail and controlling them. So, after an initial downward swoop, Jo headed for the rail. I on the other hand, had grabbed her wheel as she swooped so I was on her wheel when she went to the rail. I was EXACTLY where I wanted to be! Jo thought she was controlling me because she had taken me to the rail. The piece of information that she had not incorporated into her plan was the 'control' part. She was not in control of this race — since I was not pinned to the rail by her — I was merely at the rail with her. And since I was the one riding her wheel, I was in control. Now I just had to stay there for another lap before making my move. That lap seemed to take forever! But, eventually, we approached corner #3 on our second lap.  I started my move, lifting my right leg smartly to initiate my sprint. Much to my horror — my right foot came up off the pedal and I found myself riding with one leg! At about the same time, Jo dropped down to the sprinter's lane and started her sprint. She easily put distance between us and crossed the finish line several seconds ahead of me. I watched her speed away and all I could do was continue to pump with my left leg in the hopes that she'd have some similar misfortune in the last 150M. No such luck. I had lost and now I would have to fight my way back to a podium spot from the loser's bracket! My easy road to the finals was gone! I was going to have to fight an huge uphill battle now. Starting with the repechage round.
My opponent was Valerie Tiemann. Thankfully, this turned out to be a very straight forward race. I don't remember who had better starting position, but shortly after we left the start line I was able to take her wheel. It was as if she didn't understand that there should be strategy involved. We went around without any 'attacks' or other strategic moves and then I just came around her and easily beat her to the line. Now I was in the quarter finals — in slot 7 and destined to race against Charlotte Miller — a formidable opponent with tons of race experience! I was in deep trouble!
My new friend and coach for the day, Jim Lockhart,  was starting to get into the role and was passing along race strategy advice. He suggested that I try to hold Charlotte on the rail as long as possible and then take it to the line in a sprint. I may be thick sometimes, but I'm starting to see a trend here! We drew for position and I got the low position — which is perfect for applying my new coaches directives. We took off from the start and it was immediately apparent that Charlotte was not a new comer! She slowed waaaay down in an attempt to get behind me. I slowed waaaay down to match her speed. I was given a warning – 'you must go at least at a walking pace'. So, I sped up a tad. But I also started moving up track towards Charlotte. She clearly did not like that. I was very comfortable climbing right up next to her – our handle bars were within 6-10 inches of each other. She yielded to the pressure and got closer to the rail. She tried speeding up but I stayed with her. She tried slowing down but, again, I matched her pace. She had no where to go! She didn't apply downward pressure to me. I didn't expect her to — given how uncomfortable this close riding made her. No way she would initiate such closeness. We did this for a lap and a half and then, without any warning, I took off down the track, hit the sprinter's lane and committed to my final sprint. As Tony from Kenosha, WI had shared with me the previous day — to win, you have to 1-Control and 2-Commit. I had done both and come away the victor.
When I got to the infield numerous riders came over to congratulate me. Clearly I was the underdog and no one had expected me to make it a race, let alone come out the winner! Several seasoned riders congratulated me and said that I had ridden a 'textbook' race. My coach, Jim, was pretty darned proud of me too. He had a grin on his face a mile wide!
Well, my next race was not so successful. It could have been, had I not lost patience. I started up track for the second race (alternating since I had the low position for the first race, we'd draw again for the last race positions). We left the line and I dropped down and somehow managed to get right on Charlotte's wheel. I stayed there for about 1/3 of a lap. Then I think I got concerned that she may jump and I'd be left in the dust. Next thing I knew, I had taken off from behind her with more than a lap left and was sprinting away. Immediately I knew that I had made a HUGE mistake. I had lost patience and basically put Charlotte in the control seat. I had been EXACTLY where I wanted to be — and I gave that position up. In tennis I think they call that an 'unforced error'. I call it a STUPID move! Anyway, if I hadn't started up an internal discussion with myself on how stupid I'd just been, I might have actually been able to save the race. Since we were both down in the sprinter's lane now, if I had slowed up and started to push Charlotte up track towards the rail, I might have been able to create the same scenario that we had in the first race. No, that didn't happen. On the back stretch, Charlotte came around me with a blast of speed, put a quick couple bike lengths between us and she was gone! I gave it a couple of quick turns but when it was clear that I wasn't going to be able to catch her, I sat up. No use wasting energy. I still had one more race to go.
The third race started out like the first. I drew the low position and Charlotte started up track from me. I moved her up track to the rail the same way I had in the first race.  But, I don't think we got more than 1/3 of the way around the track when she dropped down under me and just took off.  I was slow to react so she got a pretty good jump. She was very smart — she knew that if this race played out the same as race one, she'd likely lose again. It was imperative that she shake it up and do something….anything!… different. She'd decided to beat me in a long sprint. I did close the gap, but not fast enough because she stayed ahead of me and took the win fairly easily. Congrats to her. Her back was against the wall and she found a way to win. I, on the other hand, continued to learn valuable lessons. In that race, one lesson I learned was not to lose focus for even a fraction of a second. Had I been 100% there, I would have been able to anticipate her jump or at least reacted to it more quickly.
Now I was done. I found my coach and his wife, fellow racer Julie Lockhart and we sat on the awards stand watching as the quarter-finals wrapped up. Then, I hear my name called again! I thought I was done! I should really read the rule book or something. Turns out, there was yet another race used to place all the losers from the quarter finals! I was was being called to be in the race that would place the  5-8 riders. Let me tell you — I was sure getting my money's worth today!!!! So, from the comfort of my viewing spot, I lept up and ran off to get my bike.  I came back and handed it off to Jim. I gave him this 'Really? I have to race again…NOW?" look and he gave me back a big smile and a slow shake of his head as he reminded me to just 'Pedal like a gerbil!"  I couldn't help but smile.
This was my first standing start with 3 other riders. I was the youngest of the group and positioned 2nd or 3rd from the bottom. I was sandwiched from the start. Jim did a great job, as always, holding.  I didn't have to worry about my start.  I was already working on my strategy.  This was going to be an interesting race since I knew that there was at least one woman, maybe two who had qualified with faster flying 200M times. And, with only two laps, there was not a lot of time to let things play out. I'd have to do some real dynamic adjusting because I had no idea what any of these women was capable of nor how the race would unfold.
On the whistle, I moved off the line in hopes of placing myself in 2nd or 3rd position. I managed to get into 3rd position and, honestly, I have no idea which rider was where or even what any of there names were. I just know that I did a quick sizing up of my competition and determined that the gal who was slightly ahead of me and to the right of the lead rider was the wheel I wanted to be on. I was betting that she would be the one to make the move, have the sprint and be my lead-out rider. She had a certain urgency in the way she was riding.  I sure hope I'd put my money on the right horse! I stayed on her wheel. It took me deeper inside the small group. At one point,  I had riders tight on both my left and my right hips and I was totally boxed in. I was counting on my lead-out to punch a hole that was big enough that I could follow and then make my move. I stated to get concerned with about 1/2 lap to go. But just then, she did exactly as I had hoped. My lead-out moved slightly up track, put on a burst of speed and squeezed past the front rider. I felt rather claustrophobic but took a deep breath and stayed on her wheel right between the other two riders. From there, I moved up track and it was literally a horse race between us to the finish. As I had done in the earlier race, I was betting on having a stronger sprint and took the up-track route to the finish. I was still trailing with 50-100 yards to go when I found that little bit extra and nudged in front of her. Whoever she was (from the finishing positions, I think it was Bonnie Woodbury). I came away with the win — again! I had pulled out a 5th overall and a 3rd in my age category! It sure was a long road to that podium spot. Racing sprints was an absolute BLAST! I think with some practice, I could really give these gals a run for their money in 2013!
I don't think I have any race photos from today — the medal ceremony was called because of storms, so no podium shot. Here are some generic photos from the event.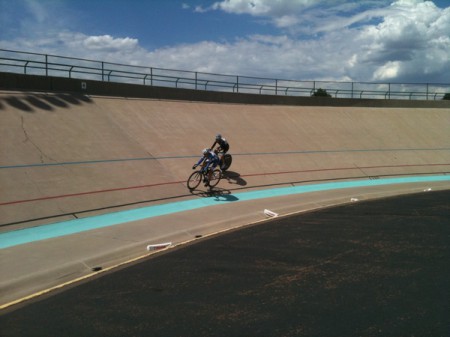 Although this isn't me, the up-track rider is taking the same route I did when I came around the final lap towards the finish. You can see that the rider in the sprinter's lane has a clear advantage since it is a shorter distance for them to the finish.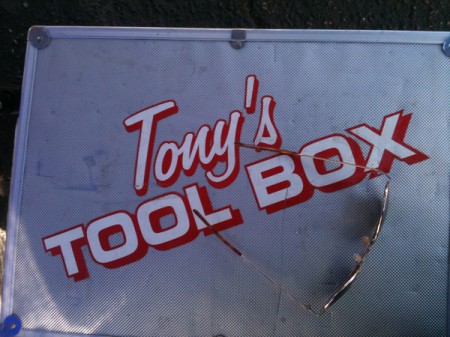 Tony didn't like to have his picture taken, so I took one of his tool box. I spent much of the first day visiting with Tony and the folks who came down from Kenosha, Wisconsin. What a wonderful group — cycling is lucky to have them as ambassadors!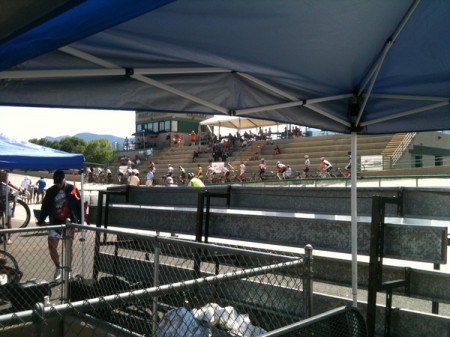 This photo was taken from under Tony's group's canopy. The mass start (with a neutral lap) was used for the Points and Scratch races. That is one large group of riders getting ready to roll!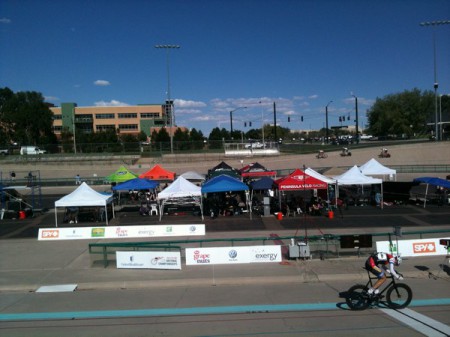 The infield was covered in canopies and teams were set up under them with trainers and rollers and coolers and chairs. I had no idea that I should have been thinking 'Rolling Party!". Next time I'll know what to expect and plan accordingly!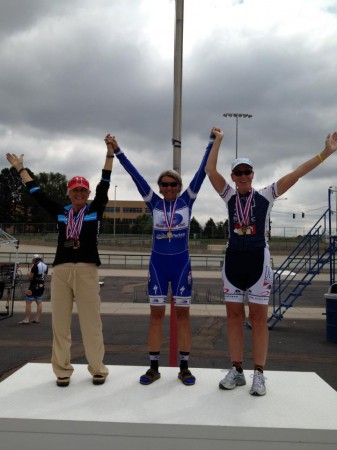 Not sure which race this was — but from (l-r) Cathy Nicoletti, Charlotte Miller and Jo Johnson on the podium.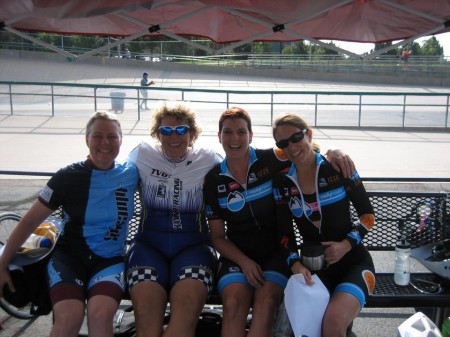 Me with a few of my track friends. Jan from Hammer, Sandy 'M', and Michelle. Such wonderful women!
Women – Master – 55-59

Place
Points
Name
City, State
Team
1
516.60
Rita Kacala
Racine, WI
Nova Cycle Sports Foundation
2
534.95
Debra Cavender
Troy, MI
Fraser Bicycle & Fitness
3
553.30
Sandra North
Berthoud, CO
Blue Sky Velo
4
571.65
Jean Zeh
Colorado Springs
5
590.00
Valerie Tiemann
Spring, TX
Northwest Cycling Club
DNS
Barbara Thiele
Hillsboro, OR

Women – Master – 60-64
Place
Points
Name
City, State
Team
1
Charlotte Miller
Colorado Springs, CO
Pikes Peak Velo

Women – Master – 65-69
Place
Points
Name
City, State
Team
1
504.00
Patricia Riddle
La Jolla, CA
Racing Against Diabetes
2
547.00
Bonnie Woodbury
Escondido, CA
3
590.00
Jo Johnson
Wilmington, DE
Team TBB/Deep Blue
DNS
Linda Miller
Valley Center, CA
Eddie B Cycling

Women – Master – 70-74
Place
Points
Name
City, State
Team
1
Julie Lockhart
Dunstable Ma
Northeast Bicycle Club
2
Patricia Baker
Laguna Hills, CA
Cal-Pacific Export Packers