Beth and I drove up to Steamboat Springs (a.k.a. "The Boat") after getting a late start. We had planned to leave at 9am but didn't pull out of the driveway until just about 11 am. It took us longer than expected to get everything packed into our new (to us anyway…) 22′ long Nash travel trailer. There's more room in a travel trailer than a Subaru station wagon and of course we felt compelled to fill it up!  The last things thrown in were Finnegan and Fergus' dog beds and food. They are good travelling companions and they insisted on all the creature comforts of home.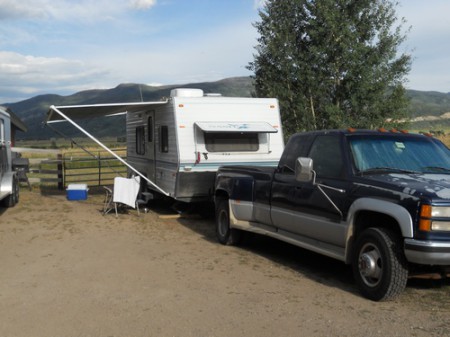 It was an easy drive up I-70. For some reason I had pictured traffic jams of cycling fans — but there were none. There were plenty of cars with bikes on them heading our way. I found myself wondering how many were heading out to watch the Pro Cycling Challenge. Today is a time trial up Vail Pass (from the west side). Luckily we turned off at Dillon to head north to Steamboat Springs. Dave and Nancy Newport are travelling with us. Dave, alias of "Eddie" from many of my early training posts, is a big cycling fan and Nancy is mostly just a good sport. They are pulling a 2-horse straight load trailer with Dave's Honda Gold Wing in it. He also packed his bicycle but I think given a choice, he'd ride the Gold Wing more times than not.
We pulled in to our friend Liz's place mid-afternoon. By the time we got settled in it was almost too late to go for a quick ride. Almost. I changed quickly and headed out to the school house that Beth Laber and I had ridden to while out here this spring. When Beth and I did it, we left from town. Liz's place is on the way, so my ride was a little shorter today. Other than the couple hundred yards of chip seal right out in front of Liz's barn the route is just so pleasant. Starts with some gentle undulating stretches and then kicks in to a couple of nice climbs. Nothing too long — but steep enough to get my attention. I am so surprised by the lush green pastures. I had expected things to have dried out and turned brown by now. Liz said that they are running a full month behind their normal summer weather pattern. Her hay just got baled and put in the barn this morning (just got it in before an afternoon thunder boomer).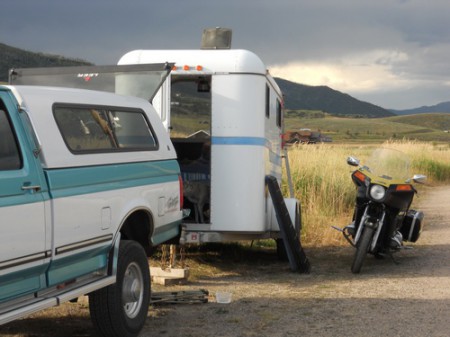 The ride to the school house was a tad short which lead to a detour on the way home to check out the Pro Cycling Challenge course for tomorrow. There was talk of the race coming right down Liz's road — however, I cannot imagine they would take them over the chip seal which extends a good mile towards town from Liz's place. The other option is that they come tearing down the road that is slightly to the east of us and then make an 'S' turn onto River Road for the final dash into town and the finish. Either way, we are well positioned to watch the race tomorrow.
I was glad I could get in a ride before it got too dark. When I got back to our "campsite", everyone was having Happy Hour with great hor d'oerves. Dinner was finally served about 9pm and then we all turned in early.  I plan to ride up Rabbit Ears Pass tomorrow. It's a tough climb — sure wish I had Scooter.