Woke up to fresh, crisp mountain air. It was downright chilly as a matter of fact. Refreshing change from the upper 90's we left behind in Berthoud yesterday. With the tour coming to here today, I was anxious to ride into town to experience the energy and excitement first hand. Our viewing location for the finish is a few miles outside of town, so if I was going to see the finish and happenings in town, it would have to be before the racers came through. Since the tour moves from town to town every day, I knew the place would be torn down soon after the finish.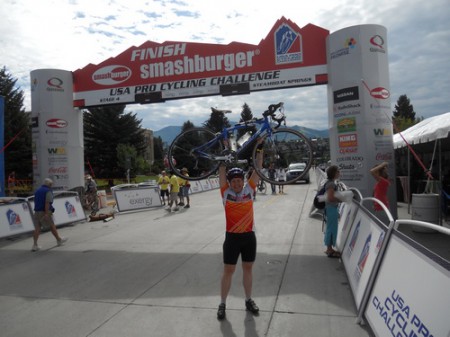 Dave and I saddled up and rode in at 10am. For Steamboat Springs folks, I think this is still the middle of the night! But, there was plenty of tour activity — even if many of the locals were still sleeping. We just missed seeing Phil and Paul — that would've been soooo cool.  We rode up and down the main street along with numerous other curious cyclists. The side streets were lined with vendors and along the main street were tents with race merchandise and sponsors booths. At each end of the street there was a large stage — at one end it appeared to be a band stands and  at the end near the finish there was a stage for jersey presentations after the race.
We rode up and down the street a few times just taking in the sights. I stopped off at a booth with bikes on indoor trainers calibrated to let you know what you could power with your converted pedal power. If you could generate a sustatined 480 watts, you could win a T-shirt. My aerobic threshold is around 300 watts — so I was not going to get a T-shirt, but I was able to generate enough power to watch my favorite TV show. It was a lot of work though! Turns out, only one guy has claimed a T-shirt so far. After giving it a try — I see why!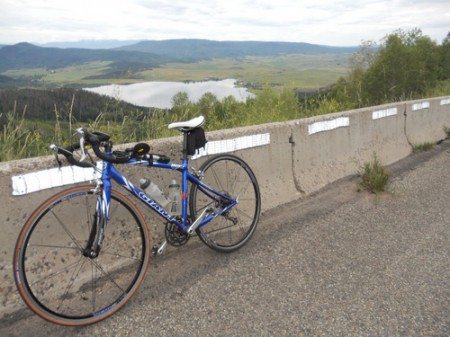 I dropped Dave off at "home" and continued on up Rabbit Ears Pass. I was torn between riding out Owl Creek Rd in the direction of the race route or going on the more difficult pass. For those of you who know me well, you know that there really was not choice. I was going up the pass. I just kept calling me! It was a difficult ride too. Not sure if it was "just one of those days", or because I was riding my heavier back-up bike, or because I started out a just under 7,000′ elevation.  It might have been becuase the climb is several miles of 6% grade. And, it doeesn't change — 6% is what you get. I settled into a nice 6.5 mph pace and because I was riding my Giant OCR1 with mountain bike gearing — I was able to spin at a relatively high cadence. There were some other folks heading to the top with me. I was passed by some lean & mean, very strong riders but I also managed to pass a few riders myself.  About half way up the pass I started to see signs of race fans. They were already staking out their spot for tomorrow's race when the riders climb the pass on their way to Breckenridge. For the most part there were RVs or small 2-person hiking tents — but I did come across one "vintage" van dedicated to Jens Voigt.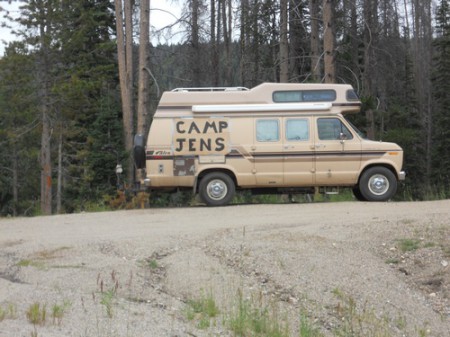 The descent was fast. The same 6% grade now was pulling me back down the pass. When I first started down I had to avoid a large propane truck that was using the breakdown lane (a.k.a. the bike lane!) because he was going significantly slower than the rest of the traffic. That meant he was right in MY path. I felt a bit strange to swing out into the traffic lane going close to 40 mph to avoid a large truck doing 25 or 30 mph. The road was pretty smooth and there are no tight turns on the pass so I could go as fast as I felt comfortable. Today, on the Giant OCR1, that was about 40 mph. On Scooter my speed would probably have been a bit higher (both up and down the mountain). I was tuckered out when I got back to the trailer.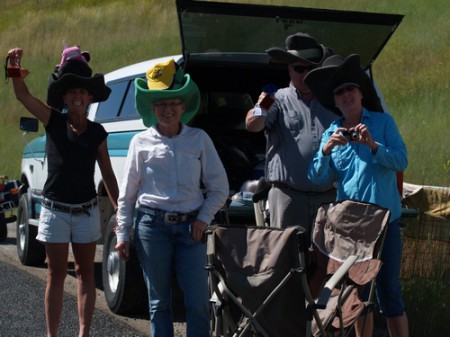 But, there was not much time to rest and recover — we were off to our viewing spot to watch the racers come in for the finish. Not knowing exactly when they would arrive, we left plenty of time. There were 20-30 other cycling fanatics at the River Road corner with us. It was fun chatting and goofing around while we waited. Beth, Dave, Nancy and Liz all put on big, floppy cowboy hats and planned to run along side the racers yelling encouraging words.  "ALLEZ, ALLEZ, ALLEZ!!!!"
The tour vehicles started coming through several minutes again of the riders. With every one the excitement and anticipation built. By the time the riders came around the bend the crowd was in a frenzy… way too much fun!!!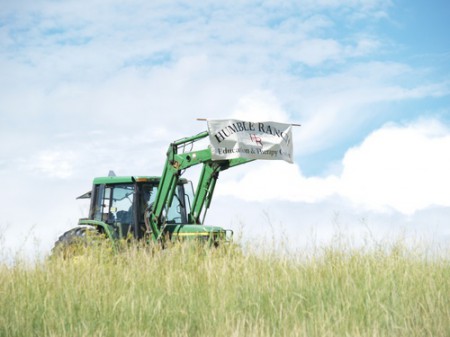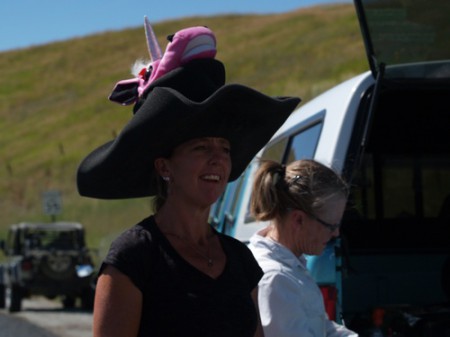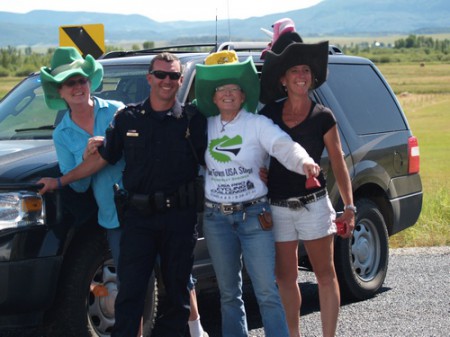 Then the riders came flying around the lower bend. And in a flash — they were gone! Beth scored with a tossed water bottle — she thinks it belonged to Andy Schleck! Hard to tell. The riders were all clumped together and went by so fast we really couldn't tell who was who. It was really incredible! Tomorrow when the riders are climbing the pass should be quite different. I bet you a million $$$ that they won't all be on one group! See you then.