It was a gorgeous day to ride the NCR (Northern Central Railroad) Trail. A 20 mile trail that took us all the way to the Mason Dixon line and the Pennsylvania border.
There were lots of people on the southern part of the trail. It was shaded and had a crushed rock surface. We weren't but a few minutes down the trail when and I almost ran over a black snake that was moving slowly in the morning chill. Startled the crap out of me — as snakes usually do! After that close encounter I was wide awake and on high alert.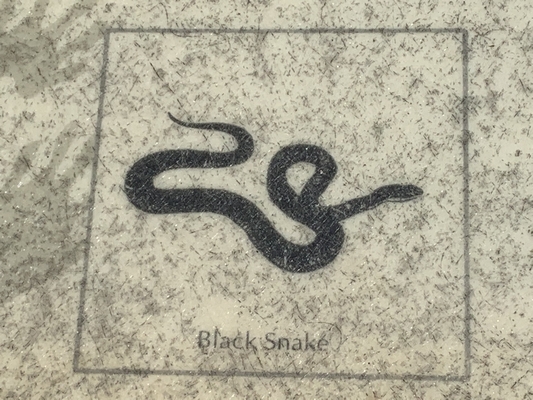 The path crossed numerous streams (or are they called creeks out here in the east?). There were railroad artifacts along the way and numerous pillars with the letter 'W' on them. I was perplexed — but Beth read one of the info placards and informed us all that the 'W' was used to tell the train engineer to blow the 'W'histle and that there was likely some sort of intersection approaching.
There were a couple of notable aspects of this trail — a few miles from our start we came upon a Gnome shrine. Don't know what else to call it. A large mound was covered in them along with numerous clever sayings that played off the word 'gnome'. Whoever put that Gnome garden together also had a few self-serve snack boxes with chips, crackers and candy bars. Fun place to stop for a few minutes, and happy to support the little local business!
All four of us were riding together and we were all determined to make it to the border between Maryland and Pennsylvania.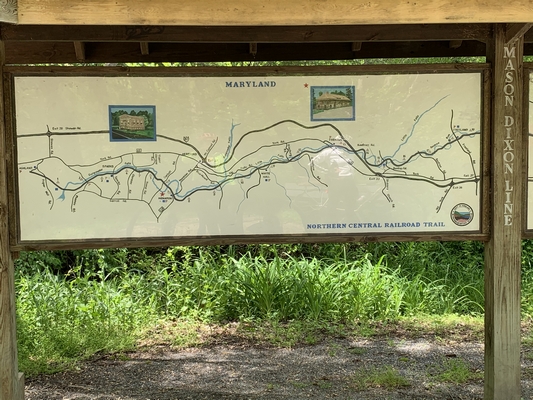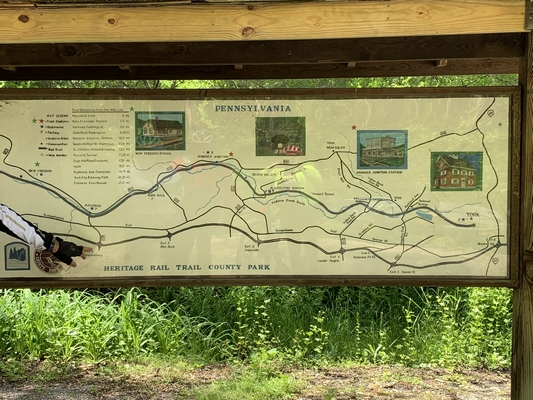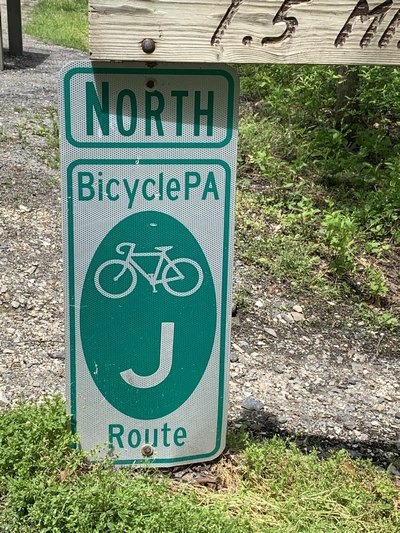 It was easy riding — but Beth's neck started to ache anyway. Probably more due to her riding position than the exertion of the ride. So, Beth and Leo rode slowly onward and Randy and I turned back around and hammered towards Saddie and Buster. It was the hardest I've ridden so far and it felt GREAT. We were hauling at about 18 mph non-stop until we got back to the RVs. Well, that's not quite true. I did stop once — when I heard music coming from the water off to my left as I crossed a bridge. Once I realized that there were two musicians playing recorders on a island in the middle of the stream/creek, I had to stop and catch a short video of them!
Once we got back to the RVs, we took a few minutes to load up, change out of our sweaty riding clothes then drove up to meet Beth and Leo and went on to our next KOA (our go-to campgrounds so far on this trip).