Our day started with a drive from Rhode Island to New Hampshire. Hard to believe we did that in about two hours! We ended up at Green Gate Campground in Exeter, New Hampshire. This is the town where our cross country ride staged the morning of our last day. We had a final gathering at a coffee house, Me and Ollies, on Main Street in Exeter back in 2010. After setting up camp we all rode the short distance from our campground to town. Thankfully it is a small town and Leo, Beth and I returned to the scene of the crime for an updated photo…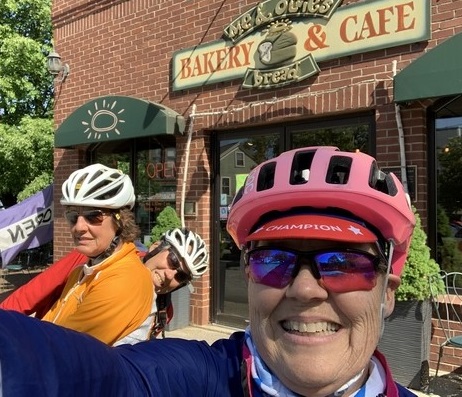 Here's a link to my blog entry from that final day of our ride. Day_50_AmericaByBicycle You'll see a photo of the whole group in this very same spot!
Exeter is a quaint New England town with plenty of historic plaques and homes and businesses built during colonial times as well as mills from the industrial revolution.
Of course, probably the favorite building today was the one that sold chocolate! We stopped in and supported the local chocolatier.
There is an exclusive high school here — Phillips Exeter Academy. I saw some of those fortunate enough to attend at the boathouse washing and storing numerous rowing shells. I've been (pleasantly) surprised by the number of boathouses I've passed on this trip. I'm looking forward to rowing myself when I get back home. Would have been cool to see them out on the water!
The campground could use a little love — the washrooms are old and the showers' water is hard to regulate. Most of the folks seem seasonal and neighbor is a retired fire fighter — could you tell? As you can see, our picnic table was badly worn. We swapped it with a slightly better one from the empty site next door. Love the trees though — better than camping out in the open.