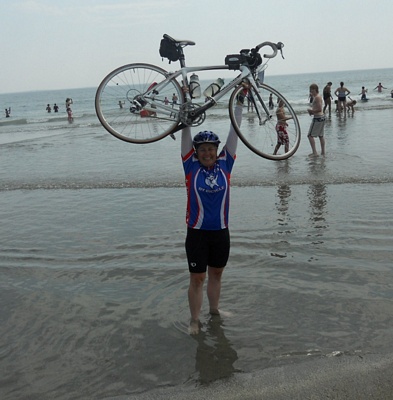 Scooter and I were the first ones to put our feet and wheels into the Atlantic Ocean. Joe was right behind us and took our photo (then I took his, of course).  And, now that you know this story has a happy ending, I'll back up and share the entire, emotional day with you. Today was a day of "people" photos — I don't think I took more than a half dozen scenery shots.
Everyone looked pretty chipper this morning after staying up late (and maybe having a glass or two or wine/beer) for the banquet.  Breakfast was at 5:30am and load was at 6:30 am in order to give us enough time to ride to our rendez-vous spot by 11:30 am.  Our LAST hotel breakfast! As is our custom, we ate "family style" — for me that means you get your breakfast and look for an empty chair with who ever happens to be around.  I continue to be amazed at how we really are one group and how well we mix. I had breakfast with Michael and Matt this morning. Leo was across the room having breakfast with Shirley and Howard when I came in. There was an electricity in the air — everyone was visibly excited to experience today!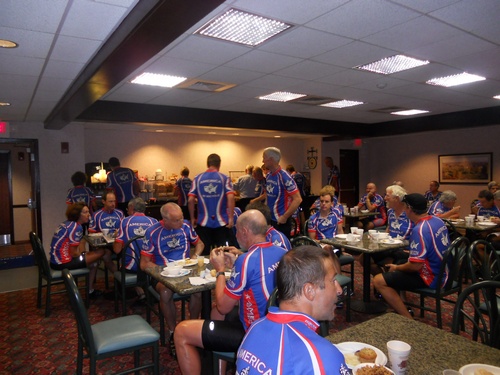 One last time down the back stairs of the hotel with our luggage and our bikes. Here's my roommate, Nan, taking her bike down.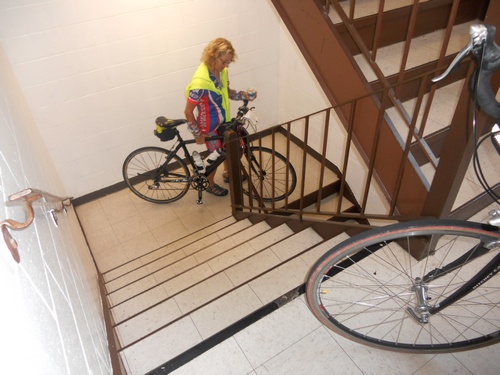 After putting my luggage onto the truck for the LAST time, I signed in… for the LAST time.  I was ready to hit the road and get to the ocean!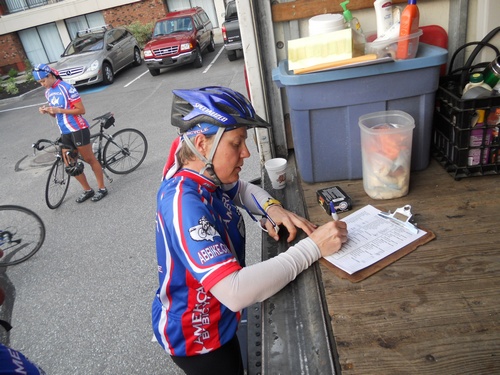 Kim (left) and Tom (right) with Nan's Cooch-a-loo. This is the second little green mascot Nan has had. The first one vanished during one of our long rides a while back, never to be seen again. Her sister sent this replacement and there's no telling how Kim got a hold of it! But, when Nan realized that this little guy was missing too… she almost lost it. She managed to wrestle it away from Kim and appeared to be much more protective after that.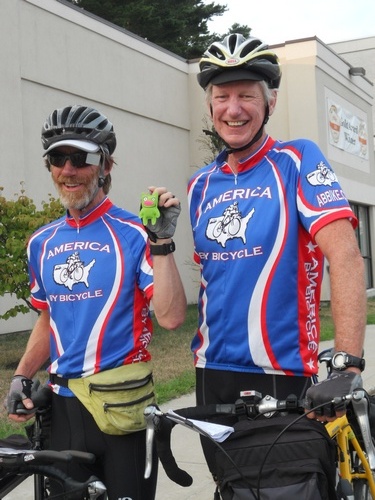 We had our LAST SAG about 30 miles into the ride. Fred's wife baked 17 dozen cookies and Karen had them out for us! Even for this group — that's a bunch of cookies! No one was in a rush today and it seemed like we had moved, as a group, from luggage load to SAG. I took a bunch of photos of folks. Here are just a few.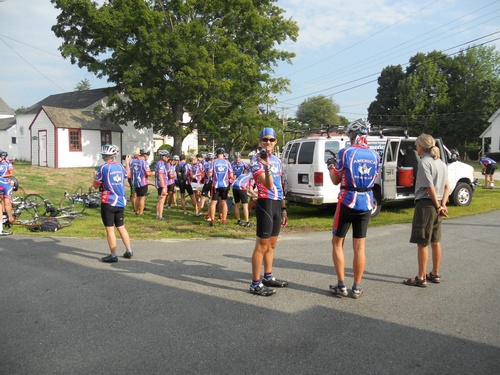 Next stop — as a group — was the "Me and Ollie" coffee shop. This was our pre-staging area, staging area since no one wanted to wait at the Junior High School when they could be sitting in the shade sipping a latte and eating a pastry!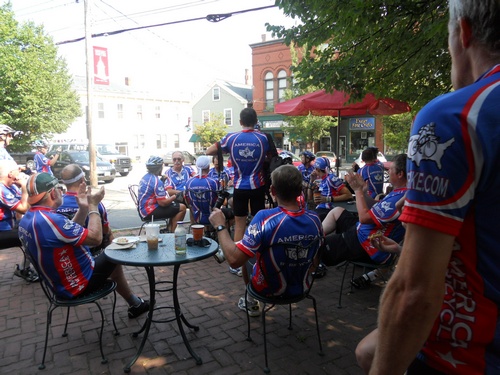 The last 10 miles from the coffee shop to the Junior High flew by. We rode short hills and winding back roads very similar to the ones we've seen since we crossed into Vermont a couple of days ago. They are much steeper than what I normally ride in Colorado but they are not nearly as long. The climbs here require a burst of energy and a downhill is rarely far away. Energy was abundant and memories of our time together could be heard all along the way. Andrew shared a last story with Katie and me. I'll miss our time together, that's for sure. (That's Andrew in the lead of this small group of riders)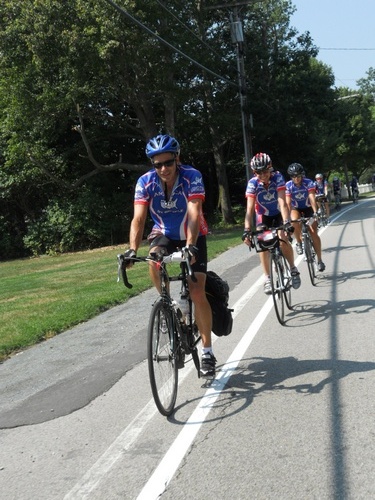 Finally, at the appointed hour (11:30am, remember) everyone gathered at the Junior High School. There was one final group shot and then we lined up for our police escort to the Wallis Sands State Beach.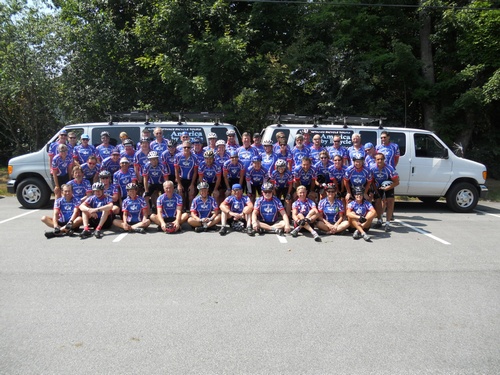 We were lead by some of the riders who had spent most of their time riding at the "back of the pack."  So cool! Here's a shot of Ian (left) and Dereka chomping at the bit to hit the beach.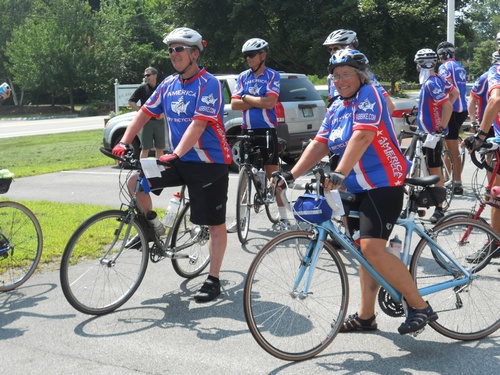 Leo is ready as well.
There it is — the Atlantic Ocean! YAHOO!!!! We made it.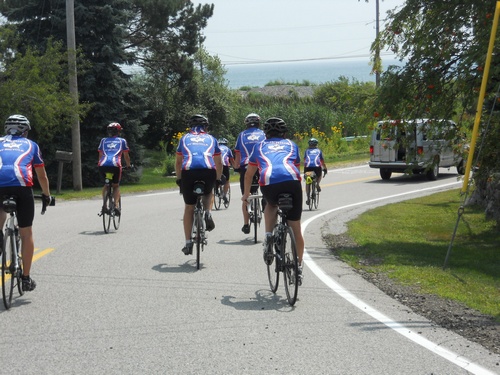 We were greeted at the beach by family and friends. There were balloons and posters and whooping and hollering as well as hugs all around.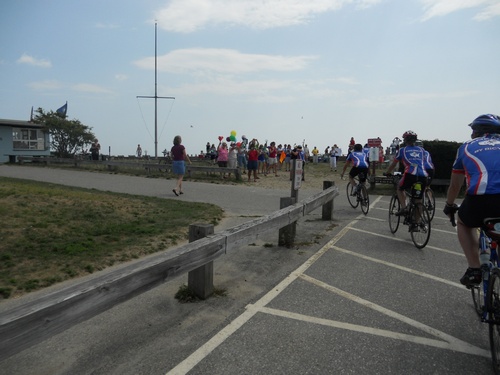 Matt poured the water we collected 50 days ago from the Pacific Ocean into the Atlantic Ocean. Not sure how much it raised the level of the ocean, but it was very moving to all of us! Here Matt is faking a 'sip' before he poured it out.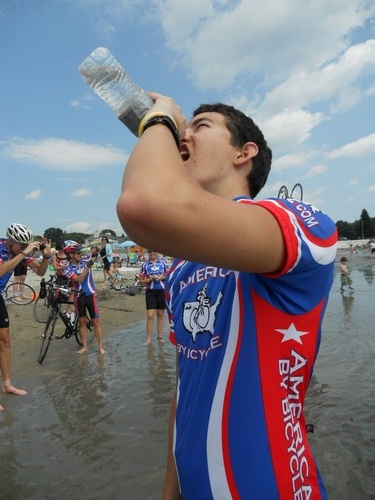 I'll create a gallery of all the photos from today — but here is one last one that will be erased with the tide, but will be in my memory always.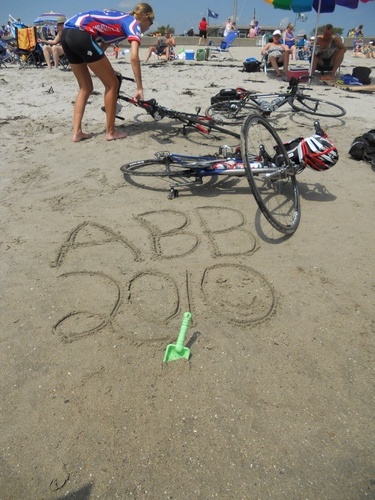 And — None of this would have been possible had it not been for the hard work and support of the 'A' Team — Deb, Mike, Barb, Jeff, Karen and Jim.
THANKS A MILLION! You haven't seen the last of Sandy and Scooter.