Garmin Data: http://connect.garmin.com/activity/43546123
I did not see a single soy bean field today and the few corn fields that I saw were all under 100 acres.  I am not sure when I saw the last big farms — but I do know that it was more than two days ago. The last couple of days have been filled with the vistas that I remember from my childhood. Tree lined streets, soft rolling hills off in the distance covered with the green of deciduous trees and small towns dotted with big white colonial homes that have black shutters flanking each window. It was great riding through this area and rekindling those memories.  And — the weather today was picture perfect.  You only get a few days like this a summer in New England. Bright blue skies with some big fluffy white clouds, a gentle breeze (tail wind in our case!) and moderate temperatures in the mid to upper 70s. Ahhh, life doesn't get much better than this!
There was some serious climbing today. It didn't seem that bad though so what Mike Munk said about us all being much stronger now that at the start must be true. There is certainly less time between the first and last riders getting to the hotel each day. I've also noticed that riders I used to pass early on in a day and not see again until the hotel are now my constant companions on the road. It is cool to see such improvement in folks!
We headed out of town — right into construction. That's Alex in blue on the left and Katie in red on the right. Not sure who else rode out of town with us — I dropped back early on and just took my time and enjoyed every inch of the ride.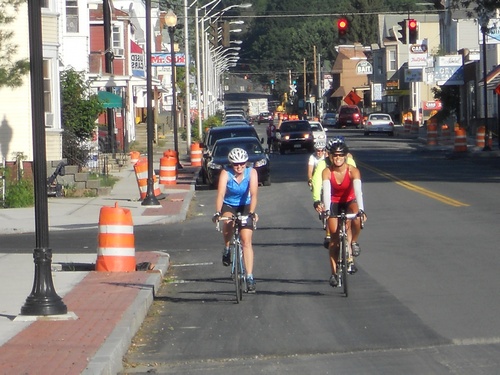 This is what I think of when I think of New England.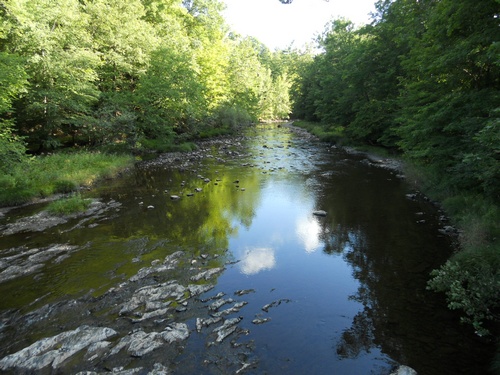 Nice new surface to ride on — but a pain to get through some of the construction. That's Andrew and "The Tank." I got my third flat tire of the trip today. I'm blaming it on Andrew and his story telling. Today's story was about Ludwig and his "immortal love", Antionett. To hear his story, I had to ride in loose sand and some debris occassionally so we could ride side by side on the shoulder.  That's were I picked up a piece of glass … and ultimately a flat. Andrew's stories are so good. I guess it was worth the flat.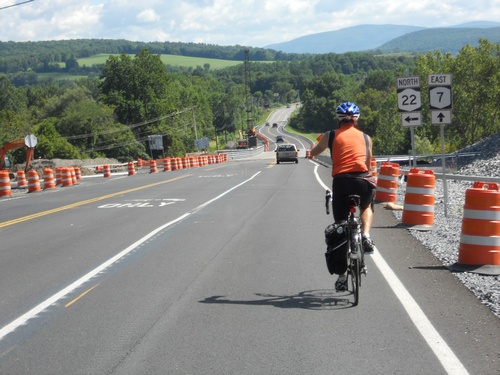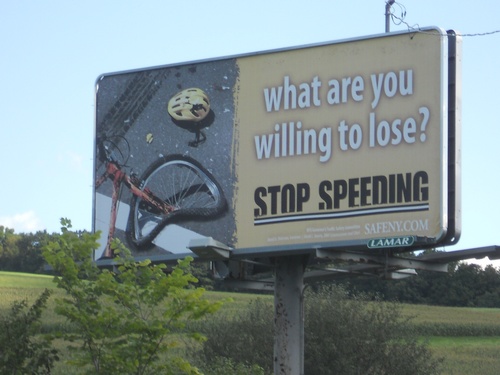 We crossed into our last state this morning about 30 miles into the ride. We go into New Hampshire tomorrow after only a mile or riding! After spending a week in each state out west, it feels kinda wierd to be done with an entire state after only one day! Guess that means we're just about to the coast! YIKES!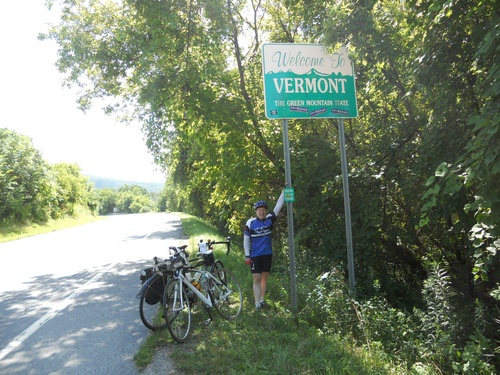 This shot sums up what I enjoyed about today — TREES, rolling hills. Gorgeous!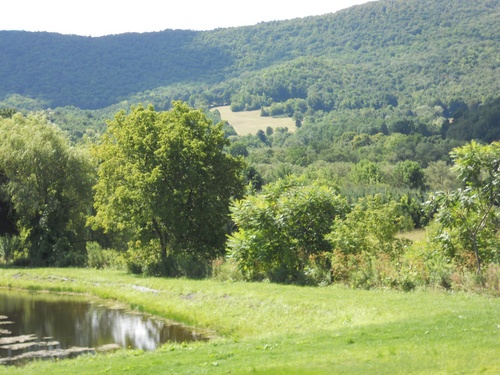 In Bennington there were decorated moose sculptures — much the way there are decorated goose sculptures in Longmont, Colorado. I particularly like these with the pasture scene painted on them.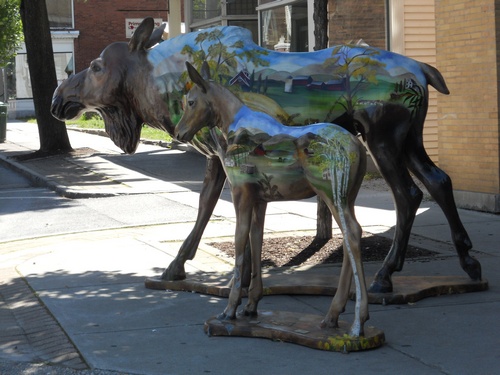 The roads today were some of the worst we've seen on the entire trip. We also went through some road construction which I take as a good sign. Maybe they'll eventually get them all done! There were asphalt patches on top of patches and rough pavement EVERYWHERE!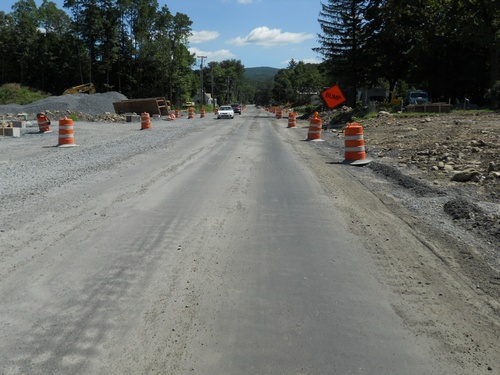 As we were climbing up our 10 mile hill of 4-8% grade, we were passed by more than 200 motorcycles all traveling together. It was VERY loud but was a good distraction from the steepness of the grade!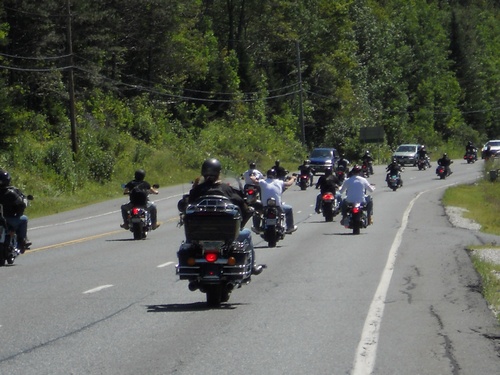 Prospect Ski Area…. more like a speed bump than a ski run, eh?